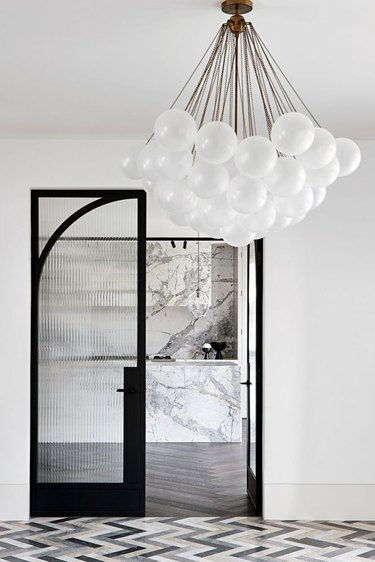 And what's not to love about art deco doors? They display many of the defining characteristics of art deco design, which includes gleaming metallic finishes, curvaceous patterns, geometric motifs, and graphic aesthetics often seen in black.
We think they push the boundaries way beyond a basic entry, turning every door into a design moment. So whether you're aiming for something that feels sophisticated or glam, for your entryway or closet, here are six ideas worth considering.
1. Be bold — very bold.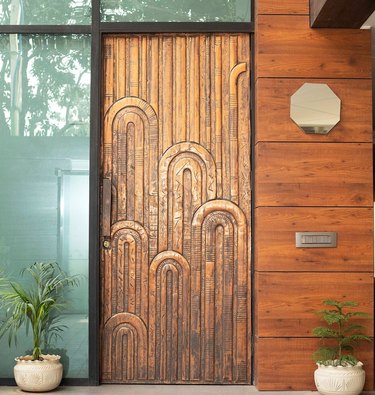 Nope, art deco style certainly isn't for wallflowers, and front doors are no exception. The aesthetic has incorporated curved, rounded motifs since the 1920s, and you can bring the same visuals to your home's entrance, too. The team at Aluminr even went the extra mile by rendering curvilinear, art deco-friendly shapes in a lustrous bronze.
2. It's all about geometry.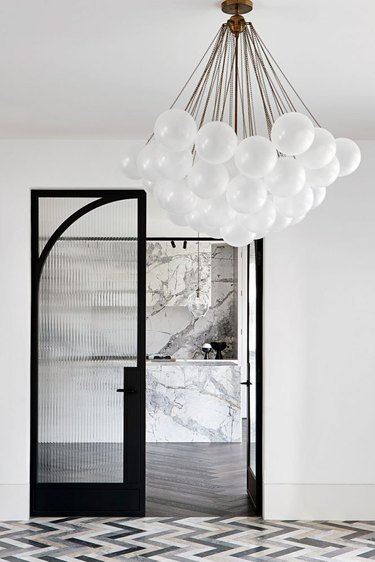 Geometric shapes are essential in art deco design, from staircases to backsplashes to yes, even doors. We're obsessed with this interior glass door design by Paul and Hamish of Hecker Guthrie. The black border adds dramatic contrast without being too heavy or overbearing.
3. Black is a just-right choice.
Apart from gold or anything in a metallic finish, black is a brilliant color choice for art deco doors. As proven by this grand entrance dreamed up by Poppy and Charlotte of Poco Designs — and with a coat (or two, or three) of glossy black paint, your door will be just as opulent.
4. Complement a grand door with equally grand decor.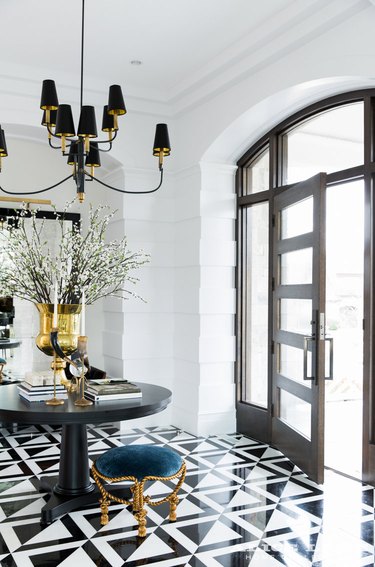 This art deco door by Alice Lane Interior Design features symmetrical window cutouts that pair beautifully with equally jaw-dropping entryway decor. Elegant black and white floor tile mimics the door design while brass accents and black details add a glamorous finishing touch.
5. Go glam.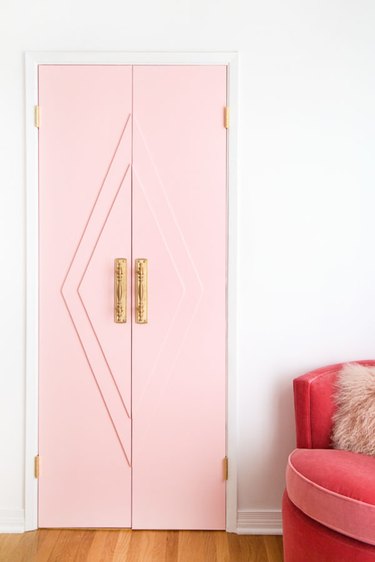 Art deco doors are an ideal pick for a room that feels glitzy and extravagant. We personally love them for closets when you want to have a Carrie Bradshaw moment. Between the brass pulls, geometric detailing, and pink hue, these doors by Kelly of Studio DIY are picture perfect.
6. Dress up your hardware.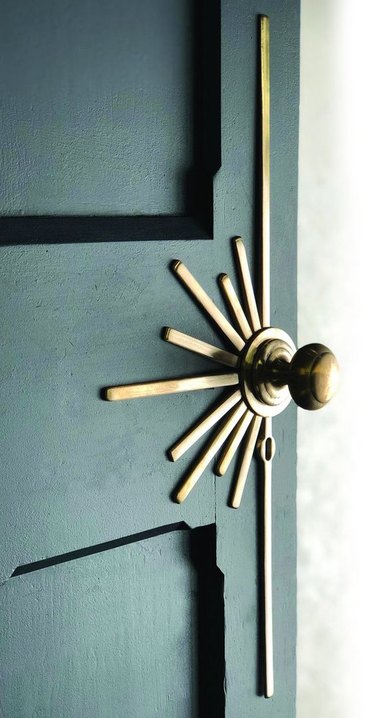 If you have an existing door that could use a jolt of art deco flair, look no further than a rich paint color and your hardware. Swap your handle for this sunburst beauty by Philip Watts Design for a striking end result.
Where to Buy Art Deco Doors: