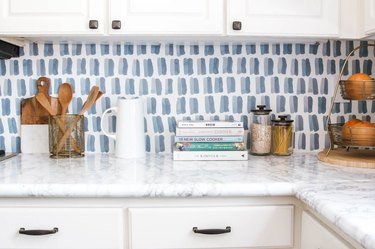 Rentals: You call them home, but they're not really yours. It's hard to make stylish changes because everything has to be removable. That's why contact paper countertops are having a surge in popularity. Renters can apply the sticky paper to any surface and easily remove it when their lease is up. DIY countertops are even great for homeowners who want to save money.
It's not clear why ugly countertops are so common. But it can be hard to style a kitchen or bathroom with a massive eyesore.
That's why these contact paper countertop ideas are so good. Plus, with a little patience, this one makeover you can DIY.
1. Combine speckled contact paper with two-tone cabinets.
If you want to add a little spice to your rental kitchen, cover the counters with a speckled contact paper. For a clean and modern look like the one in Chloe Rey's cook space, paint your upper and lower cabinets in two different colors. The cream and olive tones work so well together.
2. Add marble contact paper if you want a little class.
Real marble counters look gorgeous, but they can be so expensive. That's why marble contact paper is a great option for renters and homeowners alike. The faux versions that are made specifically for countertops can resist heat and water. So they'd be perfect for a budget kitchen refresh.
3. Pair it with a vibrant rug.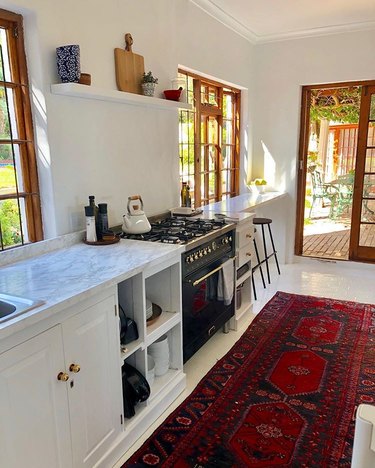 Pairing marble contact paper with a red rug is a classic decor move. You can't go wrong with it! Even if you don't use a bit of paint, your space will feel intentional and have the perfect amount of traditional charm.
4. Go for something sleek and water-resistant in the bathroom.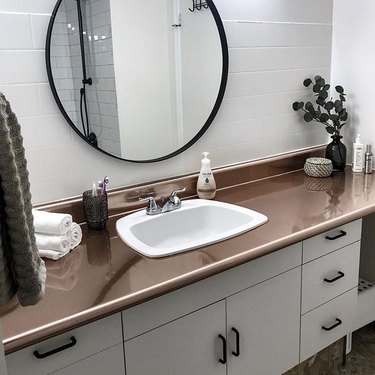 It may be a little harder to find moisture-resistant contact paper for your bathroom counters, but don't give up on your refresh dreams. Look for something sleek like this metallic option. And then give your cabinets a coat of white paint and new hardware.
5. Use wallpaper and contact paper for the ultimate rental upgrade.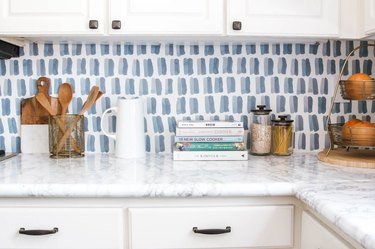 You can pair your contact paper countertop with a wallpaper backsplash for the ultimate rental update like Anita Yokota did here. A marble option with gray veining will pair well with almost any pattern, so your kitchen can make a statement on a budget.
7. Cover contact paper with a glass top for extra protection.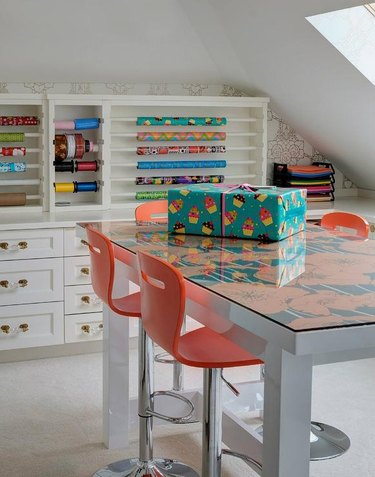 One of the only downsides to contact paper is that it's easier to damage than a laminate countertop. To prevent any damage, add a glass top to your paper as Lewis Giannoulias Interiors did. That way, you can take advantage of an updated look without putting your new DIY project in harm's way.
8. Add contact paper in your craft room.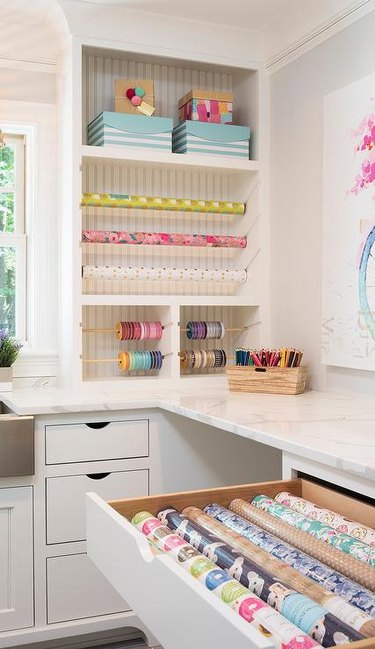 It's incredibly challenging to keep a craft room clean. However, installing crisp, clean contact paper on your crafting countertops can reduce some of the visual clutter and streamline your workspace. You'll still need ample amounts of storage (and maybe even a pegboard), but you'll be off to a fresh start.