The kitchen island is easily one of the most highly sought after components of any cook space, and for good reason! The payoff for an island is high, since it often provides additional prep space and storage, as well as a designated spot for family and friends to gather.
Unfortunately, not every room shape or layout is cut out for a traditional, rectangular kitchen island. But wait. Before you scrap your dreams of an extra marble-topped workstation, allow us to introduce you to an option you may not have considered: the triangle kitchen island. The three-sided design offers many of the same benefits as its boxier counterparts, while also accommodating a cook space that may be more limited due to square footage or traffic flow. Of course, you may not gain quite as much prep space as you would from a rectangular shape, but that's an easy trade-off when you consider how much the triangle can optimize your current setup.
Need a little more convincing? Say no more. We've rounded up five flawless triangle kitchen island ideas that will sell you on the unique shape.
1. Opt for all-white.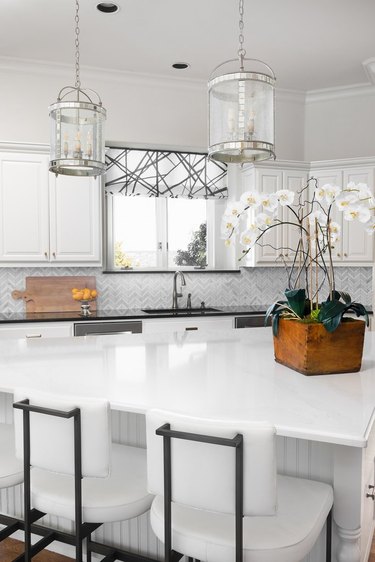 2. Create warmth with butcher block.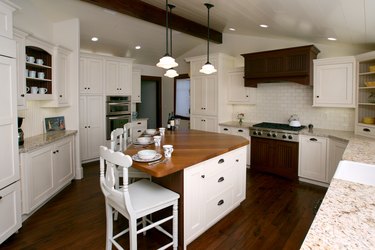 3. Keep it minimalist.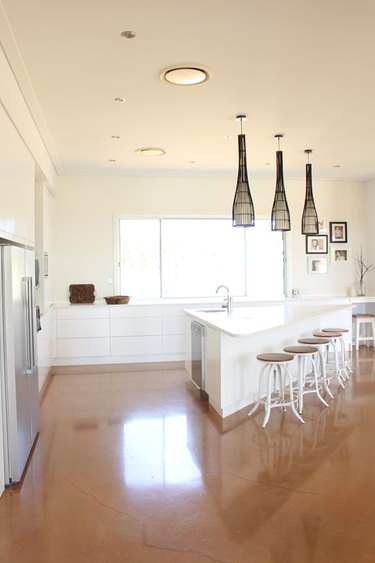 4. Add a built-in wine rack.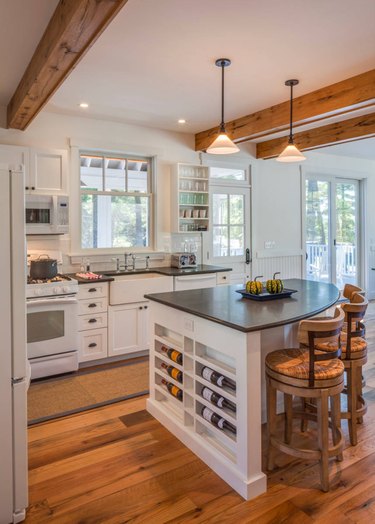 How much does this Hillside Barn scullery make you feel like you're in a Nancy Meyers film? Take a tip from the architect, John Cole, and add bonus storage to your triangle kitchen island with a built-in wine rack on one side. We're pretty sure Nancy would approve.
5. Add an accent color.
---
Caitlin is the former social media manager and staff writer of TheEverygirl.com in Chicago, now working as a freelance writer from her laptop in New Zealand. She loves soulful, collected interior design that feels like a warm hug, English Breakfast tea, and trips to the theatre.