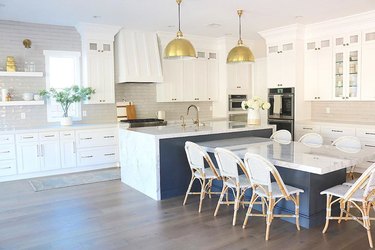 When you picture kitchen island ideas, we're guessing you're envisioning a pretty standard-looking design, one that's rectangular and sits right smack in the center. But guess what? There might be an even more convenient option out there that looks nothing like the traditional layout.
A T-shaped kitchen island is exactly what it sounds like: an island in the shape of a "T." This design is especially handy if you desire seating in your kitchen. It's perfect for casual meals or if you want to serve up food straight from your oven to the table. The T's can vary in size and shape; you can either choose a larger countertop for a bigger workspace with a narrow table, or you can narrow the countertop in lieu of a large table.
One benefit of choosing a T-shaped kitchen island is the bonus space that you'll get to enjoy. But there are a couple of cons. For instance, a T-shaped kitchen island isn't well-suited to a teeny, tiny cook space. And of course, it will affect your budget — more materials naturally equals more money. But we think T-shaped kitchen islands are ideal if you have a family. Your kids can sit and have an after-school snack and do their homework while you whip up dinner. Or, it can be a nice little spot to enjoy a dessert with your sweetie.
Here are seven T-shaped kitchen island ideas that will help your culinary headquarters live up to its fullest potential.
1. Ponder the lighting arrangement.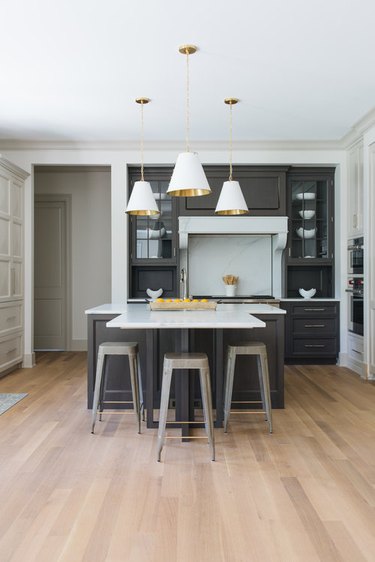 2. DIY a T-shaped island by adding a table.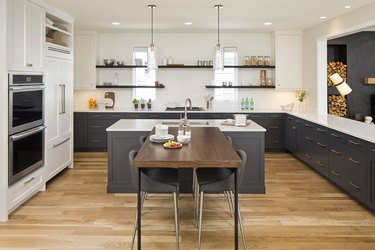 Let's say you currently have a typical island in your kitchen, but you really, really want a T-shaped setup instead. Even if you're not remodeling in the near future, you can still achieve a T-shaped kitchen island with a little DIY magic — simply place a table perpendicular to it, something that Refined, LLC did in this space.
3. Aim for cohesive colors and materials.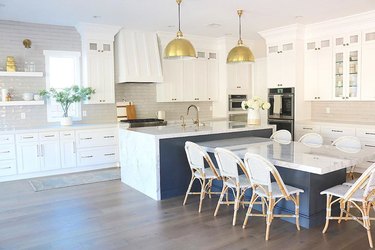 If you want your culinary space to look streamlined and consistent, make sure that both sections of your T-shaped kitchen island showcase the same materials and colors. For example, in this design by Melody of My House of Four, both segments of the island are navy blue with marble countertops, creating a seamless appearance.
4. Plan out your seating.
When planning your T-shaped kitchen island, start with this: How many people are you hoping to seat at the island? Consider family members and/or guests who will be joining you regularly and the types of chairs you want to purchase. It's one factor that can help determine the perfect size for your needs. This layout designed by Lucy and Company seats seven people comfortably.
5. Go eclectic.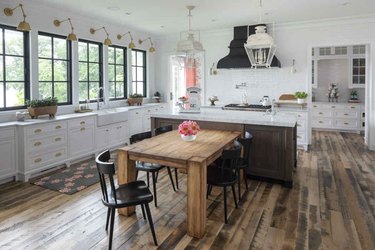 6. Place a butcher block at the top of the "T."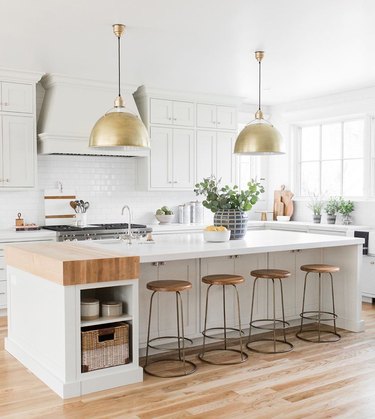 7. Consider scale.
As we mentioned before, the sections of your T-shaped kitchen island can vary in size. You can opt for a substantial table that can fit several chairs, which is what Melody of My House of Four did in this kitchen showcased on Home Bunch, or you can go with a large countertop if you know you'll need space to work.