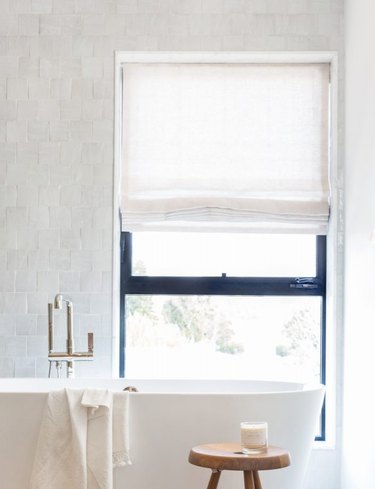 When you hear the word "backsplash," you probably think of the tile above the countertop in a kitchen, or behind the sink on a bathroom vanity. But a backsplash is also essential where, well, lots of splashing goes on: around the bathtub. On the plus side, installing a bathroom tub backsplash protects the wall around your tub from inadvertent drips and splashes (or intentional ones, if you have kids). It can also serve as a frame of sorts for your setup, making it look a little more intentional, customized, and luxurious. And, a behind-the-bath backsplash can take any form you like, in a variety of styles, colors, sizes, and grout pairings.
Keep in mind that installing a backsplash around the tub can be tricky if it's slotted into an awkward space, and should be left to the pros if it's a tight spot behind a freestanding bath. And, like anything that's located near water and moisture, you'll need to take precautions and special care to prevent mold and mildew buildup, and preserve the life of your backsplash. Still, it's a worthwhile investment, and this simple addition can make a big impact, design-wise — sometimes on the cheap. Here are five bathroom tub backsplash ideas to keep in mind.
1. Scale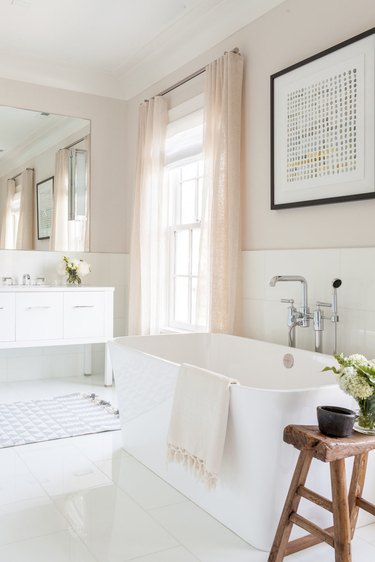 For the simple-is-best crowd: Follow the lead of Chango & Co. with a subtle backsplash of large-scale rectangular tiles installed behind the bath — similar to wainscoting — which blends seamlessly with the walls and adds just a bit of gloss. Laying oversize tile horizontally will also make a small bathroom feel wider and more open, while installing them vertically emphasizes the height of a room.
2. Material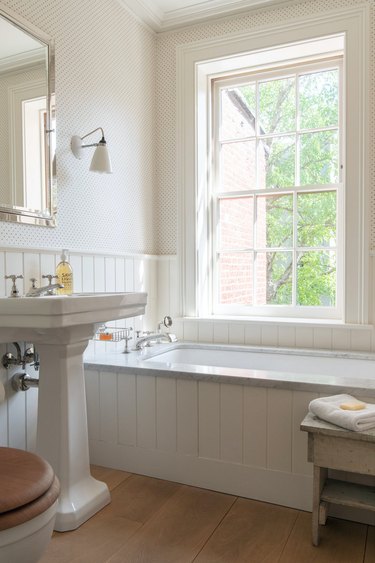 Don't be afraid to play around with material. In lieu of tile, for example, opt for wood or faux wood wall paneling. Painted bead board or shiplap, similar to the bathroom tub backsplash in this Brooklyn Heights townhouse by Elizabeth Roberts Architecture, add a cottage-like charm. Continue the wood paneling behind the sink and around the base of the tub for continuity.
3. Grout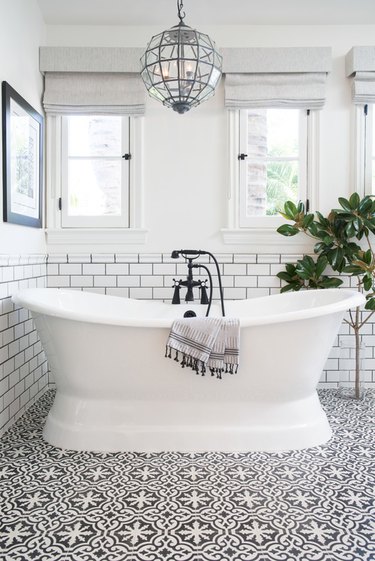 A classic, timeless choice? A simple white subway tile backsplash. For high contrast, pair with a darker-hued grout, as seen in this bathroom by Byrd Design. While light grout with white tile looks clean and bright, choosing dark grout helps to avoid the discoloration that happens to white- and light-colored options. Just be sure to keep it clean and dry.
4. Color
5. Size