Things You'll Need
Painter's plastic

Bucket

All-purpose cleaner

Long-handle sponge squeegee
Tip
Purchase a cleaner that is safe to use on painted surfaces.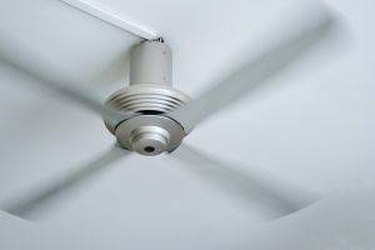 Nicotine can cause your home to smell like a stale ashtray. In addition, the film on the walls and ceiling can leave a yellowish tint and make the house look untidy and messy. Clean nicotine off your ceilings once a month--twice a week, if you smoke two packs a day.
Step 1
Cover all electronics, flooring and furniture with painter's plastic to protect against drips. Use towels or newspaper as an alternative.
Step 2
Fill a bucket half-full of steaming water. Use 5 cups of Pine-Sol or Awesome Concentrated cleaner. Awesome Concentrated is available at the Dollar Store or online (see Resources).
Step 3
Dunk the sponge squeegee into the bucket. Scrub the ceiling in a row, back and fourth, twice. Wring the squeegee out. Begin a new row, repeating this step until the ceiling is clean.
Step 4
Change the water and use fresh cleaner when the water is dark with a muddy tint.
---
Randall Shatto is a professional writer with 10 years of experience. Shatto maintains a focus in internet freelance ghost writing. His expertise includes medical writing, college paper composition and SEO-rich content writing. With only a high school education, Shatto's opportunities continue to grow. Shatto resides in the beautiful state of Oregon.