No one wants to sit on a dirty, stinky sofa. Experts say you should clean your couch every six months, but to do so, you need to know how to properly wash it without damaging the fabric (or other material). Some fabrics can only be spot cleaned using a solvent, some can be thrown in a washing machine or bathtub, and others can be damaged by any type of cleaning product and should only be vacuumed and brushed with its brush attachment. But no matter what material you're working with, this is the best way to clean your couch.
Just like your clothing, couches can be made from a variety of different materials, and some will be much more suitable for a DIY cleaning than others. The tags on your sofa should have cleaning codes that indicate how the cushions should best be cleaned, depending on the type of fabric it's made from. Here's what each cleaning code means:
​‌WS:‌​ These cushions can be cleaned with either mild detergent or dry cleaning solvent. The tag should specify if the internal cushion can be cleaned at home with detergent or if you should instead take the whole thing to a dry cleaner. If the cover cannot be removed, that's a good indication that it needs to be taken to the cleaners.
​‌W:‌​ Only use water-based formulas, not solvents, on these cushions.
​‌S:‌​ Clean these cushions only with solvents, not liquids.
​‌X:‌​ These cushions should only be vacuumed or brushed with a stiff-bristle brush. Avoid using solvents or water-based cleaners on these materials.
Some couches come with washable covers, meaning you can let your washing machine do most of the cleaning for you. If you're looking for a new couch and quick, easy cleaning is a priority for you, find one with a washable slipcover.
Warning
Be extra careful when cleaning specialty couches made from fabrics like linen and velvet or from leather. Moisture may damage the material, so check the cleaning instructions and take it to a professional for dry cleaning if necessary.
2. Remove Dirt and Deodorize the Couch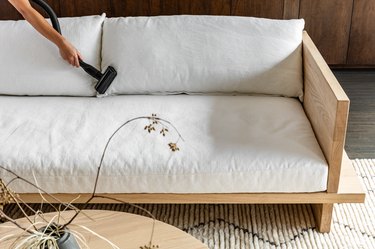 No matter how good the couch cushions look, they may not smell their best from day-to-day use and wear. Whether your pet claimed the couch or more than a few foods or drinks were spilled on it, you can remove these foul odors even if the cushion covers aren't machine washable.
Vacuum or brush the couch with a stiff brush or upholstery attachment — we recommend this one from Broan-NuTone — to loosen anything stuck to the cushions before cleaning. Be sure to get every crevice clean.
Sprinkle the smelly couch cushions with baking soda and allow it to sit for 30 minutes or so.
Take a vacuum cleaner to the cushions again, making sure to vacuum the flip sides of any cushions that can be removed from the couch. Vacuuming removes fur, dander, dust, and small food particles that may contribute to the odor, while baking soda absorbs deep-seated smells, including body odors.
How to Air Out a Smelly Couch
Cushions that smell musty or stale will benefit from a dose of fresh air.
Take removable cushions outdoors on a dry, sunny day and air them out all day if possible.
If your couch cushions are not removable, open windows or turn on a dehumidifier or air conditioner to help remove some of the mustiness.
Sprinkle baking soda over the couch cushions to help absorb smells.
Verify that any room with furniture in it has adequate air circulation and at least some daylight to help prevent such odors.
If your couch cushions have zippers, open them and stuff wads of newspaper inside to help absorb some of the smell, whether freshening the cushions indoors or out.
3. Clean Your Upholstered Couch With Vinegar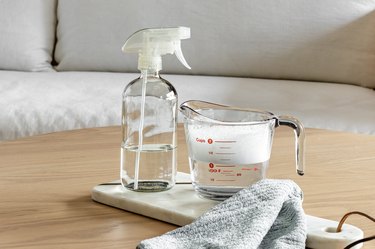 Vinegar works well to remove odors while also disinfecting fabric couches. Follow this cleaning method to clean your couch with vinegar.
In a clean spray bottle, mix together a cleaning solution of 1 tablespoon Castile soap or mild detergent, 1/3 cup distilled white vinegar, and 2 cups warm water.
Apply a small amount of the solution to an inconspicuous area of your couch, like on the inside corner of the arm. Let it sit for a few minutes to see if the vinegar discolors the fabric in any way. If so, do not move forward with this cleaning method. But most likely, your upholstered couch will not show any signs of discoloration. If that's the case, continue cleaning.
Lightly spray the surface of the couch. This works best if you work in smaller areas, like one cushion at a time or one arm at a time. Do not oversaturate the fabric.
Use a microfiber cloth to wipe down the nonupholstered areas of the couch, like wood or metal legs.Use a soft brush to work the cleaning solution into the fabric. Blot any oversaturated areas with a soft, clean cloth.
Allow the couch to air dry — there is no need to rinse it. Any smell of vinegar will dissipate as the fabric dries.
Tip
If your upholstered couch is constantly taking a beating from playful kids and pets, consider a deeper clean. You can shampoo your sofa every one to two years to remove dirt buildup, crumbs, pet hair, and other debris.
Here's the best way to treat couch cushions that can be spot cleaned with detergent.
Fill a spray bottle with a cleaning solution (see the table below for guidance).
Lightly mist the surface and then use a sponge or soft-bristle brush to dab and slowly work the solution into the stained area.
Rinse with a small amount of distilled water and use a towel to sop up extra moisture.
Allow the cushion to air dry.
Repeat as necessary until the stain is gone.
Here's a table to help you determine what cleaning solution to apply to your couch depending on the type of stain you're dealing with.
| Stain | Cleaning Solution |
| --- | --- |
| Blood | 1 tablespoon dish soap + 2 cups cold water |
| Water | 2 tablespoons water + apply heat to dry |
| Oil | 1 tablespoon dish soap + hot water |
| Dirt | 1/4 cup white vinegar + 3/4 cup warm water + 1 tablespoon dish soap |
| Vomit | 1/2 cup white vinegar + 1/2 cup warm water |
| Urine | 1 tablespoon dish soap + 2 cups cold water + 1 tablespoon white vinegar |
If the cleaning label specifies that the couch can only be cleaned with a solvent, use a water-free solvent cleaner, like Blue Coral upholstery cleaner, to spot clean. Follow the manufacturer instructions to treat the stained area.
5. Deep Clean Couch Cushions as Needed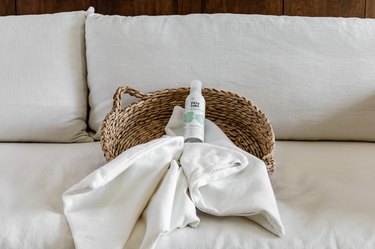 Some cushion covers that can be cleaned with water-based detergents are machine washable. Remove the cover and throw it in the washing machine according to the label instructions. Then, hang it to dry.
If the interior cushion is washable, wash it in the bathtub. Here's how to clean interior couch cushions.
Fill your tub with laundry or dish soap and enough warm water to submerge the cushion.
Work the cushion into the soapy water until the foam is fully saturated.
If the cushion is really dirty, you may need to drain the tub, refill it with soap and water, and repeat the process.
When the cushion is fully clean, fill the tub with clean water and rinse the cushion in the same manner.
Remove the cushion from the tub and squeeze out as much water as you can while maintaining the cushion's shape.
Wrap it in towels to dry. Replace the wet towels with clean, dry towels once they become fully saturated.
Let the cushion air dry until it has completely dried and then replace the cover and put it back on the couch.

Tip
You can also use a steam cleaner or hire an upholstery cleaning service (who will likely use their own steam cleaner) to clean your couch thoroughly. Steam cleaning uses heat and moisture to lift stains and sanitize fabric without getting it too wet. If you don't own a steam cleaner already, you can rent one at your local hardware store. If your couch is in rough shape, these are your best bets for getting your couch thoroughly clean and looking as good as new.