Things You'll Need
Home dry-cleaning cloths (Dryel)

Foaming upholstery cleaner

Rag

Vacuum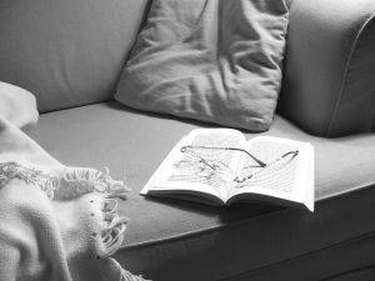 Some upholstered furniture can be cleaned with a mild detergent or household product like water or vinegar. However, if you have a label that says to dry clean or professional clean only, those options may not be a good choice. While it is best to do what the manufacturer says, especially if it is still under warranty, you may still decide to clean the upholstery on your own. There are a couple techniques to clean your upholstery without using water or a water-based product.
Step 1
Test in an inconspicuous spot. Whatever you decide to use, always clean a spot where you can't see, to make sure it does not damage the upholstery. A place on the back or underside of the upholstery works well. Test the same way you plan to clean the rest of the upholstery before you determine if it is safe.
Step 2
Use home dry-cleaning cloths (Dryel) to gently rub your soiled upholstery. You can slowly rub more vigorously, until you feel any harder may cause damage. The cloths will pick up dirt and stains. Use as many as you need.
Step 3
Use a foaming upholstery cleaner, like Woolite, available at most stores with cleaning aisles. You can also purchase a foaming upholster cleaner from your local automotive store. Follow the directions on the label. Usually, you spray the cleaner on the soiled areas and it will foam up. Rub it in with a clean white rag. Let it dry and vacuum the dirt away.
---
Melissa Lewis is a former elementary classroom teacher and media specialist. She has also written for various online publications. Lewis holds a Bachelor of Arts in psychology from the University of Maryland Baltimore County.