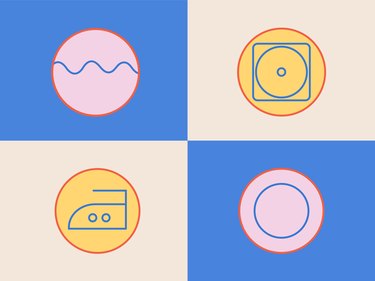 Doing laundry shouldn't be difficult, but it's frustrating when the care tag on your new shirt or blanket gives you hieroglyphics rather than straightforward instructions. Fortunately, this handy guide can help you translate laundry symbols into plain English so that you can clean your clothes with confidence. These symbols aren't entirely universal, but learning the basics will get you pretty far.
As clothing became more complicated to care for and washing machines became more widely available in the average home, laundry care instructions on clothing and other linens started to appear.
"Prior to the 1960s, clothing and textiles were almost exclusively made from natural fibers like cotton and linen, so caring for clothes was more straightforward," Procter & Gamble textiles expert Liz Eggert tells Hunker. "As synthetic fibers became more widespread and new manufacturing techniques and washing machines were developed, garments and their care instructions became much more complex."
Then, in the 1990s, manufacturers began using symbols for care instructions rather than words since words naturally took up much more space on a tiny tag. Eggert notes that at the time, North American Free Trade Agreement regulations meant that all instructions had to be written in English, French, and Spanish in North America, so it was as if a full "instruction booklet" had to be sewn into clothes. Symbols were far more efficient.
Are Laundry Symbols Universal?
Unfortunately, no. There are dozens of symbols used on textile tags that explain how to care for an item, and there are some variations among the symbols. "Care symbols vary by region because different countries often have different regulations on what is required of manufacturers," says Eggert. But she adds, "Most use the same basic shapes for wash, bleach, dry, iron, and dry clean."
Washing your clothes is so much easier (and more effective) once you can decipher all of the most common washing symbols.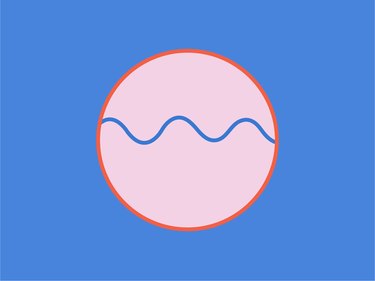 If you see the washing tub symbol by itself, the fabric you're washing probably isn't too picky. Just toss it in the washing machine on your favorite cycle and you should be fine.
When a garment needs to be washed in cold water, you may see the word "cold" printed under the washtub. You may also see the number 30, which indicates that you should wash the garment at a temperature of 30 degrees Celsius (86 degrees Fahrenheit) or lower. Cold water is also sometimes indicated by placing a single dot inside the picture of the washtub.
Don't be tempted to use warm water when the tag specifies machine wash cold. You can adjust the recommended temperature down but not up as it may cause color bleed or fading.
Machine wash warm is represented by the washtub with either the number 40 or two dots inside. This means you should wash the item in water that is 40 degrees Celsius (104 degrees Fahrenheit) or cooler.
At this point you're probably noticing a pattern, and it continues here. A washtub with the number 50 or three dots in it indicates that it is safe to wash the fabric in hot water. In this case, hot water means a temperature of about 50 degrees Celsius (120 degrees Fahrenheit).
Delicate fabrics sometimes require hand washing to keep them looking their best. If yours does, you'll see a washtub with a hand inside it on the care tag.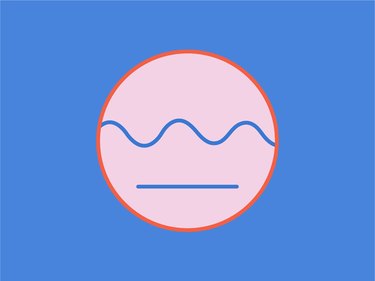 Denoted by a washtub with a single horizontal line beneath it, the permanent press designation indicates that your garment was treated to withstand wrinkles and hold its shape. You can machine wash permanent press items, but you should never iron them.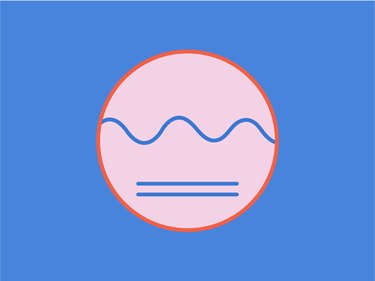 Most modern washing machines have a gentle cycle. If you see a picture of a washtub with two horizontal lines beneath it, use that gentle cycle when washing your clothes.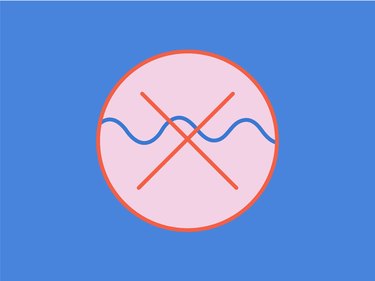 Are you looking at a washtub with a diagonal line through it? This means that you should not wash the fabric. This symbol often appears on fabrics that should not get wet and is frequently accompanied by a dry clean only symbol.
Garments and fabrics that require dry cleaning will bear a circle. Do not ignore this symbol. Many a cute sweater has been ruined by someone who tried to get away with a gentle cycle using cold water in the washing machine rather than visiting the dry cleaner.
While some items should visit the dry cleaner, others should not. Don't dry clean your garment if you see a circle on the tag with an X or line through it.
From time to time, you may wish to tackle a tough stain or brighten dingy whites with a little bleach. If the care tag features a triangle, it's safe to proceed with chlorine or oxygen bleach.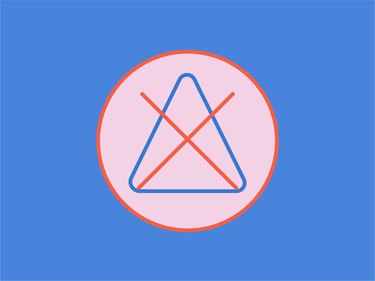 Some care tags feature a triangle with an X through it. This indicates that you should absolutely not bleach the item with bleach of any kind.
If the triangle on your tag has two diagonal lines inside it, you can bleach the item but only if you use nonchlorine bleach.
Never again guess whether or not you should dry that sweater or delicate item on low, high, or whether you should hang it up outside after understanding what these drying symbols mean.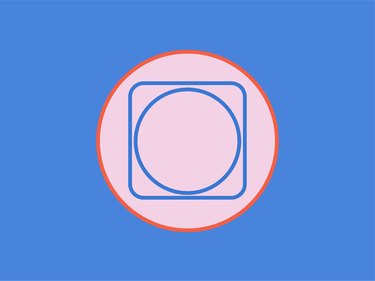 A square with a circle inside it lets you know it's safe to toss a garment in the dryer and tumble dry it. If you want to lower your energy bill by running your dryer less, run your clothes through an extra spin cycle in your washer before moving your clothes to the dryer.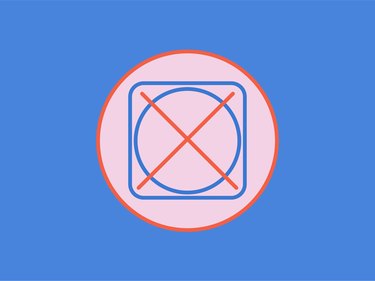 A square with an X over it means you shouldn't put your item in the dryer. Though it may be tempting to just toss it in anyway, your clothes could shrink or even burn.
A square with a circle containing a single dot inside tells you that you can use the dryer but do so on the low heat setting.
You guessed it! If the circle inside the square contains two dots, it means you should tumble dry the item on medium heat.
A tumble dry symbol with three dots inside the circle is safe to dry on high heat.
A square containing a solid circle means you can use your dryer but only on the no-heat setting. You'll see this laundry symbol frequently on bath mats and other rubber-backed items.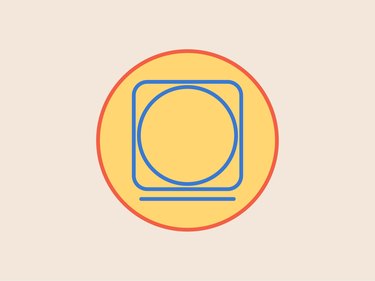 Dryers today feature a permanent press cycle, and this is what you should use if you see the tumble dry symbol with a single horizontal line beneath it.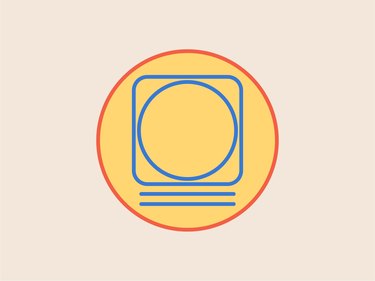 Some fabrics just need a little TLC, and just like your washing machine, your dryer is prepared to give it. A dryer symbol with two horizontal lines below instructs you to use the gentle cycle on your dryer.
Looking a bit like a wrung garment with an X over it, this symbol dictates that you shouldn't wring out your clothes to dry them. This symbol is often seen on items that require hand washing. Instead of wringing them, you'll need to press the item in absorbent towels to remove as much water as you can.
To wring is, of course, the antithesis of the do not wring symbol. If your label shows a wrung-out garment without an X over it, wring the garment tightly to get out as much water as you can and speed drying.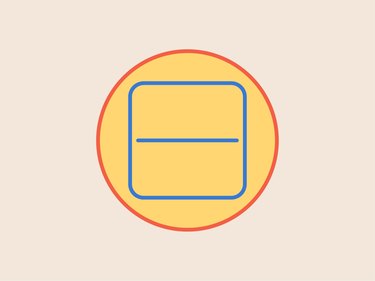 A square with a dash in it instructs you to lay a garment flat and then leave it to dry. This is a frequent laundry label on heavy items, like sweaters, that could lose their shape or stretch out in the dryer.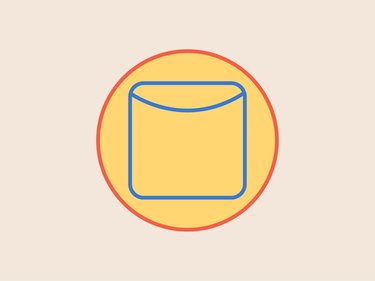 Sometimes referred to as line drying, a square with a semicircle at the top means you should hang the item to dry it. Hang the garment after reshaping it as needed.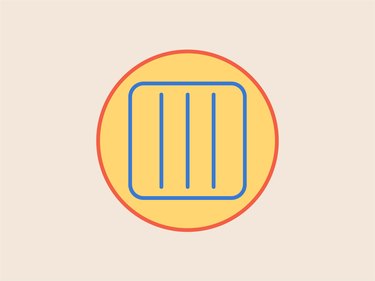 A square with three vertical lines inside indicates an item should drip dry. This is similar to line drying except that you need not reshape the item first. The weight of the water will reshape the fabric for you as the item dries.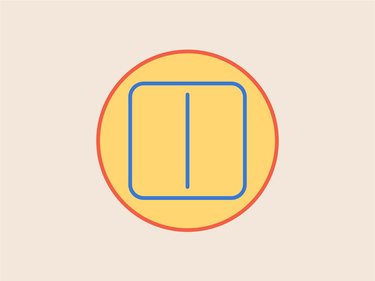 Line drying is simply another way to say "hang to dry."
This might be a little obvious, but if you see an iron, then you can iron the item. As with the washing icon, the iron symbol might have dots inside that indicate the temperature or provide further instructions.
Like other laundry symbols, an iron with a single dot inside indicates that you should use a cool iron. Don't let this term throw you — a cool iron isn't a cold iron. A cool iron is one that is simply set to a low temperature. The iron can still reach temperatures of 230 degrees Fahrenheit.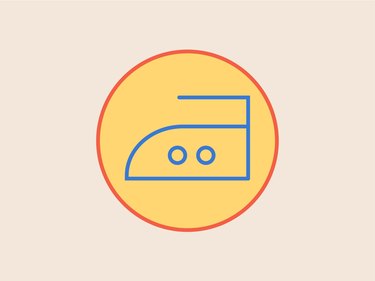 An iron with two dots inside? Use your iron on a medium setting, not letting the temperature exceed 300 degrees Fahrenheit.
Three dots? Go ahead and let your iron reach temperatures of 390 degrees Fahrenheit.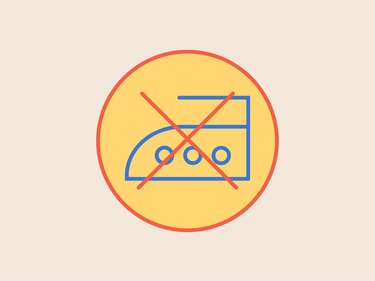 As usual, an iron covered by the letter X means that you should not iron the garment at all.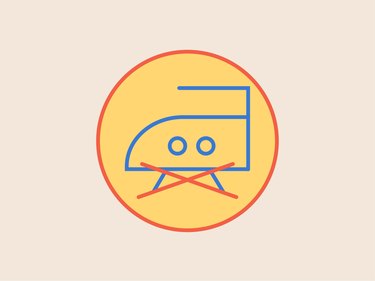 Although steam can help release wrinkles, some fabrics simply don't respond well to it and can be damaged. If you see an iron with dots coming out of the bottom and the symbol is covered by the letter X, don't use steam when ironing.
What Can Happen if You Don't Follow the Laundry Symbols?
If you ignore laundry symbols on the care label, there is a good chance you could ruin your clothing. Clothes and other washed items may come out of the laundry distorted, stretched out, or shrunk. It's not just the garment itself you need to worry about, however.