With all the new technology available in home appliances, it is easy to become confused. Many clothes dryers come with a wide variety of settings, but most people probably don't use very many of them. Instead of using the regular setting for everything, why not figure out which one best suits the garments you are washing? Your clothes will hold up better when dried on the correct settings. The permanent press feature on your dryer is one of these seemingly confusing settings, when really it can be very useful.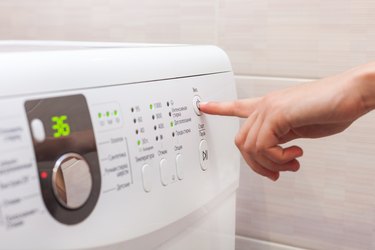 What is Permanent Press?
The permanent press setting on your dryer utilizes a medium heat temperature and helps you to avoid having to iron. Many permanent press cycles also have a cool-down period at the end, and some keep tumbling even after the air has stopped circulating. Both of these things help to minimize wrinkles. When you remove your clothes from the dryer, they should not need ironing. Permanent press is made to care for clothing that is used often and made to last.
Permanent Press & Colored Fabrics
The permanent press setting is ideal for colored fabrics because the moderate heat setting will not cause colored clothing to fade. If a colored fabric is dried on a high heat setting, the dye in the fabric will wear off more quickly than it would dried on a lower heat setting.
Permanent Press & Other Fabrics
Permanent press should also be used for any fabric that is man-made (such as nylon or polyester), or any garment labeled as permanent press. Clothes that say "tumble dry" or "tumble dry medium" should also be dried on permanent press. Promptly hang or fold all clothing after removing from the dryer for wrinkle-free clothes.
When Not to Use Permanent Press
Permanent press should not be used when drying delicate garments. You will end up with misshapen, ruined clothing. Delicate items should be dried on the delicate setting, which uses room temperature air to slowly dry your expensive sweaters. Non-wrinkle items (such as a wrinkle-free pair of khakis) can be dried on the permanent press setting but should be removed before they are completely dry and left to air dry the rest of the way.
Alternative to Ironing
The permanent press cycle is good for getting wrinkles out of clothing, making it a quick alternative to ironing. Toss your slightly wrinkled garment in the dryer for 10 minutes on permanent press and the warm air will release most of the wrinkles.
---
Katrina Solano began writing freelance in 2009. Her articles can be found on various websites. She works at a publishing company in Massachusetts and enjoys writing, shopping and trying new restaurants in her spare time. Solano graduated from Merrimack College in 2008 with a Bachelor of Arts in English and a minor in communications.