Things You'll Need
Paper towels

Empty spray bottle

Bowl

White vinegar

1/4 cup mild, bleach-free dish soap

Hand mixer

Rag

Old toothbrush

Spatula

Baking soda

Vacuum cleaner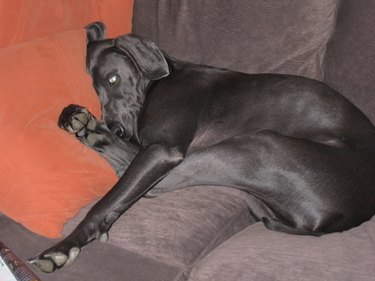 As much as you love your dog, it is still frustrating when pet accidents occur. Cleaning dog urine from the couch is a necessity. Not only will dog urine leave a stain, it will leave a foul odor behind as well. Dog urine stains on a couch may also encourage other pets in the home to mark the same spot.
Step 1
Blot at the urine stain using a thick stack of paper towels. Soak up as much urine as possible. Switch to a clean stack of paper towels frequently. Work from the outside of the stain towards the center and blot until no more urine transfers from the couch to the paper towels.
Step 2
Fill an empty spray bottle with cool water. Mist the water onto the urine-stained couch.
Step 3
Blot the couch again with a clean stack of paper towels. Blot the stain until the paper towels come back dry.
Step 4
Fill a bowl with 1/2 cup warm water. Add 1/2 cup white vinegar and 1/4 cup mild, bleach-free dish soap. Mix the ingredients together using a hand mixer to create a frothy mixture.
Step 5
Use a dry rag to spread the foam onto the urine stain. Work the foam into the upholstery using an old toothbrush.
Step 6
Lift the dirty foam from the upholstery with a spatula. Clean the area with a damp rag to remove any residue.
Step 7
Pour some white vinegar into an empty spray bottle. Spray a generous amount of the vinegar onto the affected area.
Step 8
Allow the vinegar to dry without wiping it up. The vinegar will help to absorb the odor deep into the fibers of the couch.
Step 9
Sprinkle baking soda onto the couch to help neutralize the odor. Allow it to sit on the couch for two hours. Vacuum the powder from the couch.