If you have a four-legged friend, then you probably have confronted dog urine stains on the carpet. When the pee stain has had time to set, it becomes caked and can emit a putrid urine smell. There are a few ways to get dog pee out of carpet, furniture, planters and other household items without ruining the material.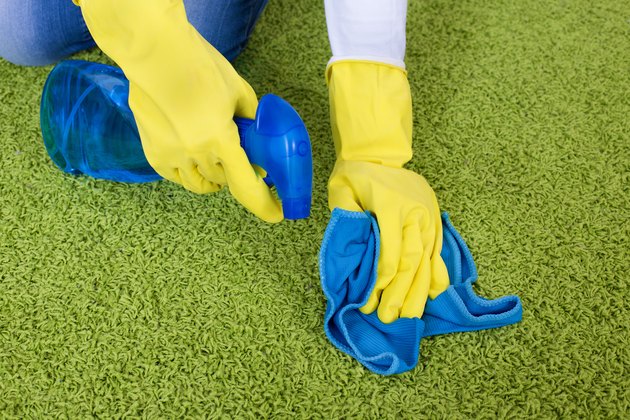 credit:
Jevtic/iStock/GettyImages
Commercial Cleaner Recommendations From Pros
Carpet cleaning professionals and expert dog trainers usually recommend a commercial cleaner to swiftly and completely remove dry dog pee. A commercial cleaner tends to work best on old pet urine stains.
There are many nontoxic pet urine stain and odor removers on the market. The top-rated pet stain cleaners include:
Clorox Urine Remover
Pet Odor Exterminator
Nature's Miracle Advanced Pet Trigger Sprayer
Bubba's Pet Stain and Odor Remover
Why Enzymatic Cleaners Work
To completely remove the smell as well as the pee stain, a cleaner with enzymes is the most efficient. The best old pet stain removers use enzymes to break down the biological compounds while working on the odor issues as well.
Enzymatic cleaners are best for urine stains because they break down the compounds that make the stain and tackle the odor issues of the stain. With short strokes working from the outside of the stain in, brush the solution deep into the fibers.
The reason dog pee can be so difficult to clean is that it is a biological mix of natural stain and odor problems. When a dog pees, it releases a stream of hormones, bacteria, ammonia and uric acid. The ammonia increases its concentration over time and creates mercaptans.
This is why you should never use ammonia to clean up any pet stains. It will not only make the stain more markedly visible and indelible but more odoriferous as well.
Dog Urine Stains on Carpet
Pets piddle, either by accident or as they train to use the facilities outdoors. If the urine stain has just occurred, sprinkle baking soda on the spot and let it sit for a minute. This serves as an immediate odor neutralizer. After 10 to 20 minutes, vacuum up the baking soda.
If the stain is persistent, sprinkle more baking soda on the stain, spray it with a DIY carpet cleaner and gently brush the solution deep into the fibers. Let it sit for 15 minutes to work on deodorizing and removing the stain from the carpet. Vacuum the area to remove the cleaning solution and powder.
Homemade Dog Urine Removers
The most popular DIY carpet cleaners include rubbing alcohol and vinegar. Rubbing alcohol works wonders in small spaces because it will evaporate quickly. A basic homemade cleaner using rubbing alcohol to have on hand is:
1 part rubbing alcohol
1 part vinegar
A few drops of essential oil
To get dog urine out of carpet with vinegar, you need only douse the area or put straight white vinegar into a spray bottle to spritz onto the urine spot. This common household item can be sprayed straight onto the stain and left for 15 minutes. Vinegar breaks down enzymes and deodorizes as it works to remove the color of urine from the carpet fibers.
When the Scent Won't Stop
Soft fabrics and hard plastics in the home can absorb urine scents and hold onto them long after you have treated the stain. Deodorize vents and spray couches and upholstered furniture with a homemade air freshener or commercial pet odor blocker.
Pets can be sneaky about where they relieve themselves. If the urine smell continues to waft through your living spaces, you may need to do some thorough inspecting of your carpets, rugs, planters or any other surface where a dog may be able to lift a leg and leave a mark.
Take a blacklight to the carpet and bases of the furniture to find where the pet may have piddled without your noticing.