Things You'll Need
Plastic spoon

Laundry pretreatment spray

Clean, white paper towels

2 thick, white cloths

Liquid laundry detergent

Thick, white towel
Tip
Substitute a homemade solution of equal portions water and liquid dish detergent for the liquid laundry detergent.
Warning
Spot-test the laundry pretreatment spray on the backpack to avoid discoloration.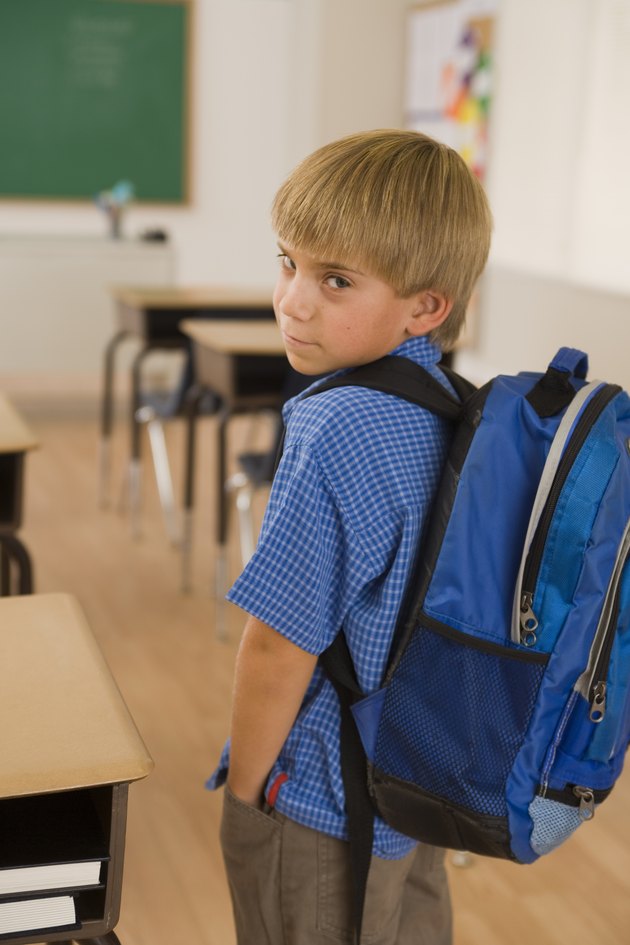 School-aged children occasionally acquire paint stains on their backpacks from messy craft projects. Acrylic latex paint is common on backpacks, as it is water-based, nontoxic and more kid-friendly than other paint types. Although colorful and versatile, acrylic paint looks dingy on backpacks. Acrylic paint's bond to backpack fabric strengthens over time, making the paint harder to remove. Since acrylic paint dries rapidly, a prompt response is essential to restoring backpacks. Quickly remove acrylic paint from backpacks using basic solutions.
Step 1
Scrape any fresh acrylic paint off the backpack using a plastic spoon. Do not spread the paint stain.
Step 2
Access the underside of the paint-stained fabric. Rinse the back of the acrylic paint stain with warm water to inhibit the paint from spreading.
Step 3
Drench the remaining paint stain with laundry pretreatment spray. Let the spray penetrate the backpack for one minute.
Step 4
Blot the remaining stain with clean, white paper towels, replacing them frequently. Lift as much paint off the backpack's fabric as possible.
Step 5
Saturate a thick, white cloth with warm water. Blot the stain to flush out the laundry pretreatment spray.
Step 6
Inspect the backpack for lingering paint. If any paint residue persists, blot the paint with liquid laundry detergent using another cloth. Continue blotting the backpack's fabric until no paint remains.
Step 7
Rinse the backpack's soapy fabric under flowing, warm water.
Step 8
Blot the backpack's wet fabric with a thick, white towel until dry.
---
April Dowling first started writing in high school and has written many news articles for newspaper and yearbook publications. She is currently pursuing a career as an online writer and affiliate marketer. Dowling writes for several websites and keeps many blogs.