Things You'll Need
Vacuum with attachment

Plastic gloves

Garbage bag

Large garden sprayer

White vinegar

Lemon juice

Witch hazel

Apple cider vinegar (optional)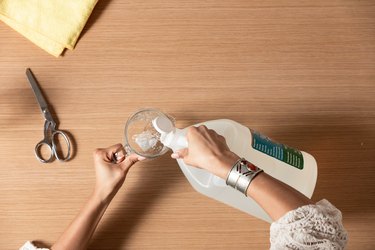 If it's true that patience is a virtue, then you should feel fairly virtuous after using vinegar to kill fleas in your home. This is because the tactic requires repetition, and it must be done in tandem with vacuuming to be effective. So if you've heard a simple squirt of vinegar is "all you need" to kill fleas, you're bound to be disappointed. The University of Kentucky's College of Agriculture provides a reality check by pointing out that adult fleas can lay as many as 50 eggs a day on a pet. So right from the start, this puts you behind the proverbial eight ball in your quest to rid your pet and home of fleas. You can gain the upper hand even if patience fails you as long as tenaciousness takes over.
Step 2
Remove pillows and cushions from chairs and couches, and thoroughly vacuum them with the proper attachment. Turn your attention to the floors and vacuum around the edges of rooms first, then through the interior, moving the vacuum horizontally then vertically to rustle the carpet fibers and capture as many fleas as possible. Put on a pair of gloves to protect your hands from potential flea bites before placing the vacuum bag in a garbage bag, closing it tightly and placing it outdoors until garbage day.
Step 3
Place a large garden sprayer in a sink and pour 1 gallon of white vinegar, ½ gallon of water, 16 ounces of lemon juice and 8 ounces of witch hazel inside. Adjust the nozzle so it emits a strong, heavy spray.
Step 4
Unleash the power of your herbal flea spray on every surface, high and low, from floors and furniture to counters and windowsills, leaving a liberal coating. Depending on the severity of the flea infestation, repeat the one-two punch of vacuuming and spraying once a day for at least two days and up to seven days in a row.
Step 5
Give your pet a warm, soapy bath. Grab a towel and dry your pet before spraying some diluted vinegar directly on his fur. Try diluted apple cider vinegar for a more pleasant scent. Carefully protect your pet's eyes and ears as vinegar can sting.
Tip
Although this herbal spray relies on natural ingredients, it's wise to test it first on delicate fabrics, leather, suede and antiques. Choose an inconspicuous region, use a faint amount of spray and check the surface for any discoloration before proceeding.
---

M.T. Wroblewski
With education, health care and small business marketing as her core interests, M.T. Wroblewski has penned pieces for Woman's Day, Family Circle, Ladies Home Journal and many newspapers and magazines. She holds a master's degree in journalism from Northern Illinois University.