Things You'll Need
All-surface liquid cleaner

Soapy water

Cleaning rag

Soft towel

Cotton swab
Warning
Do not submerge clear plastic in hot water for extended periods of time. The heat can activate glue holding plastic pieces together, causing them to lose their adherence and fall apart.
Do not put acrylic cups and tableware through the dishwasher, as extreme heat will cause internal fissures inside the plastic and lead to a splintered appearance and shortened table life. Wash dishes and cups in warm, soapy water with a soft cloth, then dry each piece individually for optimum appearance and durability.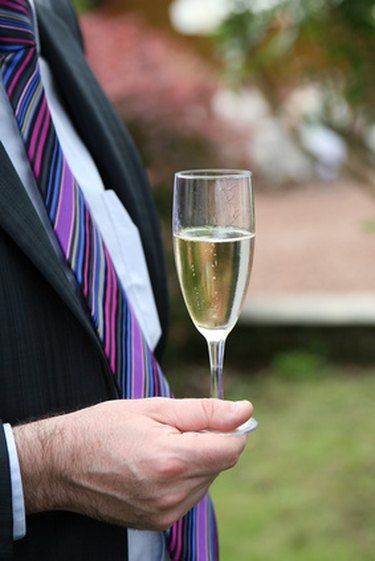 Clear plastics, such as acrylic, can be practical, economical, and sturdy alternatives to glass. Lightweight yet elegant, clear plastic dishes and cups can be ideal for picnics and other outdoor affairs, and families with young children will appreciate the clarity of glass coupled with the durability of plastic. However, just like fine dishware, clear plastic requires special care to keep it in optimum shape. The proper cleansers and storage will ensure that your clear plastics last for many years to come.
Step 1
Spray the surface of your plastic with an all-surface, streak-free liquid cleaner, such as Windex. Avoid powdered cleaning products, as the granules will be too abrasive for the plastic and will lead to scratches and damage. For dirt or detritus that is stuck on the plastic surface, let the cleaning solution sit for one minute.
Step 2
Apply a rag dipped in warm soapy water to tacky stains, such as syrups or sticker residue, and let set for a few minutes. Remove rag, dry with a soft cloth, then apply cleanser as described above to remove smudges left behind.
Step 3
Wipe the plastic surface clean with a soft, absorbent towel. Feel free to apply a little extra effort to areas with excess debris. For intricate plastic objects, such as figurines, clean between crevices with a cotton swab or ball. Paper towels can be used occasionally, but extended application may damage plastic surfaces. Avoid using steel wool and other abrasive materials. Dry clear plastic thoroughly, and wash only when necessary.
---
Hailing from California, Ann Mazzaferro is a professional writer who has written for "The Pacifican," "Calliope Literary Magazine" and presented at the National Undergraduate Literature Conference. Mazzaferro graduated magna cum laude with a Bachelor of Arts in English from the University of the Pacific.