Things You'll Need
Dust mop

Cleaner approved for aluminum oxide coated hardwood floors

Soft cloth

pH neutral cleaner approved for prefinished hardwood floors

Bucket

Sponge mop
Tip
Wipe spills as soon as they happen to keep your flooring from developing stains and discoloration from excess moisture. Purchase a cleaning kit for your specific type of hardwood floors from your flooring dealer. Waxing prefinished hardwood floors is not recommended.
Warning
Do not use cleaners that contain ammonia or vinegar to clean your hardwood floors. Ammonia will damage the aluminum oxide coating and the acid in vinegar will dissolve the finish. Oil soaps will leave a film on your hardwood floors and--overtime--will dull the finish.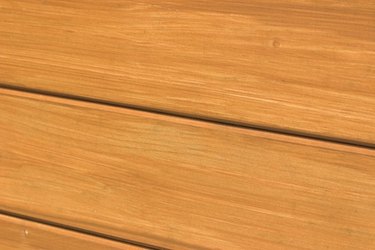 Aluminum oxide coating increases the resistance, durability and overall strength to polyurethane finished hardwood flooring. Take special care not to damage this coating when cleaning the floor. Some common household cleaners can dissolve the coating, making your hardwood floors appear dull and dingy. With proper care, your aluminum oxide coated hardwood floors will give you a lifetime of use.
Step 1
Use a dust mop to remove the surface dust, dirt, hair and debris. Repeat this process once a week to keep your hardwood floors looking their best.
Step 2
Apply a cleaner approved for aluminum oxide coated hardwood floors to a soft cloth. Gently rub any scuff marks with the saturated cloth. Continue rubbing until you have removed all scuff marks.
Step 3
Purchase a pH neutral cleaner that is approved for prefinished hardwood floors. Follow the directions according to your specific brand of cleaner. Most pH neutral cleaners must be diluted before use. Pour the recommended amount of cleaner and water into a bucket. Submerge a sponge mop into the mixture and wring out the excess liquid. Mop the hardwood floors with the sponge mop in a back-and-forth motion.
---
Amanda Flanigan began writing professionally in 2007. Flanigan has written for various publications, including WV Living and American Craft Council, and has published several eBooks on craft and garden-related subjects. Flanigan completed two writing courses at Pierpont Community and Technical College.