Things You'll Need
Owner's manual

Screwdriver

Liquid carburetor cleaner

Copper wire

Compressed air can

Carburetor kit
Tip
Be sure to use liquid carburetor cleaner, as any other kind will not do as good a job.
Take your time and avoid making mistakes, particularly when reassembling.
Warning
If you feel that you could be damaging your snow blower, seek professional assistance.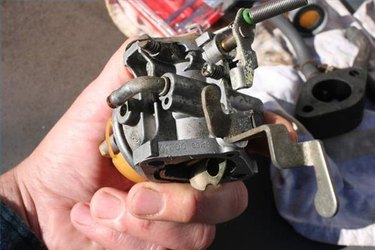 Cleaning a snow blower carburetor presents some tricky issues, so be sure that the carburetor needs cleaning before removing it. If you are unaccustomed to working with small engines, or if you are at all unsure, you may just want to ask a professional to do the job. If you are sure that you would like to clean your carburetor yourself, take your time and make sure that you do everything properly.
Step 1
Begin by familiarizing yourself with your snow blower's owner's manual, particularly anything related to the carburetor. If you no longer have the manual, attempt to find it online or obtain a new copy from the manufacturer. You will want to know what you are doing before you take your snow blower apart.
Step 2
Using the screwdriver, remove everything necessary to get at and remove your carburetor. Specific actions will depend on your model, which is where the owner's manual can be useful. While you are removing parts, be sure to use a digital camera to carefully document all of your actions so that you can put the snow blower back together when you are done.
Step 3
Submerge the removed carburetor in liquid carburetor cleaner. Allow the carburetor to soak for about three hours to remove all impurities. After soaking, rinse the carburetor off with water.
Step 4
Clean out all of the small holes in the carburetor using the copper wire. This will remove any tarnish that has built up in the holes. Be very careful to clean out all of them.
Step 5
After using the wire, use compressed air to blow any leftover tarnish out of the holes. Again, be sure to apply the air to each of the holes.
Step 6
Using the carburetor kit, reattach the carburetor to the snow blower. Make sure that everything is just like it was before you touched it. Be sure to carefully review the pictures that you took while disassembling it, as well as the owner's manual.
Step 7
If you are still having problems or experience any serious issues, take your snow blower to a local repair shop. It is worth the investment to avoid seriously damaging your snow blower.
---
Joseph Eitel has written for a variety of respected online publications since 2006 including the Developer Shed Network and Huddle.net. He has dedicated his life to researching and writing about diet, nutrition and exercise. Eitel's health blog, PromoteHealth.info, has become an authority in the healthy-living niche. He graduated with honors from Kellogg Community College in 2010 with an Associate of Applied Science.