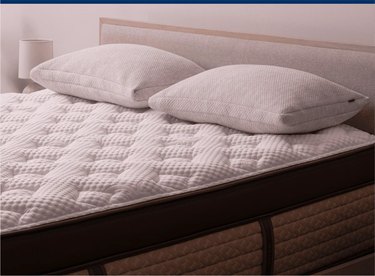 Helix is one of the many "bed in a box" companies on the market today (though they do actually have showroom locations where you can test it out IRL). How they stand out is their mission to ensure every customer gets a personalized mattress based on how they sleep. That means you'll get the best fit, whether you're a side sleeper, a runs-hot sleeper, a flip flopper, or all of the above.
After you take a 30-second quiz — which includes questions like your field of work, your height and weight, your normal sleeping positions, and how many sleepers will use the bed — Helix will match you up with the right mattress for you.
After taking the Helix sleep quiz, my husband and I were matched with the Helix Midnight Elite. Here is my honest review after sleeping on the mattress for a couple of weeks.
For transparency, I did receive this mattress in exchange for a review. However, all of the following thoughts and opinions expressed below are my own and are not influenced by Helix in any way.
Helix Midnight Elite Mattress Features
The Helix Midnight Elite mattress is truly the Cadillac of the Helix suite of mattresses. It features:
A hybrid mattress design. This means that the mattress contains both individually wrapped steel coils as well as foam layers. (A conventional innerspring mattress contains only steel coils for support, while a foam mattress contains only foam support.)
Advanced GlacioTex™ Elite Technology to help you have a cool night's sleep (especially nice for those of us who run hot).
Hundreds of individually wrapped steel coils to improve lumbar support and fill the space between the natural curve of the spine and the mattress.
Five foam layers, which make the mattress quite tall and give it a medium firmness.
Two layers of microcoils nestled in between the foam layers. These are designed to provide support and disperse body weight across the mattress to maximize comfort.
Pros and Cons of a Helix Mattress
Pros
Supportive mattress for side sleepers
Cooling for sweaty sleepers
Not too soft, not too firm
Cons
Very tall, so it can be difficult (and expensive) to get sheets that fit
The mattress itself is pricey
I'll cut to the chase: This is a seriously good mattress. In fact, I would dare say it's the comfiest one I've ever slept on or tried in a store. Since having my child almost four years ago, I've struggled with waking up in the middle of the night with lower back pain and/or just sweating profusely (sorry; is that TMI for a mattress review?). After almost two weeks sleeping on the Helix Midnight Elite, those problems seem to have gone away. I also love the hybrid-ness of the Helix Midnight Elite. It's bouncy and fluffy yet slightly firm. I've never been a fan of all-foam mattresses, and frankly I'm not so sure anyone who claims to be is actually telling the truth. (I'm willing to die on this hill.)
The only cons of the Helix Midnight Elite have nothing to do with the comfort level of the mattress itself. The biggest con is that this mattress is very (very) tall — some might even say towering (as mattresses go). The five foam layers and two microcoil layers are excellent for comfort, but the height they add makes it challenging to find sheets for the bed. It can also be a bit of a journey upward if you're short or if you have a dog with arthritis (let's be honest; this is where my dog hangs out most of the day so it's been a bit challenging for her to run and jump up there).
The other con is that the mattress is pricey. While a quality mattress is a big investment, hybrid mattresses can be particularly expensive. A king-sized Helix Midnight Elite will run you $4,123, though Helix regularly has sales that can save you hundreds if not $1,000 or more. However, I will say that this mattress warrants the price. Specifically, it is worth it for the cooling technology alone.
What Kind of Warranty Does Helix Have?
The warranty on a Helix mattress depends on the type of mattress you purchase:
Type of Mattress

Length of Warranty

Helix Mattress

Helix Kids Mattress

10-year limited warranty

Helix Plus Mattress

Helix Luxe Mattress

Helix Elite Mattress

15-year limited warranty
The specifics of the mattress warranty are spelled out on their site, but generally it covers manufacturing defects and not normal wear and tear. It also specifically states that improper use of the mattress (like putting it on an adjustable base without a proper bed frame) will void the warranty.
Should you suspect there are factory defects on the mattress, you can ship the mattress back to Helix (at full cost to you). If the company finds there is indeed a defect, they will reimburse you for shipping up to $100 and will repair your mattress or mattress cover or replace it with one of equal or greater value.
Can You Return a Helix Mattress?
You can return a Helix mattress for a full refund, but it has to be during the "100 night sleep trial." Helix stipulates that mattresses cannot be returned within the first 30 days of the purchase because it can take that long to "break in" the mattress, but you are free to return the mattress for any reason within 100 days after that.
How Are Helix Mattresses Delivered?
Helix mattresses are shipped in a box, and the delivery is included in the cost of the mattress. The box my Helix Midnight Elite was delivered in was quite large and arrived with some tearing, but the FedEx delivery worker told me that mattress boxes almost always get torn in transit, and the mattresses themselves are never damaged. This was true in my case; the mattress was completely unscathed once we unboxed it.
How Much Do Helix Mattresses Cost?
Helix mattresses range in price from $561 (for a kids' twin) to $4,123 (for a CA king in the Helix Midnight Elite). The mattress I reviewed (a Helix Midnight Elite in a king) retails for $4,123, though it's currently on sale for $3,092.80.
Should You Buy a Helix Mattress?
While I can speak from experience only about the Helix Midnight Elite mattress, my answer to this question is a resounding ‌Yes‌. The company really nails the hybrid mattress design (not too soft, not too stiff), and the Midnight Elite specifically is cool and very comfortable. From the moment my body hits the bed, I find it very difficult to want to get up. So, for those who have the budget for it and don't mind a super tall mattress, I'd give this a resounding five stars.