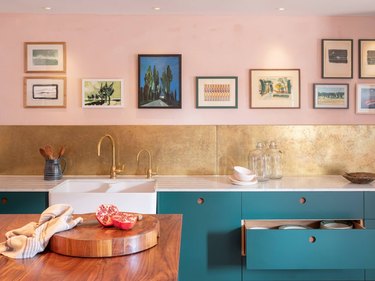 When it comes to designing your cook space, should the wall color match your kitchen cabinets? There's no exact right or wrong answer to this question, but we can present you with all the inspiration to help you make an informed decision. Moreover, interior design wouldn't be much fun if there was a set of strict rules that you had to follow. And one of the most fun jobs for an interior designer is choosing the paint color palette. A judicious choice not only pleases the eye, but it also helps adjust conditions over which you have little control, such as light quality, architectural details, and wall, floor, and cabinet materials. Consequently, the selection process calls for flexibility, and the same goes for choosing kitchen cabinet paint colors.
So, "How do I even start to plan a color scheme for my kitchen?" you ask. A basic rule of thumb is to pick a primary dominant color (to be used on either the walls or the cabinets) and then plan for a secondary shade that is complementary to the scheme. The real question is how much the colors should differ. Do you go with a highly contrasting tone for the cabinets or one that differs by just a few shades, and what about the hue?
Which comes first — wall color or cabinets?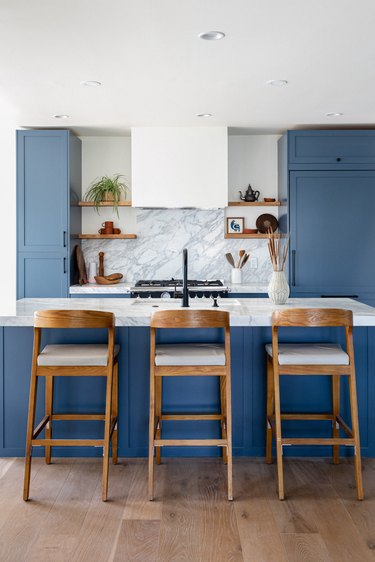 This is the ultimate chicken and egg question, but it's important to consider from the start. Remember, your wall color can always be changed with ease, while the kitchen cabinet color can be a little trickier to revamp and revitalize. We say go with your gut. If you've got a color in mind for the cabinetry, work around that. And vice versa, match your kitchen cabinets to the wall if that's something you're certain of.
There's no definite method to the madness with this decision, but these tips will help you narrow down the choices.
1. Use color to balance light and mood.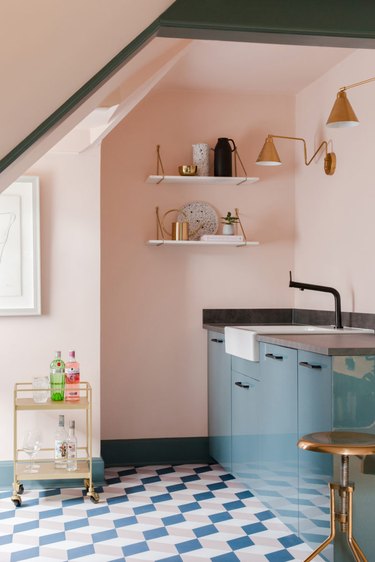 Lighter colors create a sense of visual space, while inkier hues make a room feel smaller and cozier. If your kitchen gets a lot of natural light, and the walls are also bright, the cabinets might be begging for a dark color to create definition. On the other hand, it's helpful to keep the kitchen cabinet paint color light in a cook space without much sun to prevent you from feeling closed in, especially if the walls are dark or the cabinets have a naturally deep granite countertop.
Color matching also helps regulate mood and aesthetics in the kitchen. If you're looking for an easygoing space, choose cabinet tones that are a few shades lighter or darker than the walls. Those who like drama might prefer cabinetry that strongly contrasts with the walls. So get a bit of both by employing a triadic color scheme, which matches blue with yellow-orange or pink, green with violet or deep orange, or red with vibrant yellow or deep blue. Get inspired by these color combinations that seem so wrong yet look so right.
2. Blend kitchen cabinet paint colors with the room.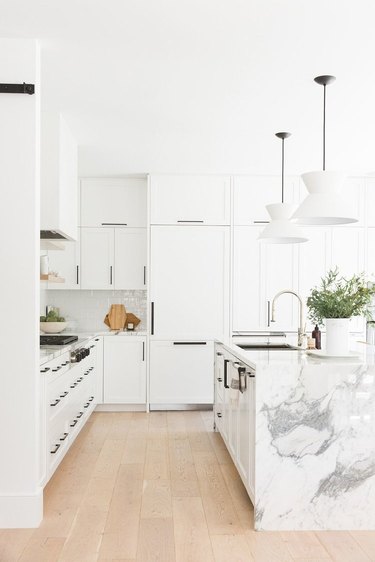 The kitchen wall color is one of the strongest determining factors of how a cook space looks and feels, but the cabinet colors are just as important. They should complement the walls, as well as the floor color, appliances, and countertops. You might choose a light tone to offset a deeper wall, but if the floor is also light, you'll want to use a shade that blends with both.
If the cabinet color is too similar to that of the floor, the cohesion could be visually disorienting because there will be no clear area of differentiation. In smaller spaces, it's better to create a color gradation between the cabinets, floor, and walls to keep these essential visual elements separate. For example, if the kitchen has oak floors and beige walls, colors that will separate the cabinets without being obtrusive include shades of brown, cream, or yellow. More dramatic but harmonious choices would include light green or deep blue.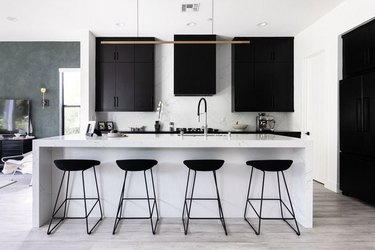 For a strong, stand-out look, why not try using just two shades in your kitchen, one for the cabinets and one for the walls? The cabinets can serve as a beautiful contrast to the walls, adding drama to the space and really making a feature within the room. Take a look at these two-tone kitchen ideas for further inspo.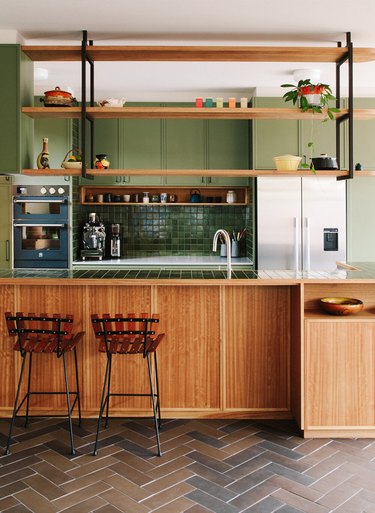 Don't limit yourself to painted wooden cabinets; you should also consider different materials and the natural colors they offer. Metal cabinets and natural wood options can work with both lighter and darker wall colors. Alternatively, you could also combine an unexpected combo like the one seen in this kitchen by Brave New Eco.
5. Try a tone-on-tone look for modern appeal.
Tone-on-tone makeovers have been taking the interior world by storm, and the concept works just as well in kitchens. The effect creates a minimal aesthetic that feels both modern and high-end. Plus, if you choose a wall shade that is ever so slightly lighter or darker than the cabinets, it will add depth and dimension to the room. Curious about how you can use tonal paint colors to create a more dynamic cook space? Check out all these tone-on-tone ideas from the experts.
Kitchen Cabinet and Wall Color Q&A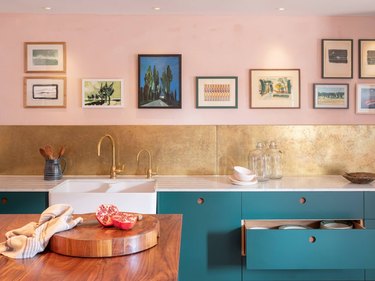 ​Q​: Should kitchen cabinets be painted lighter or darker than the walls?
​A​: Traditionally, if the walls are white or off-white, a darker color for the cabinets will work well. If the walls are dark, you could add contrast with a lighter cabinet, but again this depends on your own preferences.
​Q​: Should you have white cabinets and white walls?
​A​: White cabinets and white walls can look very striking in certain design schemes, you just need to break up the space elsewhere, perhaps with slightly darker floors or countertops. These all-white kitchens will give you some inspiration.
​Q​: I want my kitchen to be timeless. What color cabinets never go out of style?
White and gray are neutrals that go with almost anything, and they are a refuge whenever you're in doubt. Both colors, or perhaps it's better to say non-colors, can lean toward any hue with the addition of the appropriate pigment, which makes it easy to blend the cabinets with any kitchen color scheme. Use white when you need to bring light into a dark space and a deep shade of gray to create definition.
​Q​: I'm thinking of going wild with color in my kitchen. Should I do it?
​A​: It's your kitchen, so bring in color if it makes you happy! Fancy pink walls with cabinets in alternating colors? Go for it! Craving all-white everything? Nobody can stop you. Throw the interior design rulebook out the window and design a kitchen that works for you.
​Q​: What are the pros of going with white walls and inky black cabinets?
​A​: Contrast would reign supreme in a kitchen with this classic color combo. You'd get a splash of moodiness from the dark cabinets, but the light wall hue would keep things feeling fresh. As an added bonus, this combo could work no matter your decor style.
​Q​: What are the most popular kitchen colors?