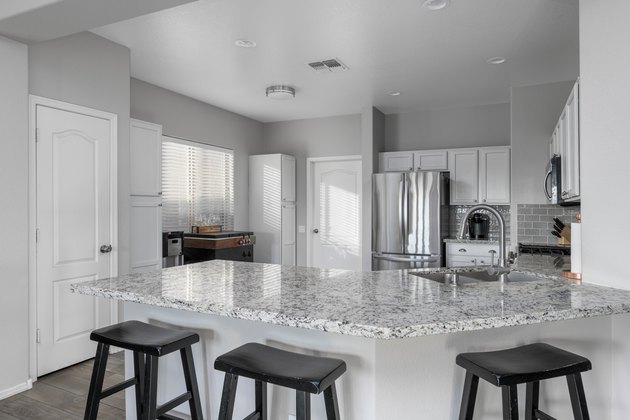 Interior design wouldn't be much fun if there was a set of strict rules that you had to follow, and one of the most fun jobs for an interior designer is choosing paint colors. A judicious choice of kitchen wall paint colors not only pleases the eye, but it also helps adjust conditions over which you have little control, such as light quality, architectural design and wall, floor and cabinet materials. Consequently, the selection process calls for flexibility, and the same goes for choosing kitchen cabinet paint colors.
If the walls are white or off-white, you pretty much have to go for a darker color for the cabinets, and the obverse is true that if the walls are a dark color, you should go with a lighter color. The real question is how much the colors should differ. Do you go with a highly contrasting color for the cabinets or one that differs by just a few shades, and what hue should you choose?
Using Color to Balance Light and Mood
Light wall colors create a visual sense of space, while dark colors make a room feel smaller and more cozy. If your kitchen gets a lot of light, and the walls are also light, the cabinets are begging for a dark color to create definition. Otherwise, you might feel like you're floating in space when moving around the kitchen. On the other hand, it's best to keep kitchen cabinet paint colors light in a kitchen without much natural light to prevent you from feeling closed in, especially if the walls are dark or the cabinets have a naturally dark granite countertop.
Color matching is also a way to regulate mood and aesthetics in the kitchen. If you're looking for an easy-going space, choose cabinet colors that are a few shades lighter or darker than the walls. Those who like drama might prefer kitchen cabinet paint colors that strongly contrast the wall colors. Get a bit of both by employing a triadic color scheme, which matches blue with yellow-orange or pink, green with violet or deep orange or red with vibrant yellow or deep blue.
Blending Kitchen Cabinet Paint Colors with the Room
The wall color is one of the strongest determinants of how a kitchen looks and feels, but the cabinet colors are just as important. They should blend with the walls, but they should also blend with the floor color, as well as the color of the appliances and countertops. You might choose a light color to offset a darkish wall, but if the floor is also light, you'll want to use a shade and hue that blend with both.
If the cabinet color is too close to that of the floor, it visually raises the level of the floor, and that can be disorienting. It's better to create a color gradation between the cabinets, floor and walls so you can keep these essential visual elements separate. For example, if the kitchen has oak floors and beige walls, colors that separate the cabinets without being obtrusive include shades of brown, cream or yellow, and more dramatic but harmonious choices would include light green or deep blue.
Stay Safe with White or Gray Kitchen Cabinets
White and gray are neutral colors that go with almost anything and are a refuge whenever you're in doubt about color choice. Both colors, or perhaps it's better to say non-colors, can lean toward any hue with the addition of the appropriate pigment, which makes it easy to blend the cabinets with any kitchen color scheme.
Use white when you need to bring light into a dark kitchen and a dark shade of gray to create definition when there's too much light. Both gray and white work well with stainless steel appliances.
---
Chris Deziel is a contractor, builder and general fix-it pro who has been active in the construction trades for 40 years. He has degrees in science and humanities and years of teaching experience. An avid craftsman and musician, Deziel began writing on home improvement topics in 2010. He worked as an expert consultant with eHow Now and Pro Referral -- a Home Depot site. A DIYer by nature, Deziel regularly shares tips and tricks for a better home and garden at Hunker.com.
View Work