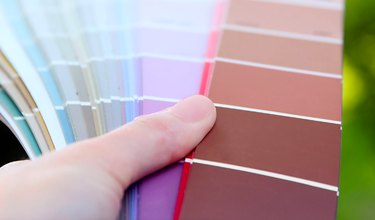 Consider this scenario. You painted the living room and bedroom three years ago with a particular color that you chose carefully to go with your carpet. Now you need to touch up one of the walls, but alas, you don't have any leftover paint, and you forgot the name and brand of the paint. How can you get an exact match?
Here's another not-so-unusual situation. You're planning to paint your home's exterior, and while driving around town, you see the exact color you want on another house. How can you get the clerk at the paint store to mix that hue?
In the second case, you may be satisfied with a close approximation, but when it comes to touching up existing paint, only an exact match will do. Even a small variation will be noticeable and could end up forcing you to completely repaint the entire room. Paint manufacturers offer a variety of tools to help you make the match, but be careful. Lighting and sheen both affect how the color appears on the wall, and you also have to account for the fading and dulling that happens as paint ages.
The App for That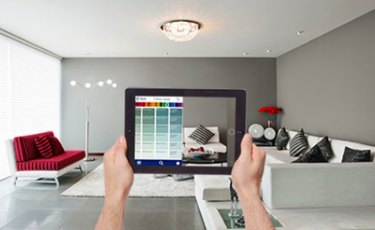 The cameras in contemporary mobile devices and tablets are capable of high resolutions, and paint manufacturers take advantage of them by offering color-matching software, usually for free. Behr offers ColorSmart; Sherwin-Williams, the ColorSnap Visualizer; and Benjamin Moore, the Color Capture app. You can also download the Trade Paint Expert app from Dulux, which is a tool for professional designers. If you do a lot of color matching, you might want to purchase a Color Muse, a color sensor that links to your mobile device. Press it against the wall and the best color match appears on the screen of your device. It works with many name-brand paints.
With the camera active, color-matching software scans the image and delivers a pixel-by-pixel assessment of color shade and hue. The key to effective color matching with a mobile app is to adjust the lighting properly. The wall should be well lit, but the lighting should be indirect, as any glare from sunlight or some other direct lighting source will affect the results. Be sure to compare results from different parts of the wall to ensure they are uniform.
Using a mobile app is probably the best method for exterior color matching, especially when you want to duplicate an exterior color that isn't on your own home. You can simply stand in the street, get a close-up view of the house that interests you and let the app do the work.
Trial and Error with Fabric or Thread
Look around your house, in drawers, closets and in the attic, and you may find an old shirt, a pillow cover or a spool of thread with a color that matches the wall. If so, you're in luck. Take the fabric or thread to the paint store, and the clerk can use a spectrometer to analyze the color and mix a sample. Don't purchase a gallon just yet, though. Mix up a half-pint sample, then take it home, paint a dab on the wall and let it dry before evaluating the color. You may find the match close, but not quite close enough. If so, no worries. Use the first sample as a reference to get a second sample that is even closer to the color you need. It may take two or three attempts, but this trial-and-error approach is bound to produce a spot-on match eventually.
You can also use this trial-and-error method with paint chips, which is the official name of those colored pieces of cardboard you find in paint stores. Most stores will allow you to take home as many of these as you want, but you only need the four or five that are in the same family as the color you're trying to match. Once you have decided on a color, mix a sample, try it and modify as needed.
Take a Piece of the Wall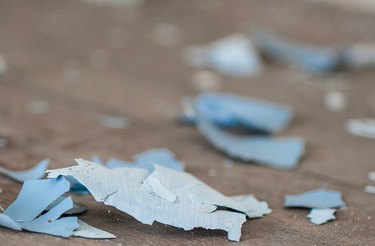 Finally, it's possible to match the paint by taking an actual sample of the wall surface to the paint store. You don't need a big piece of the wall—most paint store spectrometers can get a good match with a 1-inch square. If the paint is already flaking off, you can get what you need with a paint scraper. If the paint isn't flaking, you may be able to get it to bubble up by heating the wall with a heat gun. If not, you may have to cut a small square out of the drywall with a utility knife. Don't worry; you can easily patch the wall with joint compound before you repaint.
Put the sample in a plastic bag as soon as you obtain it. The bag will prevent it from breaking into pieces too small to analyze and will keep dirt and moisture away from it.