When deciding on honey oak cabinets for your kitchen, you may wonder what color to paint the walls, to compliment your cabinets. While white walls look fine with this color, they make the kitchen rather dreary and plain. To add some light and decorative touches to your kitchen, you have several bolder choices.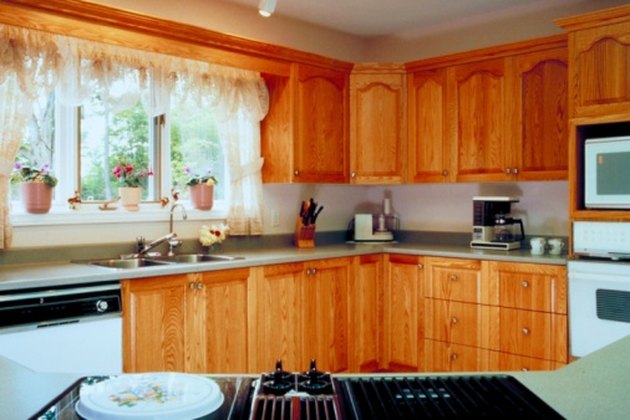 Yellows blend well in the kitchen with honey oak cabinets. As opposed to a bright, sunny yellow, use a softer, more subtle yellow shade. Choose a soft and soothing shade, such as a light pastel yellow, like butter. Yellow will give your walls a clean and open look that doesn't contrast with the cabinets.
Many types of gray and beige compliment honey oak cabinets very well. Choose a light-to-medium shade of gray. A darker gray wall will detract from the honey color of your kitchen cabinets. All shades of beige, cream and white will look fine in your oak kitchen.
If you're going for a fresh kitchen look, choose a soft shade of cool colors such as blue or green. The color wheel of paint choices for blues and greens is extensive, so photograph of your oak cabinets to the home improvement or paint store. If you have a small sample of the actual oak, that will be very beneficial. At the store, choose several blues and greens you like, then bring the samples home to put up on the wall against the cabinets and find your preference. Light-to-medium blues and sage greens are complimentary to the honey oak.
While cool colors are more commonly used to accompany honey oak cabinets, it's possible to create a different look with warmer colors. Especially in the fall and winter months, you may want to change your kitchen paint colors to these warmer shades. Warm colors that go well with honey oak include various shades of reds and oranges. Choose subtle shades of these colors, such as terra cotta red or a reddish orange.