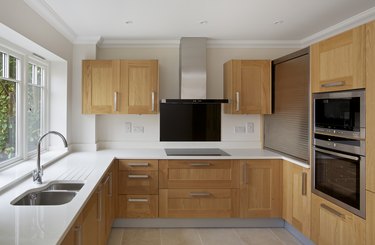 Honey oak cabinets are a fairly common choice for kitchen cabinets, den shelving or bedroom furniture. They can feel outdated and bland, even if they are structurally sound and otherwise in good shape. If you are looking to update your living space and need to work around the expanse of honey oak kitchen cabinets, then a few coats of the right shade of quality paint can bring up the look of the living space.
Tip
Explore the color wheel to find a complementary shade that fits your style to highlight or neutralize honey oak cabinets.
Working with Honey Oak
It may seem dull, but a canvas of wood cabinets can open many decor possibilities. Coordinating honey oak cabinets or furniture can highlight the wood when it is done well. Rather than replacing wood cabinets that are in good shape, using color can change the look and your opinion of the space.
The beauty of honey oak cabinets and trim is that they generally work well with any decor style. With a little research and meditation on personal preference, you can find a color that will complement the wood finish to your liking.
Colors for Honey Oak
Painting the walls or adding fabrics for window treatments and chair cushions in warm colors will blend with the cabinets for a cozy effect. Take time to explore a color wheel, placing different hues you find attractive against the honey oak cabinets. Paint colors for kitchens with golden oak cabinets are abundant.
Use a complementary color from the color wheel to neutralize the soft yellow and orange hues of honey oak. A harmonious color palette for oak cabinets ranges from soft greens, purples and oranges. Warm grays and creams can neutralize the honey oak wood.
Better Homes & Gardens suggests using soft browns and medium greens to bring out the warmth in more yellow oak cabinets. Bright blue kitchen walls will highlight the pale or subtle orange hues and natural charm of the bank of honey oak cabinets in the work space.
White or Black for Impact
When looking to redecorate or paint around honey oak kitchen cabinets, it can be daunting. But sticking to the basics can work for these traditional fixtures. Shades of white with blue or gray bases and muted charcoal colors can modernize the classic look of honey oak wood kitchen cabinets.
A wall painted bright white will contrast with darker honey oak cabinets that lean toward more of an orange hue. Grays and blacks can offset creamier versions of the honey oak kitchen cabinets. This can create an impact when done as an accent wall or in throw cushions or other fabrics.
There is a wide variety of hues within the white and black spectrums. From yellowish whites that can add to the natural warmth of the honey oak to bluish blacks that can create a high contrast, these often-overlooked shades can change up your living space.
Paint Colors for Wood Trim
Paint colors that go with wood trim can range from soft blues to bright reds and oranges. It all depends on the trim and your preference. For dark wood trim, it's recommended to keep the paint colors on the lighter spectrum of the color wheel. Working with darker colors, such as navy blue, emerald green or a rich, deep red can make a room feel melancholy and heavy.
---
Kimberley McGee is an award-winning journalist with 20+ years of experience writing for a variety of clients, including The New York Times, Las Vegas Review-Journal Home section and other national publications. As a professional writer she has researched, interviewed sources and written about home improvement, interior design and related business trends. She earned a B.A. in Journalism from the University of Nevada, Las Vegas. Her full bio and clips can be viewed at www.vegaswriter.com.
View Work