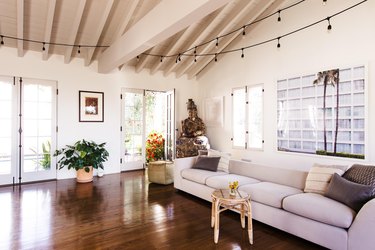 As an interior designer, I've learned that there are a few important steps during a build or remodel that are crucial to the overall success of the space: flooring and paint colors may seem like finishing touches, but they're actually among the elements of a home that people notice the most. Ensuring that your hardwood floor stain and paint colors are a good fit can be a challenge, and it pays to keep a few general "rules" in mind when it comes to pairing paint colors and wood floor stains.
Here are a few rules of thumb to help you decide which colors will best complement your wood stain, and thus ensure a timeless and beautiful outcome:
Rule #1: Determine whether your wood floor stain is warm or cool.
Knowing the undertones of your wood floor will have a big impact on the way your paint color will actually appear. Warm floor stains have yellow, orange or red undertones, while cool floor stains have gray or taupe undertones.
For example, if you want to add color to your walls but don't want to make a really bold statement, select paint in the same color family as the undertones of your hardwood. For cool undertones, choose paint colors in cool whites, grays, blues or greens like Pelican Gray or Smoke by Benjamin Moore. Just be sure to avoid yellow-ish paints.
Conversely, for warm undertones opt for paint colors in soft creams, peach, salmon or coral. Peach Parfait by Benjamin Moore and Dimity by Farrow & Ball pair nicely with floor stains like those found in Bona's Essentials Collection (warm ambers) or Classic Collection (authentic browns and rich auburns). You can either use these stains alone, or create your own custom look with a combination of stains.
Rule #2: Decide on the look and feel you're trying to achieve.
Are you going for something dramatic with high-contrast or do you want a warm and inviting space? Once you figure out how you want your house to feel, you will be able to narrow down the stain selection for your floors and paint for your walls.
For example, dark ebony floors and white walls will create a high contrast that will draw more attention to your furniture. On the other hand, rich mahogany floors combined with coral or warm cream--painted walls will create a cozy and luxe feeling reminiscent of a study, bar or library.
Rule #3: Consider the architectural style of your home.
The architectural style of your home can help inform your color and floor stain decisions.
Do you want your 1920s Spanish Colonial Revival home to stay true its roots? If so, choose floor stains with warm undertones and then match it with warm paint tones like Farrow & Ball [Slipper Satin](http://us.farrow-ball.com/slipper satin/paint-colours/farrow-ball/fcp-product/102004) or Benjamin Moore Navajo White.
If you feel like your craftsman is too dark and heavy feeling, and you want to give it a more contemporary twist, use a cerused (a bit of a white wash) wood finish and marry it with cool paint colors on the walls like Cabbage White and All White by Farrow & Ball or Sea Salt by Sherwin Williams. The lighter floors will allow light to bounce and give the space a more airy feel (while darker floors absorb light).
Modern homes typically have lots of windows and lend themselves to an open floor plan. Enhance the abundance of natural light that comes in with bright white walls in a color like Super White or Chantilly Lace by Benjamin Moore. Light floors with yellow undertones are a great match with Sherwin Williams's Creamy or Marshmallow. Dark greyish floors would pair well with Dimpse or [Blackened](http://us.farrow-ball.com/blackened/paint colours/farrow-ball/fcp-product/102011) by Farrow & Ball.
Moving Forward
One important thing to remember as you get started: make sure you sample different stains and paint colors in your space, because light plays such a huge part in how the colors actually look and feel.
Visit your local paint store, where knowledgeable people can help you figure out your undertones and complementary color combinations. Bring home samples and apply big swatches of paint to your walls, and then have your flooring installer sample several colors on your floor. Make sure to sample in spots that are both light and shadowed to get a true sense of what the colors will look like.
And finally, be sure to properly care for your floor throughout the years. Clean floors at least once a week with a formula made specifically for hardwood floors, such as Bona Hardwood Floor Cleaner; and consider having a trained and certified professional such as a Bona Certified Craftsman help find your perfect stain color or restore your hardwood floor after years of wear and tear.