Ants are fascinating creatures. They live in colonies that resemble human cities, and each ant has a specialized job to care for the colony, just like humans have jobs to care for their communities. Because of this, you may feel a certain kinship with ants, until of course they start colonizing your lawn. Then you exterminate them. There are several natural remedies for getting rid of ants that work with varying degrees of effectiveness.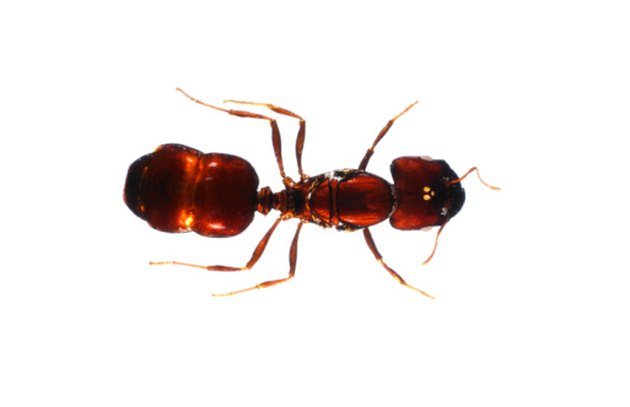 Step 1
Identify the opening in the ground where the ants are exiting the colony. There is no guarantee that this opening is a direct path to the ant colony, but it usually is the most direct path.
Step 2
Boil 3 gallons of water. Pour the boiling water down the hole where the ants are exiting the colony.
Step 3
Repeat this treatment every time you notice ants exiting a hole in the ground. You may have to do this several times over the next few days until the ants do not come back.
Step 1
Pour urine directly into the opening of the ant hill. The urine will either drown or drive off the ants. Ants rely on pheromones to communicate and to find food, and urine interferes with the pheromone tracking.
Step 2
Repeat until all of the ants are gone.
Step 3
Rinse the area thoroughly with your hose to eliminate the smell from the urine once you are sure that the ants have left.
Step 1
Put on protective rubber gloves and safety glasses. Lye is caustic and can cause severe burns when it comes into contact with the skin or eyes.
Step 2
Melt 1/2 bar of lye soap in 5 gallons of boiling water. Pour the mixture directly into the ant hill and in a circle around the outside of the ant colony to catch any stragglers coming out of the colony. The lye burns the ants to death.
Step 3
Rinse the area with water from your hose thoroughly to eliminate traces of lye from the ground. Lye will not harm your plants but rinsing the area will disperse the lye and prevent pets and wildlife from ingesting it.