Things You'll Need
Chisel

Hammer

Angle grinder

Bolt cutter

Safety glasses

Angle grinder metal cutoff wheel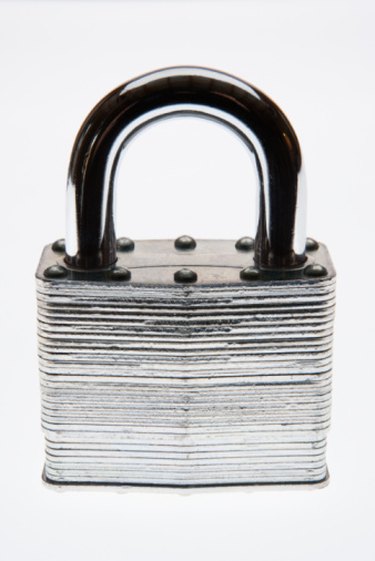 Padlocks were first invented and used back in the ancient days of Rome and Greece. Use padlocks to protect a wide variety of objects such as lockers, lock boxes, gates, fences, and even some types of suitcases. Padlocks come in two different styles. One style uses a spinning combination to unlock it and the other type you open with a key. If you should forget your combination or lose your key, you may have to break the padlock in order to remove it.
Step 1
Put a chisel on top of the padlock's body. Use a hammer to strike the chisel repeatedly until the body of the lock busts and the U shaped portion of the lock releases from the body.
Step 2
Use bolt cutters to break your padlock. Open the cutters and place them around the U-shaped part of the lock. Close the cutters and apply pressure until they cut all the way through the U-shaped part of the lock.
Step 3
Attach the metal cutoff wheel to the angle grinder. Turn the grinder on and apply the blade of the grinder to the U-shaped portion of the padlock. Wear proper eye protection to prevent metal shavings from entering your eye.
---
Michael Cantrell is a freelance writer and musician from Piqua, Ohio. He has been writing professionally since 2007. In 2008, Cantrell was a full-time employee with an SEO company named Words You Want. He has a diploma from and is currently attending Edison Community College with a major of criminal justice.