Quarry tile is an unglazed terra cotta tile made of natural clay, giving it a somewhat rustic appearance. It is available in most earth tones but its most common color is a red that's similar to bricks' color range. This tile has been a favorite in commercial applications such as kitchens, bathrooms and rooms subject to heavy traffic or interior/exterior use. The main features of this tile are its low cost and durability. Like any flooring material, it can get dirty, especially in high-traffic areas. Luckily, cleaning it is not difficult.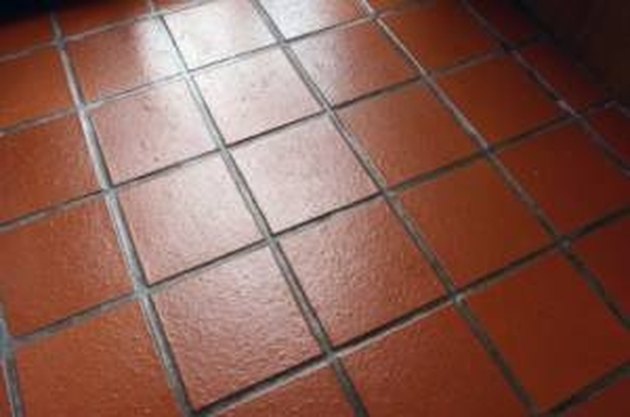 Step 1
Clean your quarry tile thoroughly with a canister vacuum cleaner. Do not use a vacuum with a beater bar as this may drag grit across the tiles, causing scratches to the sealer or wax.
Step 2
Mop your floor with a cleanser. Consider using an enzyme-based, antibacterial cleanser such as EnziBrite or AquaMix, particularly if your quarry tile is in the kitchen as these types of cleansers cut grease and eliminate odors.
Step 3
Rinse your mopped floor to remove cleanser residue. It is often a good idea to use soft or distilled water if your tap water has high mineral content since you don't want to leave deposits on your tiles.
Step 4
Wipe your floor dry with towels. This is a useful step to determine if your tile has haze or if it is becoming discolored. (Wax can become yellowed as it ages.)
Step 5
If your tile floor looks like it has a film on it, add white vinegar to clear water and re-mop your floor. This should remove any haze. Dry the tile again.