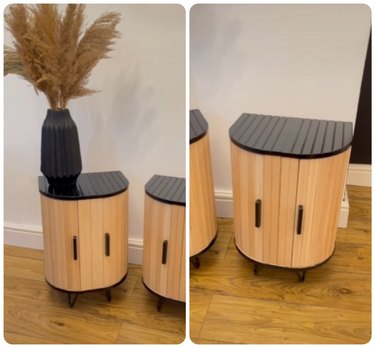 If you love upcycling projects as much as we do, you know the joy of finding extraordinary uses for ordinary items. So, when we discovered the trend of turning IKEA bread boxes into side tables, there's a 100% chance we swooned.
As @saniashome demonstrated on TikTok, all you need to do is attach the bottoms of two wood bread boxes with wood glue. When the project is placed on its side, the lids of the boxes can be opened just like a cabinet.
Next, paint the boxes according to your preference. Some people have chosen to only paint the top, bottom, and handles, while others just painted the wooden strips. Yet others have left the wooden bread boxes as is in the name a natural vibe. It's totally up to you.
Finally, add three table legs with a drill. On TikTok, many folks used hairpin legs for a modern look, but of course, you can choose hardware that works best with your space.
BTW, the IKEA product is the Magasin bread bin. However, it's no longer available on the IKEA website, so it may or may not be in stock at your store. If you're unable to find the same bread bins, consider the Royalhouse Natural Bamboo Top Bread Box on Amazon. Each box costs $25, which means you'll spend at least $50 on the project.
Other upcycling projects:
While we're on the topic of reusing and upcycling items, check out some of our favorite projects we've written about:
Needless to say, there's a ‌lot‌ of awesome inspiration out there.