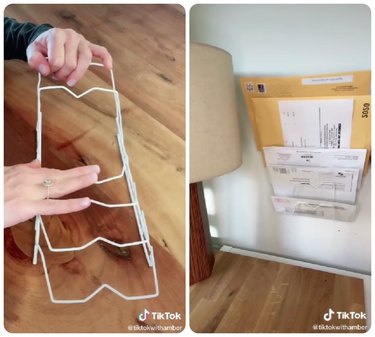 TikTok is a gold mine for Dollar Tree hacks, and honestly, our wallets couldn't be happier. For example, our most recent find is a DIY mail organizer, which costs about $2.50 to make. The best part? It's made with a wire dish drying rack.
Shared by TikTok user @tiktokwithamber, the project features the Essentials White Wire Dish Drying Rack, which is priced at $1.25. To make the mail organizer, the content creator bends each prong so that it's almost flat against the base. This essentially creates pockets that can hold mail and other documents.
Next, @tiktokwithamber sticks self-adhesive hooks to the wall, which are also sold at Dollar Tree for $1.25. (The exact brand or product might vary, but here's one example that's currently available on the website.) She uses the hooks to hold the dish rack, effectively creating a wall mail organizer.
"I have been looking for something like this for my mail. This is such a great idea," commented a TikToker. Other users shared that they planned to recreate the hack, as paper clutter seems to be a common issue.
If you decide to make this Dollar Tree DIY, try applying a coat of spray paint after you bend the prongs. It's an easy way to customize the project and ensure it matches with your decor. Can you imagine a matte black or metallic gold finish? So good.
While you're at Dollar Tree, be sure to pick up a few glass vases. Per a TikTok vase hack, you can easily turn them into West Elm dupes using acrylic paint and baking soda.
Another classic Dollar Tree project is a DIY Lazy Susan made with marbles and two round cake pans. Place a few marbles in one cake pan, then layer the second one top. And just like that, you have an inexpensive Lazy Susan that can be placed in the pantry or on a table.