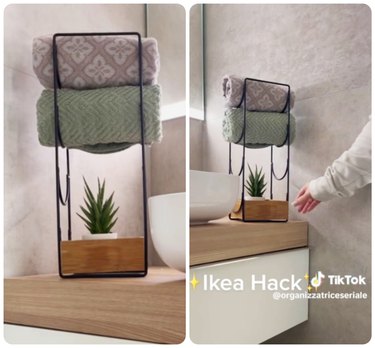 There's nothing like a genius IKEA hack to spark some inspiration. This is especially true when the project requires zero tools. One such example is a DIY towel holder made from an IKEA wine rack, which we first spotted on Den Garden.
To make it, Hoxha put a small Tavelan tray in the base of the wine rack, then displayed the combo on her bathroom counter. From there, she placed rolled-up towels in the crevices of the wine rack, where the bottles would normally go.
Worth noting, the Tavelan tray comes in a pack of two. Hoxha used the smaller version with the wine rack, then used the bigger one to hold other bathroom items.
We're swooning over this hack for several reasons. For one, it proves you don't always need tools, paint, or even glue to make something awesome. Secondly, it makes use of vertical space while adding style to your bathroom counter. It also doesn't hurt that the piece itself is super simple, so it's sure to match many types of decor.
The two products are affordable, too. At the time of writing, the Tavelen trays cost $12.99 for a pack of two. Meanwhile, the Snospira wine rack is priced at just $9.99.
Major kudos to Hoxha for figuring out that the small Tavelan tray fits perfectly in the wine rack. We'll definitely be adding this project our IKEA to-do list!
If you're feeling crafty, check out this side table made from IKEA bread bin boxes. It involves attaching the flat sides of two bread boxes together, then applying paint and installing legs. The result is a DIY side table that's both functional and stylish.