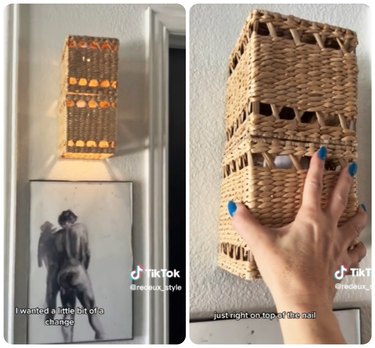 We love a good wireless lighting solution, especially when it's stylish and unique. Extra points if it's affordable, because let's face it — lighting can be expensive. Luckily, thanks to a project by @redeux_style on TikTok, we recently discovered an easy sconce idea that's inexpensive to boot.
The DIY involves two square tissue box holders and remote-controlled puck lights. (The tissue holders are made of water hyacinth, so they have a natural weaved look.) To create a sconce, @redeux_style simply sticks a puck light into each box using hot glue, then attaches the bottoms of the boxes together. This way, there's one light facing upward and one facing downward.
BTW, you have several options for attaching the boxes. An easy method is to apply hot glue, though you'll have to work quickly. Another option is to weave twine between the boxes, which might be ideal if you want take apart the sconce someday without potentially damaging the boxes.
From there, @redeux_style hangs up the creation on a nail that's already in the wall. And just like that, a remote-controlled sconce is born.
If you don't want to attach the boxes (or if you'd like to create a pair of lights), take a tip from @redeux_style and turn each tissue holder into its an individual sconce. Just add a puck light and hang on the wall using a nail or double-sided foam tape.
For the full step-by-step tutorial, check out @redeux_style's video right here.
Other wireless lighting ideas:
If you're looking for more wire-free lighting fixtures, check out our wireless hanging basket lights project. It uses woven baskets — which you can find at thrift stores or flea markets — and puck lights to create makeshift lampshades. The baskets are then hung upside down using twine and ceiling hooks. Love it.