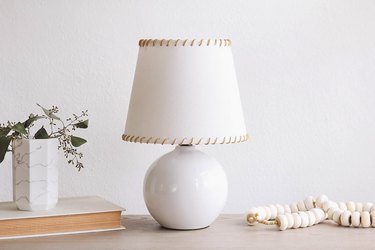 Although most rooms have outlets in practical spots, the locations might not always work for your needs. After all, it can be frustrating to be at the mercy of said outlets, especially when it comes to lighting.
One option is to use an extension cord to connect the lamp and outlet. However, this can add to visual clutter, which can be stressful for some folks. Enter a trick shared by TikTok user @makingseamisthome, which we recently found courtesy of Den Garden.
The hack involves cutting — yes, cutting! — the cord with a pair of scissors. Next, you add a special puck light with a socket on the end, so you can install it into a lamp just like a standard lightbulb. "The best part is [that] it's battery-powered and remote-controlled, which means you can put a lamp anywhere you want," says @makingseamisthome.
You can find the battery-powered puck lights on Amazon. Each pack costs $25.99 and contains two lights, which run on AA batteries.
Of course, you can simply buy a battery-powered lamp, as some TikTok users noted. But this can make it difficult to find a lamp that suits your space, as such pieces are limited in type and style.
If you can't stomach the thought of cutting the cord, one person suggested pushing the cord all the way inside of the lamp, if possible. You could also just wrap the cord and tape it to the back. This way, if you decide to relocate or donate the lamp, the cord will still be intact.
All that being said, we could see this trick being useful for salvaging lamps with damaged cords.
If you prefer to use the cord as intended, you'll be glad to know that there are many ways to hide cords. One of our favorite methods is to "beautify" the cord by wrapping it with macrame.