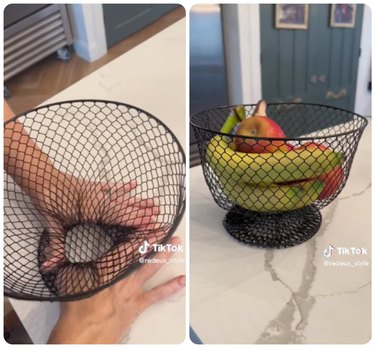 If there's anything that social media has taught us, it's that a little creativity can go a long way. This is especially true in the DIY space, where you'll find folks using items in unconventional and clever ways. For example, on TikTok, @redeux_style turned a mini wire trash can into a fruit bowl — and it's totally chic.
The upcycle starts with @redeux_style squeezing the bottom portion of the wire trash can. This creates a small pedestal on the bottom, giving the can-turned-bowl more dimension.
Next, the content creator continues to squeeze the bottom of the can while flattening the material along the bottom. They also used their fingers to adjust the wire until it achieved her desired shape.
The result is a stylish mesh bowl that's perfect for storing fruit. After all, as @redeux_style notes, proper fruit storage requires ventilation, so the mesh material is ideal.
You could even turn it into a hanging fruit basket by tying rope or cord to the bowl. But of course, you're not limited to fruit! You can also use it to hold napkins, coffee station supplies, and other knick knacks. Personally, we bet this would look gorgeous filled with moss and dried flowers.
Who knew mini trash cans could be so versatile?
Where to buy mini wire trash cans:
If you'd like to recreate this project, stop by Dollar Tree. Here, you'll find the perfects cans for $1.25 each. What's more, it's available in both black and white, so you can pick one that best suits your space.
If you want to shop elsewhere, try retailers such as Amazon, Walmart, or Target. Look for a trash can that's made of pliable wire mesh. Avoid cans with strips of metal around the perimeter, which will hinder your ability to squeeze the bottom.