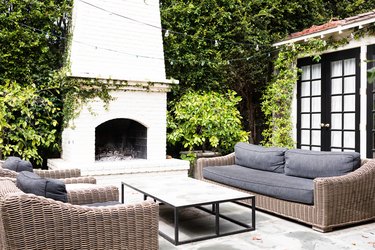 Can't get enough of the coastal grandmother trend? Well, it's time to bring the home decor look to the great outdoors. Just in case you're new to the aesthetic, it first burst onto the interior design scene in 2022, as many TikTok users and influencers were eager to turn every facet of their lives into an Anne Hathaway or Diane Keaton-led Nancy Meyers movie. (If you're a fan of the director, the trend embraces the polished nonchalance seen in films like ‌Something's Gotta Give, The Holiday‌, and ‌It's Complicated‌. If you're not much of a movie buff, Ina Garten and Martha Stewart are also excellent references.) Think of the fad as the perfect mix between old and new: While the goal is to create a cozy coastal cottage, it's decidedly more upscale and pared-back than yesteryear's grandmillennial moment, which prioritized candy-coated pastels and whimsical floral prints.
"Originally inspired by the elevated elegance of a timeless coastal home, it's a relaxed, yet refined aesthetic that combines both comfort and luxury," explains Angela Hamwey, founder of a Cape Cod-based design firm called Mackenzie & Co. "Despite its coastal origins, nautical-themed elements are not at the heart of this design. With sustainability in mind, vintage or heirloom pieces may be incorporated to add a layer of character and charm."
Nearly a year later, the coastal grandmother style is only picking up steam. Now, it seems like virtually everyone is eager to infuse the look's light and airy palette, furniture crafted from woven materials, and driftwood accessories into every nook and cranny — yes, including their patios and gardens. Though bringing that signature beachy glow to your outdoor space might seem a tad intimidating, we promise you it's not.
"To achieve this aesthetic, you don't have to live by the coast or be a grandmother," Hamwey adds."The coastal grandmother [look] relates to an aspirational lifestyle. It's about slowing down and enjoying the little things."
Whether you undergo a full-blown renovation or scatter some potted hydrangeas throughout your backyard, it's actually quite easy to embrace the coastal grandmother look this spring and beyond. To help, read on for some surprisingly simple decorating ideas that'll give your space a sophisticated glow-up.
12 Coastal Grandmother Decor Ideas for the Patio
1. Embrace a neutral color palette.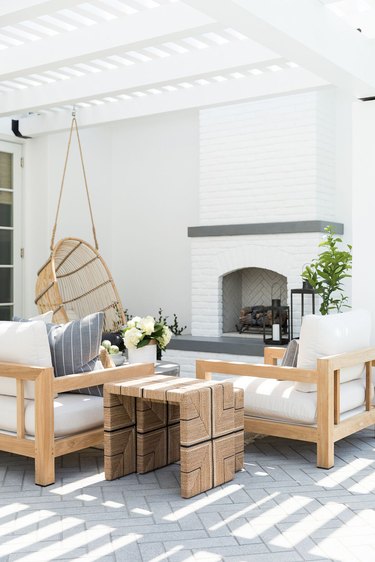 Unlike the grandmillennial trend — which embodies maximalism — the coastal grandmother aesthetic is considerably more pared-back. (Translation? When taking on this trend, simplicity reigns supreme.) If you're decorating your space from scratch, consider laying the groundwork with a light-as-air color palette. For this patio design from Studio McGee, the team opted for a dreamy scheme of light woods, warm shades of white, and touches of slate, resulting in a beautiful beach-inspired backdrop.
2. Gather around an outdoor fireplace.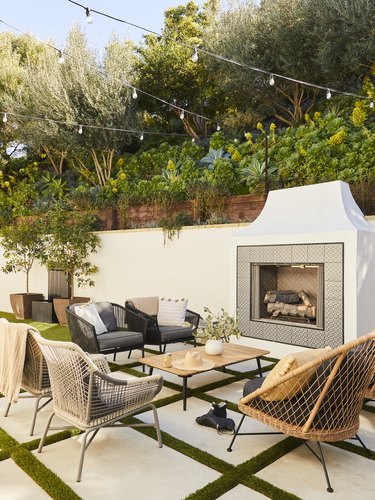 For the uninitiated, there's more to coastal grandmother style than getting a bunch of likes on TikTok. The goal, in reality, is to create an effortlessly elevated setting for connecting. And what better way to achieve those peak cozy vibes than with an outdoor fireplace? The built-in feature is a dapper design move that will take your space up a couple of notches. (Just don't forget to surround your fireplace with comfy armchairs, sofas, or a big sectional!) Let designer Christine Vroom show you how it's done.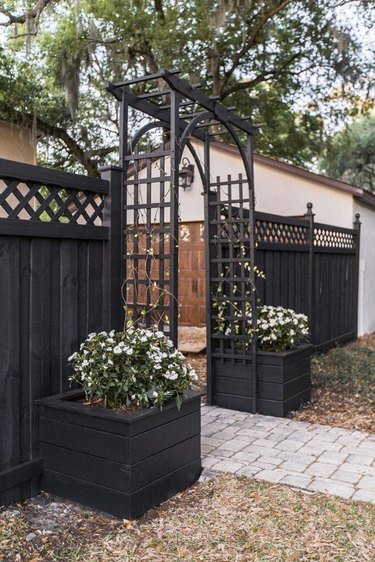 If you want to bring some of that coastal living to your garden or patio, consider adding an arbor. Not only does this curved element provide the perfect entryway to your backyard haven, but the accompanying trellises are also ideal for vining veggies, roses, or a bundle of clematis. Blogger Jenna Sue perfected the look with a setup that makes a statement coming and going.
4. Accessorize with throw pillows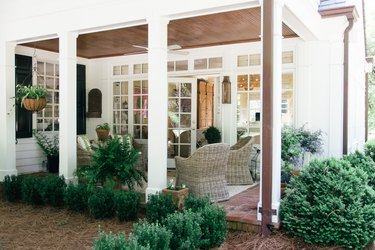 As the saying goes, the devil lies in the details. If you want to ‌really‌ deliver on the signature chic-meets-cozy atmosphere that the coastal grandmother trend is known for, treat your patio like an outdoor living room. (You know, one that's dressed to the nines with a bunch of accessories.) While an outdoor rug is a great way to get the job done, designer Grey Joyner created a homey feel with a smattering of throw pillows. "The mix of stripes, floral patterns, and colors — along with wicker or metal — gives the perfect 'coastal grandmother feel' for summer," she explains. "It's timeless, relaxed, and inviting and sets the tone for quality time with family and friends."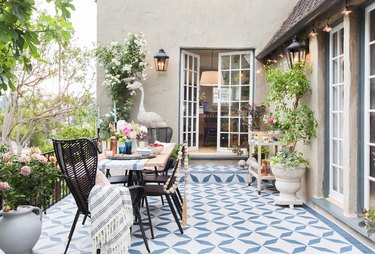 Neutrals might be the norm for most beach houses, but color-curious dwellers might be eager to add a pop of pigment. In that case, why not blue? The cool hue is known for evoking calmness and serenity, plus it offers a subtle nod to the beach. Scattering ginger jars along your patio is an easy, budget-friendly way to woo with blue; designer Emily Henderson recreated relaxing ocean waves with floor tile.
Anyone who wants to kick back and relax in their garden will find a lot to love about pergolas. Commonly seen in gardens and oh-so-charming backyards, the open-air structure is the perfect place to bring a little bit of shade to your outdoor space. (With a dappling of natural light, this rustic-looking option from landscape designer Janice Parker looks like it belongs in a Nancy Meyers film!) If you want to make the most of this shady spot, place a daybed in the corner — as Parker did here.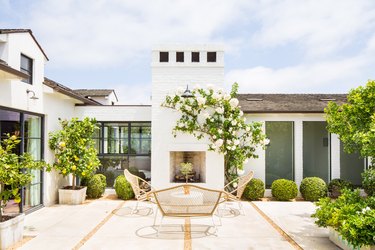 Unless you live somewhere sunny and beautiful year-round, novice plant parents might be a little hesitant to grow fruits, vegetables, and florals in their garden. (Don't worry, we totally understand: All of that hard work just for your foliage to dry up and hibernate during winter? No thank you.) Fortunately, we have the perfect solution: Place your horticultural goodies in planters. Whether you plant lemon trees or hydrangeas, this trick will make it easy to grow and foster your greens year-round. As a bonus, pretty planters like the ones Kelly Nutt used here can drive your coastal cottage agenda forward.
8. Opt for Adirondack chairs.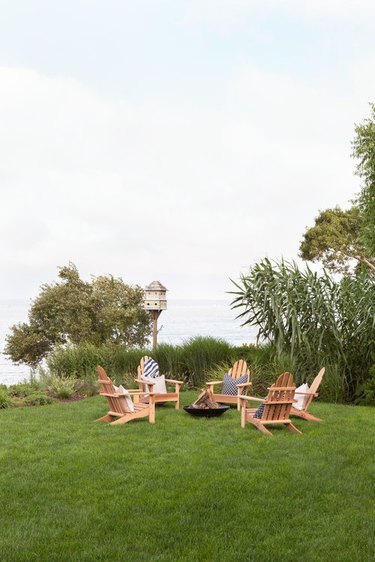 Ready to sit pretty in your bucket hat and linen pants surrounded by your new coastal grandmother-inspired backyard? Design firm Chango & Co. proves that a set of Adirondack chairs is the perfect way to do it. Think of this seat as an ideal blend of form and function: Adirondack chairs have a gentle slope to provide ample support to the back and bum. Meanwhile, the wooden slat design has an elevated ease that will transport you to a beach cottage far, far away.
9. Have fun with foliage.
When you think about a coastal grandmother-approved garden, you might envision a home in the Hamptons with rows of fresh flowers and perfectly ripe produce. But, if you happen to have a green thumb, you may not be interested in sticking with the status quo. For an alternative that's equal parts minimalist and coastal, consider growing wispier plants like pampas and seagrass. These lighter options will add plenty of contrast to your hardscaping all while bearing a striking resemblance to the foliage often spotted on sandy dunes. This home exterior from Chango & Co. offers the perfect inspiration.
10. Make the most of your materials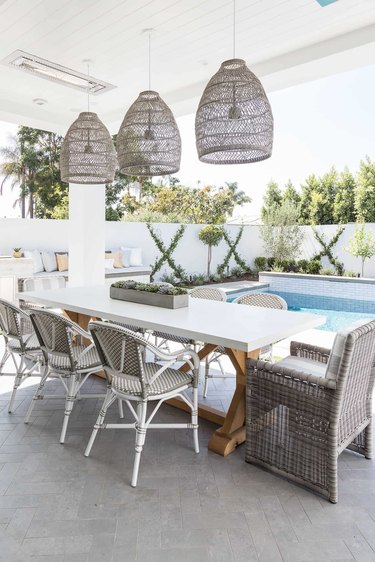 Behind every coastal patio is a mélange of woven materials that create a laidback and slightly bohemian feel. But, don't worry: There's no need to decide between jute, rattan, and wicker. In this covered refuge, designer Mindy Gayer mixed and matched a bunch of natural fibers — as seen with the dining room chairs and outdoor pendants. Imagined in a grayscale palette, it's safe to say that the end result could receive Martha Stewart's seal of approval.
11. Embrace the outdoors.
If you want have a multipurpose space, consider adding an outdoor dining setup to your coastal grandma patio. As simple as it sounds, moving a table and chairs to the middle of the backyard can create a dreamy atmosphere for your next dinner ‌al fresco‌. Camille Styles nailed the look by placing wooden outdoor furniture and string lights in the center of this gravel patio, resulting in a picture-perfect scene. The only thing left to figure out is the playlist.
12. Throw a fire pit into the mix.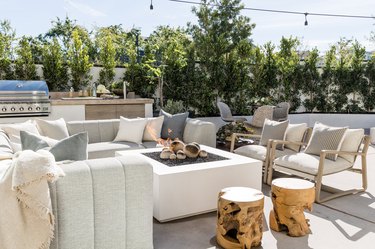 If you live in a concrete jungle and don't have access to a sprawling woodsy wonderland, you can still enjoy the beauty of coastal grandmother-inspired decor. Simply plant some trees along the perimeter of your property, and arrange lounge-worthy seating around a stylish fire pit and voilà! Don't believe us? Just take a look at this stunning space from Pure Salt Interiors.