When you've got a teeny-tiny bathroom, storage usually isn't even an option that factors in — especially in half-baths. After all, if you're short on floor space ​and​ wall space, what are your options, really?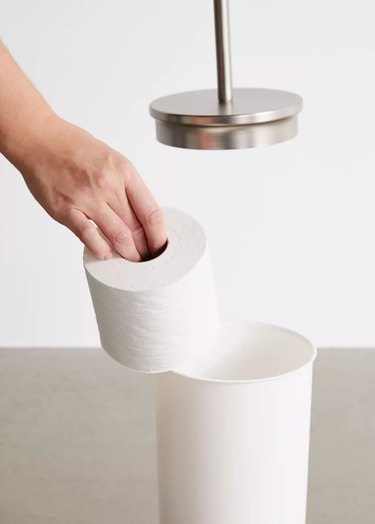 This toilet paper holder doubles as TP storage, PLUS there's a small, circular surface on top perfect for positioning a well-placed accessory (candle, small vase), or a phone. Genius, don't you think?
---
Leonora Epstein is Hunker's Senior Director of Content. She has previously served as Executive Editor at HelloGiggles and as BuzzFeed's Deputy Editorial Director. She is the co-author of "X vs. Y: A Culture War, a Love Story" (Abrams, 2014). Feel free to reach out at leonora@hunker.com.
View Work