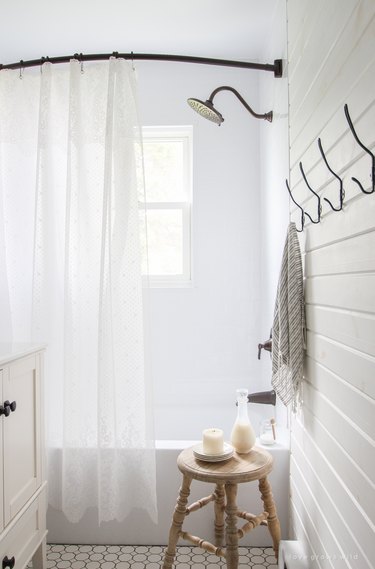 Sometimes, you want to de-clutter your bathroom vanity without buying a bunch of new storage products. And all those lovely toiletry organizers are nice, but when quick and effortless top your makeover priority list, why simply repurpose mason jars for bathroom storage? The beauty of incorporating these glass jars is that they can typically be transformed by way of a simple DIY. Plus, they can add a rustic apothecary vibe to your space and are extremely inexpensive. Seriously, rounding up all your jars and turning them into home decor will make life much easier for you ​and​ your accessories.
Make sure your toothbrush, makeup tools, and cotton swabs never go missing again with these clever mason jar decor and storage ideas.
1. Store bathroom products in the shower.
We love the way this Chango & Co. design incorporates mason jars for bathroom storage not only because it makes body products easily accessible, but also because it looks super neat and minimal. Instead of haphazardly littering your shower with various plastic bottles, transfer your bathtime necessities to glass vessels for a more stylish, organized look.
2. Give your plants and flowers a home.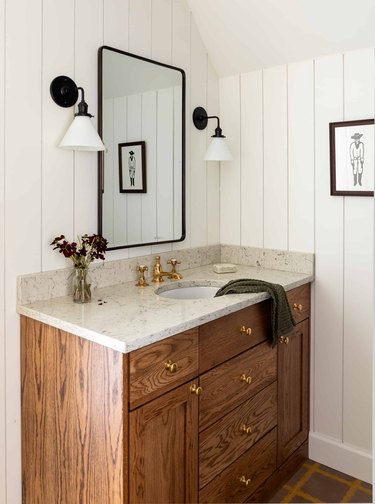 This Heidi Caillier bathroom offers an easily executed deviation from the standard flower vase by using a mason jar as a makeshift vessel. It's simple yet adds a personal touch to the marble-topped vanity with wood cabinets.
3. Corral makeup brushes.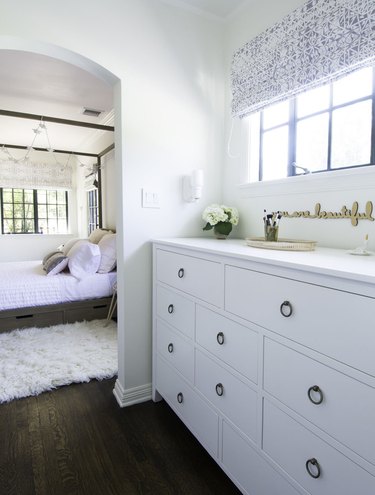 We all know it takes little to no time for a makeup collection to completely consume your bathroom counters. To prevent that unwanted cosmetic takeover, this lovely Sklar Design washroom uses mason jars to hold makeup brushes and other cosmetics; they could even work for cotton balls. This solution is perfect for those who want a simpler, space-friendly alternative to those clunky acrylic organizers.
4. Mount them to the wall for storage and bathroom decor.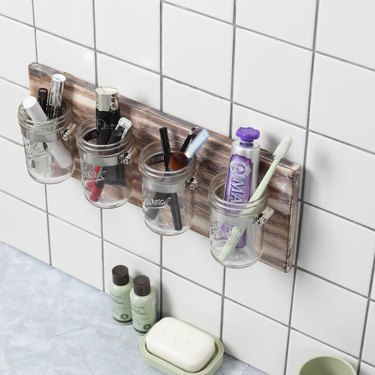 Well, here's a charming look! This small bathroom organization idea is proof that you don't need a sprawling space (or even expansive counters) to have tons of personality. Mount your glass jars to the wall for a storage fix that's incredibly stylish. You can DIY this yourself by securely attaching vessels to reclaimed wood. Alternatively, you can get one ready-made for mounting from Bing Decor Rustic.
5. Place them around the tub.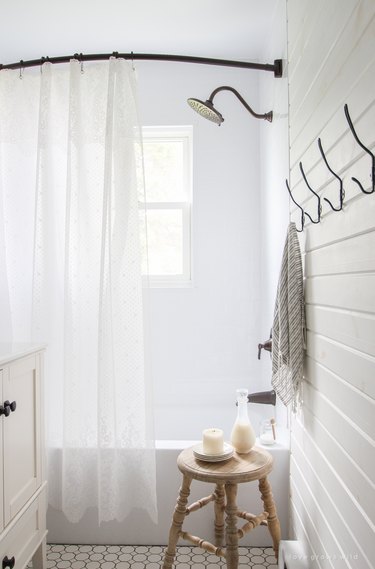 Part of preparing for a relaxing spa day at home is making sure you have all your necessities within reach. Trust us — tiptoeing across the floor with wet feet to grab your favorite bath salts and lotion will totally ruin the mood. Simple arrangements, like this one from Love Grows Wild, show us how it's done. A tiny farmhouse style stool positioned near the tub can hold mason jars filled with luxe products for a long soak.
6. Neatly contain toiletries.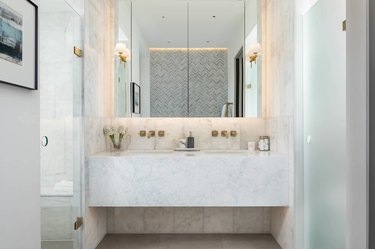 We realize how tempting it is to keep toiletries and Q-tips in their original containers and stow them in a jumble under the sink. But one look at this gorgeous (and clutter-free!) marble countertop from Gordon-Dufflinton proves that there's a far more efficient DIY approach to toiletry storage: Simply reuse an old jar (or get one from your local dollar store), and fill it with your product of choice.
7. Create order with a streamlined caddy.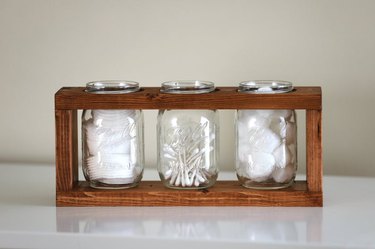 When simplicity is the goal, invest in a minimal wood frame that can hold regular-mouth mason jars (we like this one from Etsy). This streamlined look is ideal when you want a toothbrush holder, cotton pad organizer, and cute counter piece all in one. Pop it on an open shelf, and you're good to go.