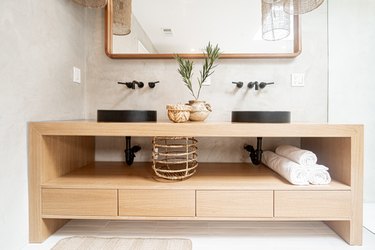 Goodbye, countertop chaos! So long, cluttered cosmetics, hand towels, and toothbrushes. When it comes to organizing your bathroom items, storage is key, and if you have limited square footage, you'll have to get creative. But with strategic use of shelves, baskets, and a good caddy for all those toilet paper rolls, you'll have ample storage. The key is finding an easy access home for everything. And don't neglect the medicine cabinet, either. A sleek one will increase functionality and take your modern bathroom storage to the next level.
1. Go vertical for extra storage in small spaces.
Don't let wall space go to waste! Follow this example from Zoe Feldman Design. It makes the most of every square inch in a small powder room with a three-tiered bathroom shelf that's perfect for showing off the prettiest of products. It also adds an illusion of height, particularly when paired with a tall mirror and a stainless steel pipe pedestal sink. For bonus storage, use the floor space under the basin for a hamper or basket of linens.
2. Incorporate a portable (and inexpensive!) organizational option.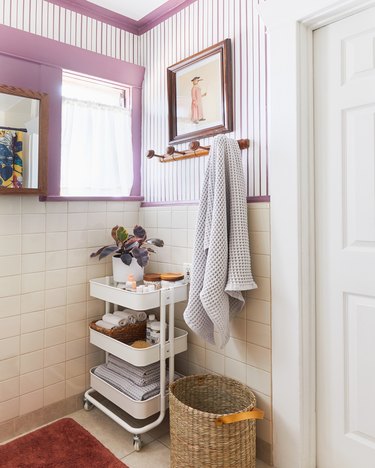 Is there a corner of your bathroom that has wasted space? For an inexpensive, portable solution use a utility cart, like this one from IKEA. In this pretty purple bathroom, Julie Rose organized towels, bathroom products, and greenery.
3. Use hampers to help control chaos.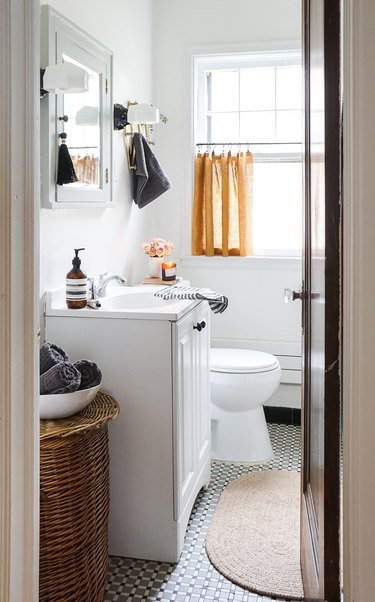 DIYer extraordinaire Erin Francois — you may know her as Francois et Moi — has limited storage in her sweet 1930's Tudor's white bathroom. So, in addition to the medicine cabinet (that stores everyday necessities) and under-the-sink cabinetry (for cleaning products), an oversized wicker hamper keeps towels and clothes under control. Go this route, and you'll always have a clutter-free floor.
4. If you have the space, go big.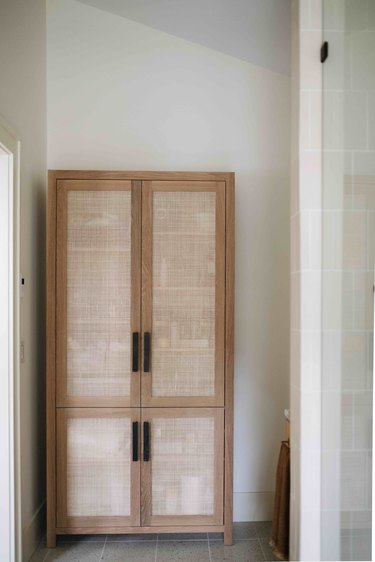 If you've been blessed by the square footage gods with a spare wall, add a bathroom cabinet for ultimate storage space. Not just any cabinet will do, though, as Prospect Refuge Studio demonstrates in this monochromatic, textural bathroom. The rattan doors create a light, breezy feeling that's perfect for a zen zone.
5. Add nearly undetectable wall-to-wall storage.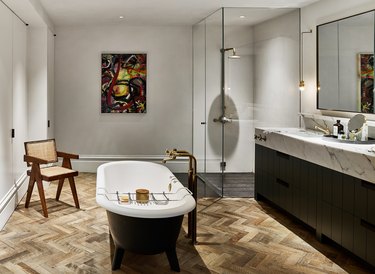 This Nicole Hollis bathroom is pure luxury for a myriad of reasons. That freestanding tub is top of the list. Those herringbone floors are gorgeous. The spacious shower, glam marble countertop, and beautiful bronze accents — yes, yes, and yes. Then there's the nearly camouflaged wall-to-wall closet space. Go for a similar built-in option to store all your washroom supplies without ruining the serene sightline during bathtime.
6. Pair drawers with a coordinating wall cabinet.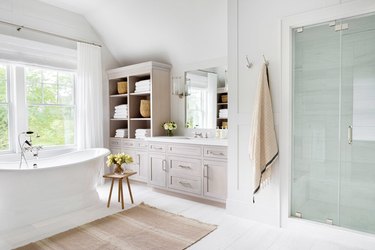 This Chango & Co. modern bathroom has it all: a freestanding tub, luxuriously large windows, and plenty of storage space. If you have a room like this, consider pairing under-the-sink drawers and cabinets with a coordinating hutch. That way you can hide all the unsightly supplies — no one needs to see your toilet bowl cleaner — while showing off your beautiful linens.
7. Make the bathroom sink work for you.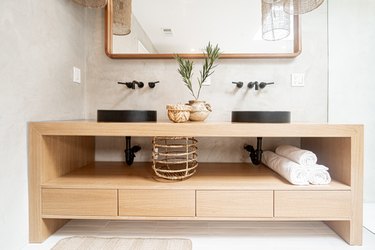 Under-the-sink space has always been a go-to bathroom storage option, but it can oftentimes become a dark mess of unorganized products and spills you don't want to deal with. Instead, design the space below your vanity with easy-to-organize drawers and open shelving. That'll give you even more incentive to keep things clean.