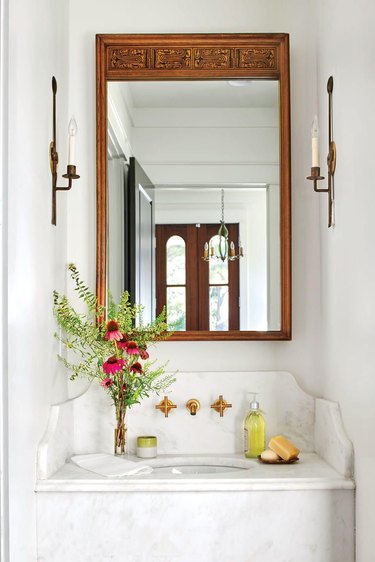 While some may believe traditional style decor is too ornate to work in modern homes, French country bathrooms are far from formal. They can really showcase how elegant simplicity is always on-trend. In fact, there's no better way to level up your washroom decor than with rustic sophistication and antique style. And you'll get both of these things with a vintage-style sink vanity.
Don't trust us? These French country bathroom sink ideas will prove our point and inspire you to plan a trip to Provence pronto.
1. Accentuate your loo with antique styling.
Nothing says French country more than weathered antiques and soft finishes. Take this charming, freestanding vanity with a drop-in sink and matching mirror. The whitewashed cabinet doors help create the perfect Provincial look. And the piece can fit in smaller bathrooms easily.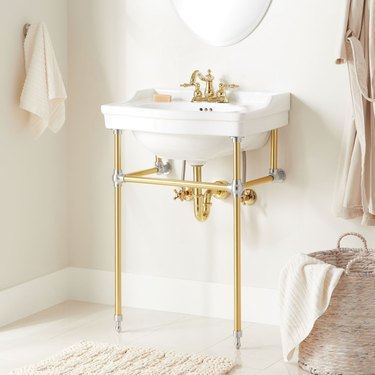 With a wink to an earlier era and impeccable attention to detail, this console sink with a brass faucet and fixtures has all the right attributes to create an elegant, country cottage feel anywhere (even in a city apartment).
3. Mix old and new to create the perfect French style.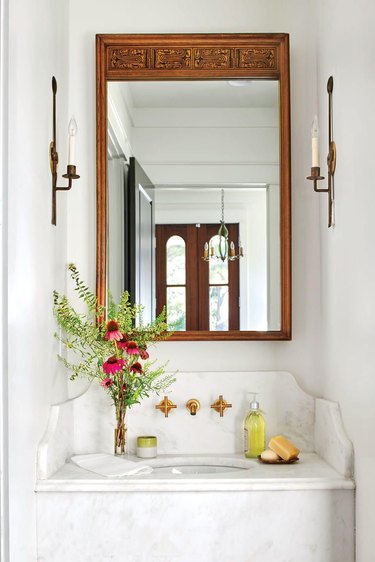 Create the right balance between comfort and beauty with an undermount sink surrounded by a natural stone like marble. This gorgeous look in a snug powder room is effortlessly embellished with a vintage mirror and sconces for a timeless feel. And the subtle Carrara backsplash completes the space.
4. Embrace the curves even if you don't have ample space.
Forget straight lines. French country furniture with curved edges will add a great flow to any space. This charming bathroom vanity with an oval sink checks all those boxes and then some. And we can't get over the soft pink color palette and the slim medicine cabinet that provides plenty of storage.
5. Don't forget about pedestal sinks.
Don't doubt the charm of a classic pedestal sink. Here, a pair of them look absolutely stunning in front of a large window. The airy elegance of this bathroom design with a rustic stone floor could even work in a loft space.
6. Work in a single sink with old-world charm.
7. Inject a little color.
We love how this integrated sink combines old-world charm with a pop of color. The pink vanity would impress any true Francophile, and the gray and white marble countertop seals the deal. Plus, all those brass fixtures are a dream.