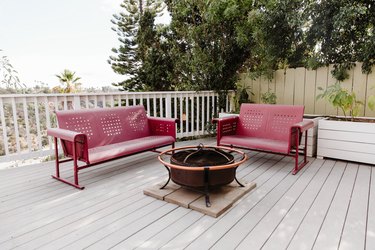 Outdoor fire pits and similar fire features are very popular these days, helping to make the backyard friendly, welcoming and, of course, warmer. There are so many different styles of outdoor fire features that selecting one can seem overwhelming as you scroll through the inviting images of the various types of fire pits.
To make the selection process easier, it's better to think through some basic questions about installing an outdoor fire pit, like what you plan to use it for, the type of fuel you want to burn and the amount of work needed to set it up and keep it maintained. That will narrow the range but will still leave you with many enticing choices for the best fire pit for your backyard setup.
The Joys of an Outdoor Fire
People who enjoyed camping trips in their youth will have fond memories of outdoor fires: the snap and crackle, the smell of roasting hot dogs and marshmallows and the conviviality. That doesn't have to disappear once you get home if you install a fire feature in your outdoor space. An outdoor fire pit creates immediate ambiance in your backyard, especially when you combine it with a comfy seating area.
It can do a lot more than look welcoming. In fact, outdoor fire features — whether wood-burning fire pits, propane fire bowls or natural gas fire tables — can also provide outdoor heating, offer an alternative "kitchen" for outdoor cooking or provide a friendly gathering area for backyard get-togethers with family and friends. While most outdoor fire pits do all of these things to a certain extent, it's a good idea to figure out the primary role you intend your fire element to play in your life. That can help steer you to the type of fire feature that will fulfill your expectations.
Different Types of Fire Feature Fuel
Most backyard fire pits use wood, natural gas, butane or gel fuel. Each has advantages and disadvantages, and deciding early on which works best for you can make it easier to pick your ideal fire feature.
Wood-burning fire pits work very much like campfires and are extremely popular for backyards. In addition to the dancing flames, wood-burning fire features smell like a campfire and crackle and snap like one too. In short, they fill your senses with the campfire experience as your guests gather around the wood-burning fire to warm their hands and roast marshmallows.
Wood-burning fire pits are the easiest type to install, and any former scout can start one. The enclosure can be made of any material that won't burn, like metal or stone, and will include a structure to contain the logs. The atmosphere they create is completely authentic and cozy, and wood is fairly inexpensive to buy. However, some locations prohibit or restrict wood fires, so take that into consideration before you purchase.
For faster, easier fires, you might consider a gas fire pit that starts up with the flick of an igniter switch. These can use natural gas or liquid propane as fuel, and in addition to the added convenience, this type of fuel is cleaner and safer than wood and doesn't inundate guests with smoke. (The "smoke follows beauty" joke gets old fast.) Installation is more difficult for natural gas units since they have to be hooked up to the home gas line, but that means an unending supply of fuel for an evening fire, and gas opens up the door to options like lava rock, fire glass or ceramic log sets.
A fire feature powered on liquid propane is more portable than natural gas since you can buy propane in refillable tanks. It also burns clean and bright and gives off the most heat. Gel fuel is another possibility. It is a clean-burning fuel typically made of isopropyl alcohol. It doesn't smoke or create soot when burned, so no venting is required. Gel fuel is often sold in 13-ounce cans that burn for several hours. To use the can, you pry open the lid and light it. This is safe to use in the house, so you can move a tabletop fire feature inside if you want to create a warm atmosphere.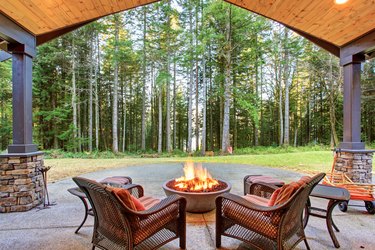 Different Types of Fire Features
A fire pit is a fire pit, right? Wrong! There are a number of different types of fire features, and you will have to choose which kind appeals to you and works best in your yard. There are many popular types — some burning wood, some hooking up to the natural gas line and some burning propane or even fire gel — and each has advantages and its own particular charm.
Be sure to check on building restrictions imposed by your municipality, homeowners' association or neighborhood association before installing fire features. Some won't allow built-in fire pits or outdoor fireplaces.
1). Classic Masonry Fire Pits
Anyone considering an outdoor fire pit shouldn't hesitate to take a look at the classic, traditional round enclosures constructed of brick, block or stone. These provide something very close to the campfires of your childhood, although they may offer a more sophisticated look. These are permanent structures built over a compacted gravel base or even a concrete slab.
Classic fire pits featuring 360 degrees of flames usually burn either wood or natural gas and work well for creating atmosphere, warming the backyard, entertaining a group and doing campfire-style cooking. If these are your top goals in an outdoor fire pit, a classic pit might be the best way to go.
2). Prefabricated Fire Pits and Fire Bowls
A prefab fire pit is a manufactured, portable version of a classic fire pit and is designed primarily for ambience, although some can be good for cooking. Most types are made for burning wood or propane. Fire pits can be bowls, squares, columns or other shapes. The term "fire bowl" usually refers to sleek, bowl-shaped units made of metal or cast concrete.
Portable fire pits come in many different styles and sizes, so you should select one that goes well with your backyard decor. (Tall, upright versions are called fire columns.) One thing most have in common is their portability. If your family is sitting around the patio, you can move the fire pit to the patio and start it up. If you are picnicking with friends on the far side of the garden, the pit can be carried over that way as well.
Portability is a great advantage, but it's not the only one that prefab fire pits offer. Even in an area with strict rules against outdoor fireplaces or fire pits, portable, self-contained fire pits may not be regulated.
Classic outdoor fire pits and bowls are situated on the ground like campfires, but there are other styles that work better in some situations. Gas fire pit tables (using natural gas or propane) are a marriage of tables and fireplaces and perform perfectly as both.
These are gas-powered fire pits built into the center of tabletops. What size tables? Well, what size would work best for you? Generally, you can find them the height of coffee tables (about 23 inches), the height of dining tables (about 29 inches) or the height of bar tables (about 35 inches). These fire features are completely usable as tables.
A gas fire table gives your patio a contemporary, modern look, and they come in a large selection of styles, shapes and sizes. The fire area will attract attention and create a warm atmosphere, while the tabletop surface area allows people to set down their glasses or plates. Blending fashion and function, this style can also be found with an electric fire rather than a gas one, but the gas fire will take more of the chill off the evening air.
4). Tabletop Fire Pits or Bowls
Don't confuse fire tables with tabletop fire pits or bowls. Both reference tables and include fire, but "tabletop" here means small and conveniently portable. These are small fire features — often 24 inches across or less — that can be placed on an outdoor shelf, a picnic table or another flat surface. You can position a tabletop fire pit or bowl on a stable base wherever you are in the garden to get a warm, comfortable glow. Don't expect to thaw out frozen fingers, though. These are not the best for radiating heat.
Tabletop fire pits are fueled with gel fuel, allowing both indoor and outdoor use, although you should always read the instructions on your particular product to be sure. Just because they fall into the tabletop category doesn't mean you have to put them on a table. They will work just fine on the ground or on a concrete or stone surface.
A camping fire pit is essentially a small pit that can travel with you. They are usually made of stainless steel. Many of these steel fire pits are made for wood, but some run off propane. Propane is easier to start and burns cleaner without ash, but you may miss the smell and crackle of the wood fire.
If you are looking for a camping fire ring, you want to select something sturdy and light. Keep in mind that you may be able to use propane-burning fire pits even in natural areas that don't allow campfires.
Positioning Your Fire Pit
"Location, location, location" applies to fire pits as well as real estate. Where you locate your fire pit will be important in how much you use it as well as how safe it is for all. Built-in fire pits or heavy fire bowls will stay where you install them, so be sure there aren't any overhanging tree branches or nearby shrubs.
Safety is critical when it comes to any open flames, so position any fire pit 10 feet or more from anything flammable. Look out for wind-prone areas since you don't want to start a fire from blowing embers or hot ash carried on the evening breeze. Natural gas or propane-powered fire features have neither embers nor ash, but you'll need to exercise care with any fire pit.
If you are using a tabletop or portable unit, always place it on a level, stable surface. It's not a good idea to use fire pits on flammable surfaces, like a wooden tabletop. Instead, put them on stone or concrete surfaces. Don't place a portable fire pit on grass; the grass won't be very happy about it. Read the manufacturer's recommendations for your particular fire pit before deciding where to put it.
Fire extinguishers are a necessity if you install a fire feature. Keep one in the backyard close at hand. You'll also want to keep the fire pit in tip-top condition by cleaning out the ashes frequently and protecting it from the elements with a good cover when you aren't using it.
---
From Alaska to California, from France's Basque Country to Mexico's Pacific Coast, Teo Spengler has dug the soil, planted seeds and helped trees, flowers and veggies thrive. A professional writer and consummate gardener, Spengler has written about home and garden for Gardening Know How, San Francisco Chronicle, Gardening Guide and Go Banking Rates. She earned a BA from U.C. Santa Cruz, a law degree from U.C. Berkeley's Boalt Hall, and an MA and MFA from San Francisco State. She currently divides her life between San Francisco and southwestern France.
View Work