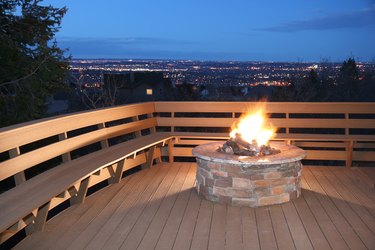 A fire pit is a fun addition to your backyard, but you need to consider several issues before placing one on your deck. In some areas, summer burn bans and other legal issues may prevent you from enjoying a fire pit at all or may prevent you from placing it on certain decking materials. Almost no community will allow a wood-burning firepit to be positioned on a wood deck, for example, so always check your local building inspections office for guidance. There also may be set-back rules in play—you may be forbidden from installing any kind of firepit within 10 feet of a building structure, for example.
If installing a fire pit on your deck is permitted at all, you'll want to choose the right style of pit and type of fuel.
Legal Considerations
Before considering a fire pit on the deck, check with your city, county and homeowner's association to ensure that a fire pit is legal. In many drought-stricken communities and areas with rainless summers, any open flame is illegal during the dry months of the year. Those regulations may include all wood-burning, propane, natural gas and gel-ethanol-fueled fire pits, no matter where they are on the property. Additional regulations may prohibit any type of fire pit on a wood or composite wood deck.
Fuel Sources
Fire pits can use a variety of different fuel sources, including:
Wood: inexpensive; must be hand-loaded into the fire pit; throws sparks; usually forbidden for wood decks
Propane: fueled by a propane tank; tank must be filled regularly; easy-to-reach shut-off valve is required
Natural gas: relatively inexpensive; must be piped from the house; should have a shut-off valve nearby
Gel-ethanol: available in cans; pours over the decorative rocks or tucks under the rocks; requires an accessible dry chemical fire extinguisher or baking soda to put out the flames
In general, the safest type of fire pit is a gas- or propane-fueled pit manufactured specifically for use on a deck.
Fire Pit Styles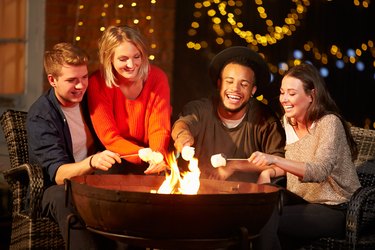 Fire pits designs range from a simple surround of rocks to elaborate metal or stone creations that serve as works of art. A fire pit might be a lightweight metal bowl with a spark-arresting lid or a permanent installation made of concrete, stone or brick. When installing a fire pit on a deck, consider the fuel source, weight and location.
Safety Precautions
Place a fire pit at least 10 feet from any possible fuel sources, including the stored firewood, house walls, deck railings or overhanging tree branches. Move deck furniture out of the way and remove tripping hazards such as doormats, toys or dog leashes. On a wood or composite deck, if a fire pit is allowed, make sure to use a protective barrier of fire bricks, pavers or a commercially produced fire mat to shield the surface of the deck from sparks and heat. A fire mat should extend at least 24 inches past the perimeter of the fire pit. Have a shut-off valve for a propane or gas line installed near the fire pit to allow for quick fuel shut-off in the event of an emergency.