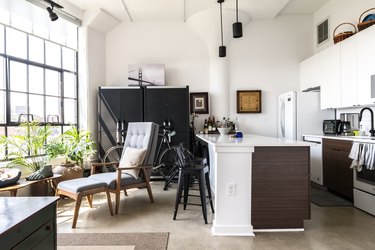 Industrial style, as the name suggests, is heavily dictated by the architecture of bygone industrial warehouses and factories. While a lucky few call these now-converted buildings home, that's not a prerequisite to achieving an authentic industrial style apartment. So, what DO you need? Telltale features include stripped back details like exposed ductwork and pipes, steel-framed (factory) windows, and plenty of concrete, along with elements that add texture and contrast like wood beams, tumbled brick, distressed leather, and furnishings with a sense of history.
Despite the fact that industrial style has been around for years, it continues to be popular for the same reasons people continue to embrace Scandinavian decor — an emphasis on clean lines, a focus on form and function, and an edited color palette, which all translate to bright, light-filled spaces with modern undertones.
Industrial style apartments are also beloved for their naturally open floor plans which make entertaining a breeze. Read on to discover seven designs that demonstrate exactly how to pull off the style with ease.
1. Welcome exposed HVAC ducts.
Your first instinct might be to try and hide that HVAC (heating, ventilation, and air conditioning) ductwork behind paint or some other creative ceiling treatment. But we say, leave it! The unfinished look screams industrial, not to mention, it adds unique visual interest throughout your home — and you didn't even have to lift a finger.
2. Show off your windows.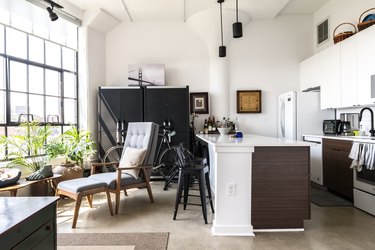 Going curtain-free is a win win — it allows original steel frame windows to remain a decorative centerpiece and lets in plenty of natural light. This industrial style apartment belonging to photographer Max Grudzinski is picture-perfect proof that when you've been blessed with a home that has great bones, your furniture can take a back seat — just add an assortment of neutral pieces, plenty of wood elements, and some greenery.
3. Designate seating areas.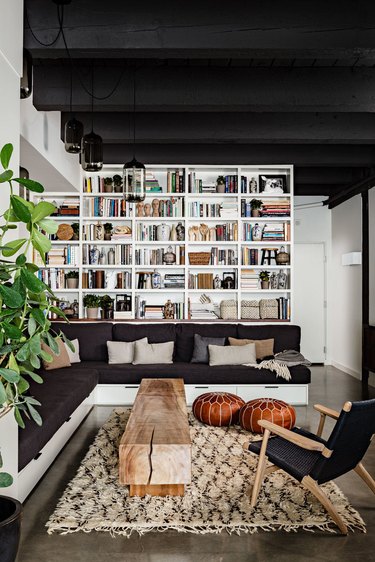 The expansive nature of industrial style apartments can result in spaces that feel cavernous and impersonal; counter that tendency by defining boundaries with intimate furniture groupings. Jessica Helgerson carves out a living room with a streamlined built-in sofa and a partition out of a floor-to-ceiling bookcase for a look that's throughly modern and cozy.
4. Emphasize unique features.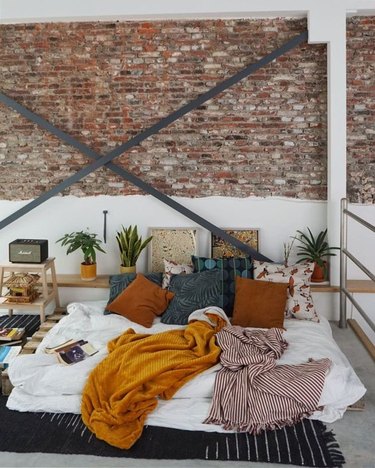 Industrial style apartments are a sum of their parts — highlight unique architectural features and let them serve as decor, as Vilde Elvine did in her gorgeous bedroom. Instead of trying to detract from the X-bracing in front of the exposed brick wall, Elvine chose to emphasize it further. She kept the furniture low to the ground and incorporated cozy accents, such as pillows and throw blankets, in warm hues to complement and soften the design. Throw in a few potted plants and an area rug for additional color and texture.
5. Pair with soothing colors.
Balance the inherently masculine nature of industrial style with upholstered furniture in a soothing palette, like Leanne Ford did this lofty abode. It hits all the right notes thanks to poured concrete pieces, exposed pipes, and statement lighting, along with plenty of texture and softness.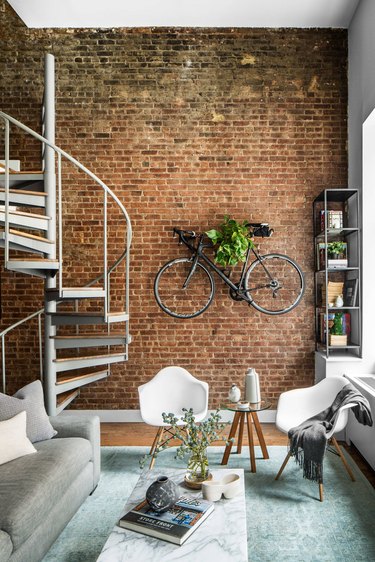 Brick is often relegated to exterior projects, but in industrial style apartments it's a telltale material that adds dimension and texture. Traditional red brick becomes the focal point in this New York loft by Turek Design when it's paired with lighter furnishings and architectural details, such as the spiral staircase. A bicycle hanging on the wall pulls double-duty as functional artwork.
As with any interior design style, the most important thing to keep in mind when pulling together an industrial style apartment is to use what speaks to you and don't take yourself too seriously. This living/dining setup by Zalc Arquitetura Design takes a whimsical turn with a cheeky neon sign and a Medusa-inspired chandelier.