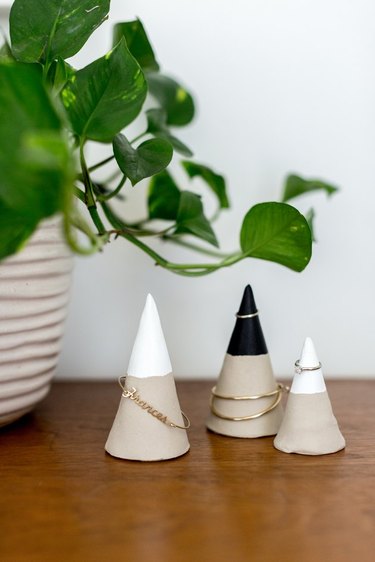 And one of the things that we adore most about this practical material is how easy it is to be creative with. Bringing your own personality into your home is important and concrete helps make that super easy thanks to its affordability. You don't need to be a rising star in the world of interiors to create something with pizzazz. Don't believe us? Check out these 11 DIY projects showcasing the industrial material.
1. DIY Concrete Marbled Tray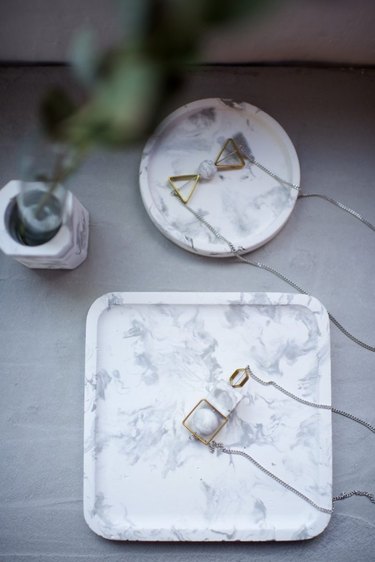 Concrete? Check. Marble? Check. This DIY ticks two major trends off the list. Essentially, all you'll need to do is mix two different colors of cement in a swirled manner and place it into a mold. An old ice cream container lid will do just fine. You can go for white and gray like blogger Geneva Vanderzeil from A Pair & A Spare, or add colored pigment for a pastel approach. You can find her clever how-to here.
2. DIY Modern Concrete Succulent Planters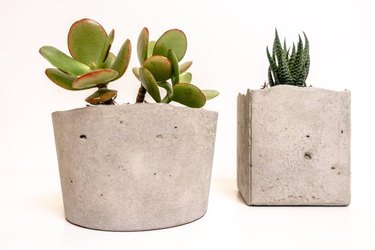 If you've never mixed and set concrete before, this simple project could be the perfect way to get acquainted with the process. Plus, everyone needs more succulents, right? Imperfection is key here so don't be afraid to experiment. The end result should be rough and textured with an uneven finish. Learn more about this DIY here.
3. DIY Multipurpose Concrete Letters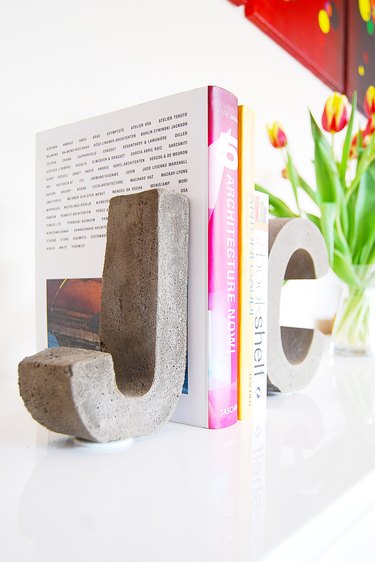 What's better than normal letters? Concrete letters of course! There are a fair number of tutorials out there, but we love the size of these characters from Christine and Jan over at Little House on the Corner. They can be used as statement pieces on a shelf or as bookends, too. Get all of the details here.
4. DIY Faux Concrete Jewelry Cones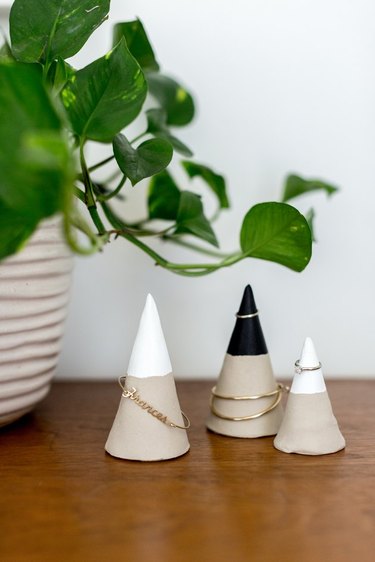 OK, so we might be cheating a little with this one, but we can bet with confidence that you thought these were real concrete jewelry cones. While we love a good DIY project involving concrete, it can get a bit messy and going faux is a good alternative. These minimalist cones can be created with air-dry clay, meaning you'll still get the natural look and feel of concrete, while skipping the heavy clean up. Read more about it here.
5. DIY Concrete Serving Platters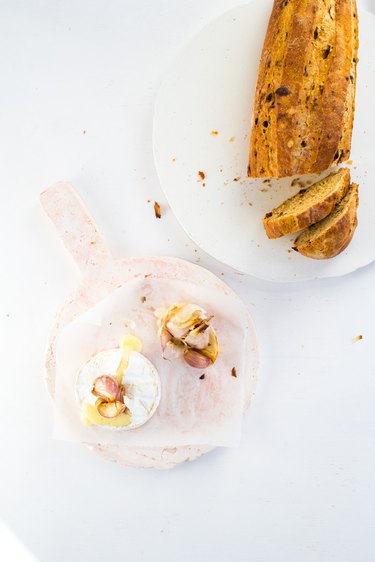 Fall for DIY is one of our favorite places for all things crafty, and these concrete serving platters are the perfect example — Anthropologie, eat your heart out. The rustic nature of concrete brings an edge to the delicate coloring, making this dishware the perfect accessory for a casual dinner party. Learn how to get started on yours here.
6. DIY Geometric Concrete Bookends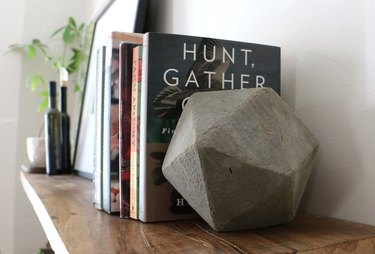 With the help of recycled cardboard and quick-drying concrete, these modern bookends are budget friendly and easy to make at home. You could even use them as paperweights. Find the step-by-step instructions here, and download the geometric template or go crazy and design your own!
7. DIY Minimal Concrete Coasters
Coasters may not be something you want to invest in, but cheap ones can stick to glasses and get ruined when damp. Our solution? These minimal concrete coasters from By Brittany Goldwyn. They can be created with a plastic cup, some felt, and a few hours of your time. Discover her simple instructions here.
8. DIY Concrete Candleholder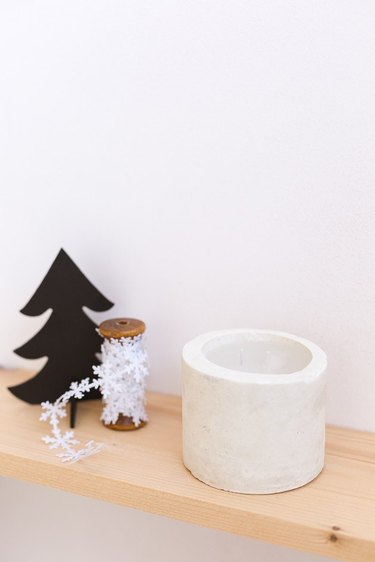 You had to know that there was going to be a tea light in here somewhere. Et voilà! These little candleholders will help add a dash of hygge to your home, making it especially cozy when it's cold outside. And bonus: The beauty of concrete means you can also paint it after 48 hours. You can find the detailed how-to here.
9. DIY Concrete and Copper Table Lamp
Copper and concrete is a match made in design heaven for anyone who likes an industrial aesthetic. Surprisingly, this DIY concrete lamp by Sarah from Look What I Made is pretty easy to make once you know how — no electrician required. Style it with some plants, colorful books, and minimal accessories for the full look. Check out the full DIY here.
10. DIY Concrete Pencil and Pen Holder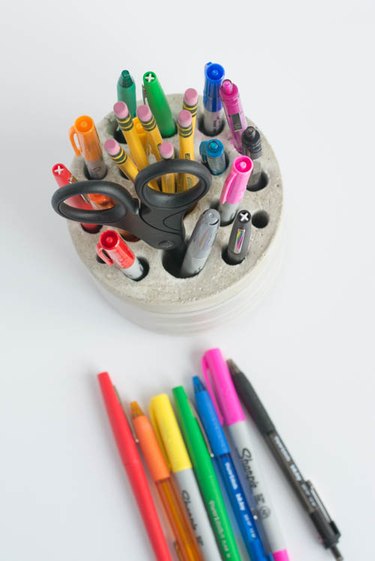 If you ever need a gift for your child's teacher, this nifty DIY from Gabrielle over at Design Mom could be the answer you've been waiting for. You can even get your little ones involved. This concrete pen and pencil holder can be created in a variety of shapes and sizes using just cardboard and wooden dowels — the style and layout is entirely up to your imagination. You can find her step-by-step instructions here.
11. DIY Concrete Kitchen Utensil Holder
We're easily swayed by anything concrete in the kitchen and last on our list of DIYs, at least for today, is this painted utensil holder. While it's 100 percent practical, it's also a quick way to update your kitchen with an industrial edge. Those concrete countertops aren't quite right for everyone, but this project is definitely a crowd-pleaser. Learn how to make your own here.