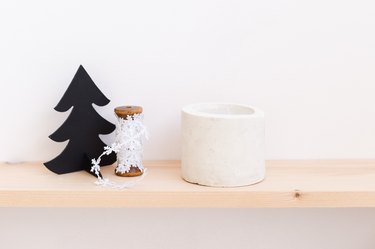 During the holiday season (or really, any time of year), is there ever such a thing as too many candles? It's the perfect way to cast a gorgeous glow within any room. We absolutely love the look of concrete, and this candleholder is a perfect complement to Scandinavian holiday decor.
The white concrete used in this tutorial has a beautiful texture to it and creates a solid, safe base for the flame. (Good news: concrete is really easy to work with!) Just make sure you give it enough time to cure (48 hours), and then you can wet it, sand it, paint it, or stain it.
And best yet: you can reuse the holder and change the scents for each season.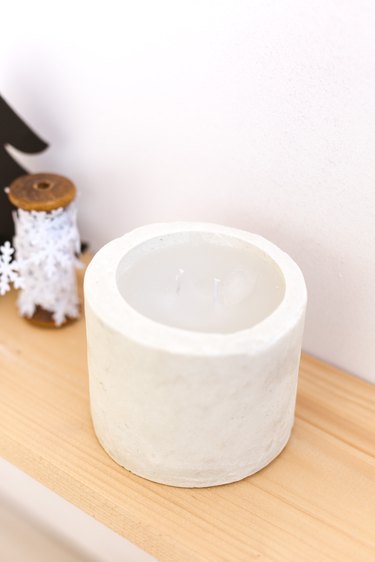 Things You'll Need
Large (wider) parcel tube

Small (more narrow) parcel tube

Vaseline

Sandpaper

Essential oils such a peppermint, cinnamon, clove, bergamot, or orange

Wood skewers or popsicle sticks

Cut the tubes similar to the image below, roughly six inches high. Be sure to keep one end of each tube closed.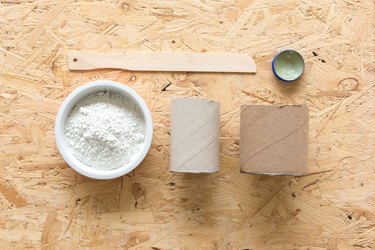 Make the Concrete Base
Step 1
Use Vaseline to cover the outside of the smaller parcel tube and the inside of the larger tube. This will help you remove the tubes once the concrete is dry.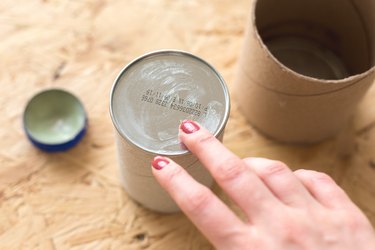 Step 2
Mix the concrete according to the instructions on the package. Remember, you can always add more powder or water, so don't worry about getting it wrong. Make enough to fill the larger tube halfway.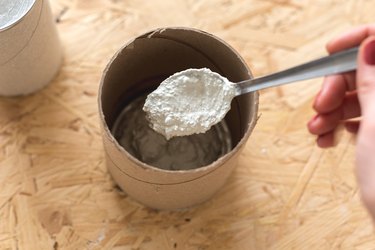 Step 3
After putting the concrete into the larger tube, push the smaller tube down to around half an inch from the base of the larger tube. Keep the smaller tube in the center with equal amounts of concrete in the gap.
Fill the smaller tube with water to weigh it down, and then leave to dry for 48 hours.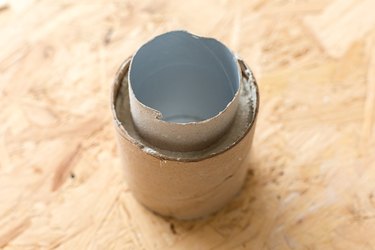 Once the concrete has set, remove the cardboard postal tubes. You can use water to help remove stubborn areas. Sand any rough spots until smooth.
Make the Candle
Step 1
Melt the wax slowly in a microwave until it has all melted. This will be very hot. Add in any combination of essential oils you enjoy.
Warning: Use oven gloves to handle the container and keep away from children.
Step 2
Pour a little hot wax into the bottom of the concrete holder. Position two wicks into place and then leave to set.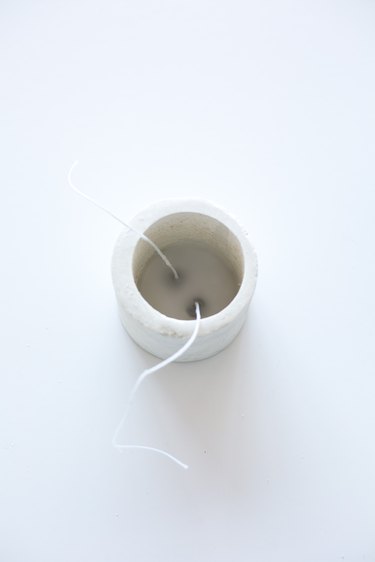 Step 3
Next, hold the wicks in place using skewers or popsicle sticks and bulldog clips, and then fill the remainder of the candle with the melted wax. Leave until the wax is fully set ... and then enjoy!
These would also make great hostess gifts during the holidays.