We love mixing textures when adding new style elements into our homes. Woven baskets, patterned textiles, and clean ceramic dishes all complement each other. And our latest obsession? Concrete.
For this project, we're featuring an easy-to-make concrete bowl. We love styling it on a coffee table or on open shelving. Keep glass or wood beads, found stones, and other decorative items in this eye-catching shallow shaped bowl.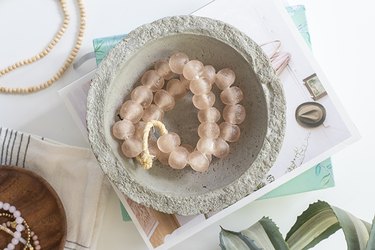 Things You'll Need
Concrete mix or quick setting cement like Quikrete

Vegetable oil or non-stick cooking spray

Bucket and mixing tool

Water

Sandpaper

Rocks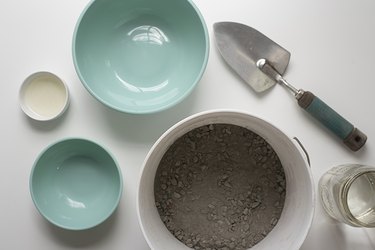 Step 1
Pour the concrete mix into a bucket and start adding water a little at a time. Stir and keep adding water until you get a thick cake batter-like consistency.
Step 2
Coat the inside of your larger bowl with oil. Coat the outside of a smaller bowl with oil as well. This helps make it easier to pop out the concrete piece once it's dry.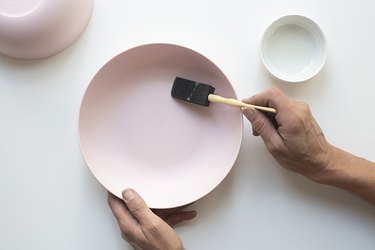 Step 3
Time to make your bowl! Spoon concrete into the bottom of your big bowl, half full. Then place your smaller bowl into the bottom center of the big bowl and push down. Tap the bottom and sides of the big bowl to agitate the concrete, getting rid of air holes. Smooth out the rim of concrete with a spoon or your finger. The smoother you get it now, the less you'll have to sand it down once dry.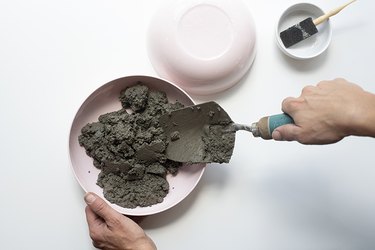 Step 4
Place large rocks into the smaller bowl to weigh it down and keep it level while drying. Give the concrete 24 to 48 hours to dry. You'll see the concrete lighten in color as it dries.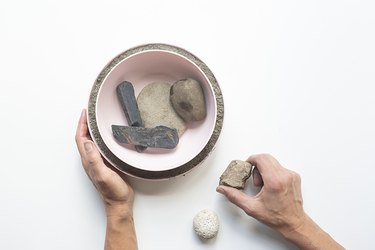 Step 5
Once the concrete is light grey and dry to the touch, remove the plastic bowls. Now you can sand the bowl to smooth it out.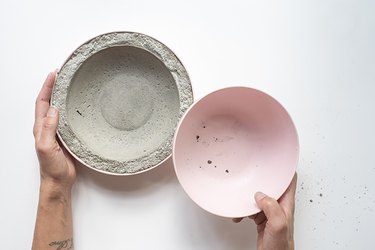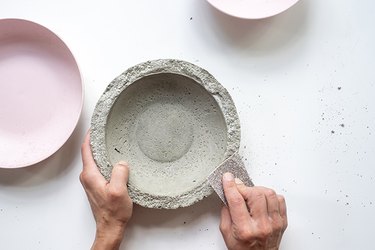 ---
Alice & Lois is a DIY and lifestyle blog where twin sisters Sara and Melissa share their inspiration, projects, connection and celebrate the good in life. They create inspiring posts centered around home, family, style and creativity, specializing in simple, yet sophisticated DIY projects. Sara and Melissa live in two very different places – Sara is in the heart of the midwest, Indianapolis and Melissa in the majestic ski town of Crested Butte, Colorado. Alice & Lois was named one of the Top 10 DIY and Decorating Blogs by the editors of Better Homes and Gardens in 2015 and 2016 and recently named one of the Top 30 DIY Blogs to Follow by Domino.