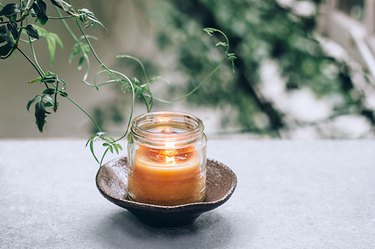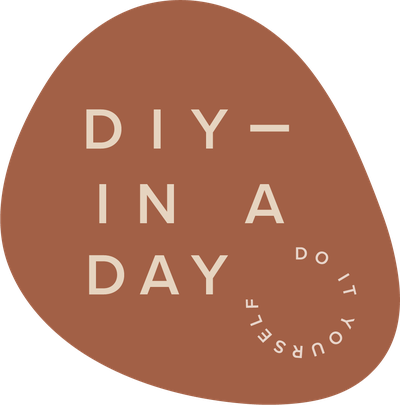 DIY in a Day brings you step-by-step instructions for easy projects that will spruce up your space — within 24 hours (or less!).
Who doesn't love summer BBQs, picnics, and dinners al fresco? When the weather is nice, you want to be outside, enjoying a cold beverage or a gorgeous sunset — not fending off stinging, biting insects. (Nothing like a bunch of red welts and endless scratching to ruin a lovely outing.) Luckily, there are certain scents that bugs won't go near. Citronella may be the most common one, but other essential oils like lemon eucalyptus, grapefruit, and cedarwood are also effective at keeping bugs at bay. Add those fragrances to a simple beeswax candle to fend off mosquitoes while you enjoy the pleasant aroma and candlelit glow.
This is the DIY everyone is going to want to do ... right now!
Step 1
Add the beeswax pellets to a glass measuring cup.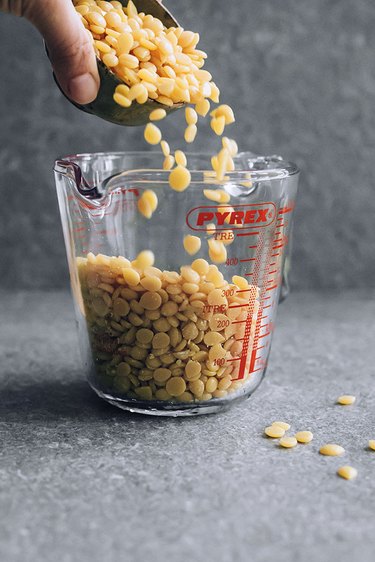 Step 2
Fill a small saucepan with 1 to 2 inches of water and bring it to a boil. Lower the temperature and set the measuring cup in the pot with the handle hanging over the side. Give it a stir every so often to help break up any beeswax clumps.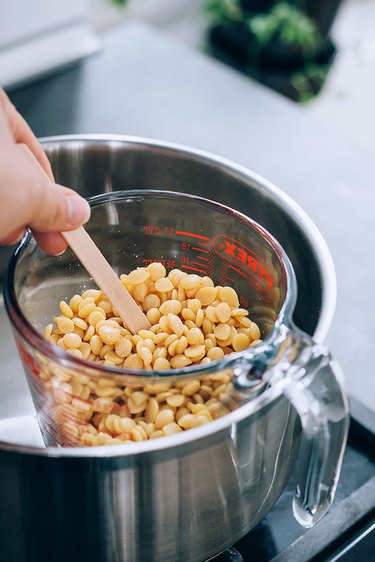 Tip: Using a different size jar? There's an easy way to adjust the amount of beeswax pellets you'll need. Fill the jar with beeswax pellets and pour into the measuring cup. Then, fill the jar again halfway, and pour those beeswax pellets into your measuring cup.
Step 3
While the beeswax melts, get the wick ready. Place one end at the bottom of the jar and cut it so there's at least an inch above the top of the jar. Place chopsticks or pencils on top of the jar, on either side of the wick, to hold it in place. You can also roll the wick around a pencil to hold it steady.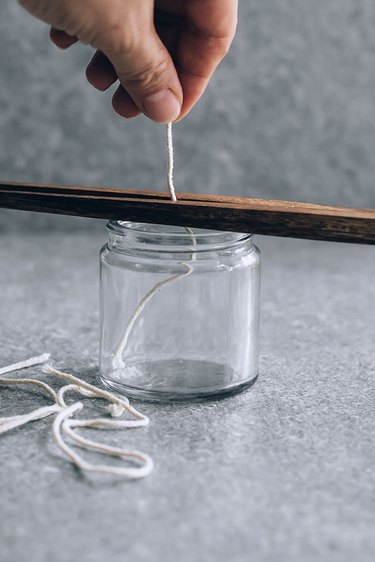 Step 4
When the beeswax is fully melted, remove it from the heat and add the essential oils. Stir gently with a spoon or a wooden skewer.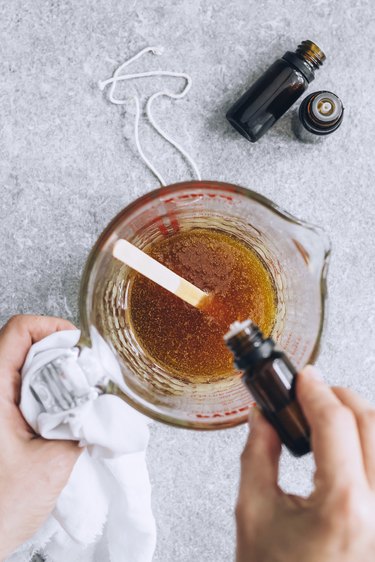 Tip: Want to change up the scent or use different essential oils? A simple guideline is to use about 25 to 30 drops of essential oil for every ounce of beeswax.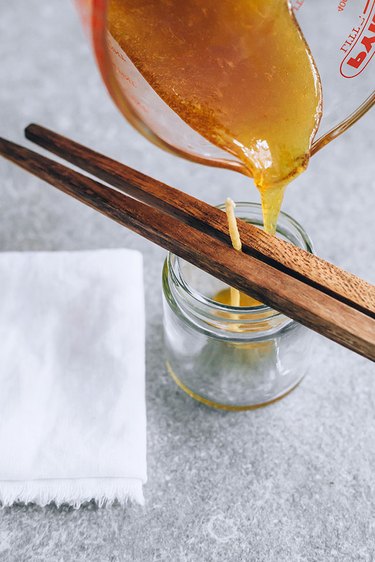 Step 5
Pour the beeswax carefully into the jar, being sure to hold the wick in place.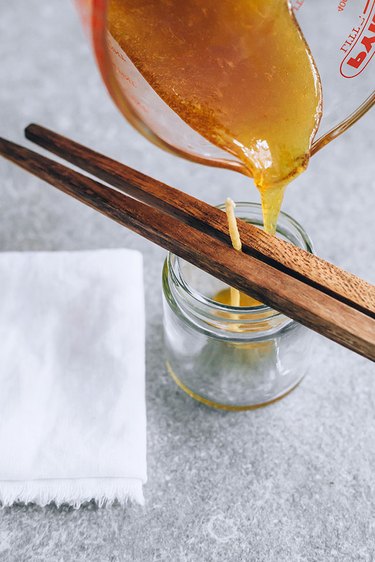 Tip: Wipe out the measuring cup while it's still hot. It's much easier to clean! Place it back into the water if you need to reheat and melt any remaining beeswax.
Step 6
Let the candle sit until the beeswax has fully hardened. Then trim the wick, light and enjoy.