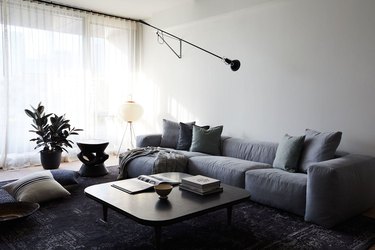 Cozy textures at every turn, piles of throw pillows, and abundant layers of patterns are the designated staples of boho style. Having potted plants positioned everywhere goes without saying. It's safe to say that the majority of spaces embodying a bohemian-inspired scheme usually tend to be saturated with warm shades and rattan accents, or enveloped in a neutral-heavy palette. So naturally, that invites us to explore the other end of the spectrum, one that's grounded by a moody finish that takes on a slightly more refined and grown-up feel. The trick? Combining the free-spirited aesthetic with elements borrowed from contemporary or rustic design. If you're curious enough to see how that plays out, read on for six masculine boho decor ideas that'll bring a change to the expected.
1. Make a statement.
2. Go classic.
Instead of the traditional palette of saturated hues, opt for a high-contrast black and white scheme. Fill the space with an eclectic mix of patterns and bring in a leather accent piece, or two, to keep the room from feeling sterile. This cozy kids' playroom, designed by Studio McGee, does just that and adds on a touch of personality to boot.
3. Balance things out.
4. Make it modern.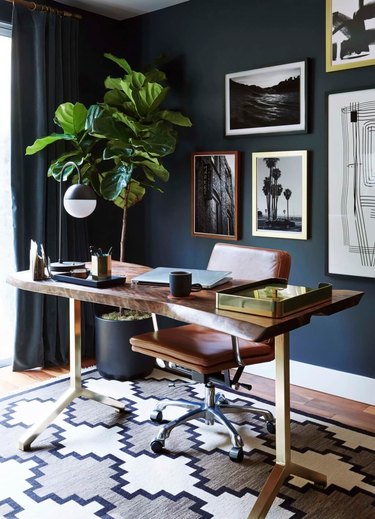 Masculine boho decor with the home office in mind looks a lot like this stunning study designed by Emily Henderson. Integrate contemporary and streamlined furnishings to contrast the more organic elements of the room, such as a patterned rug or plants, for a dynamic look.
5. Load up on textures.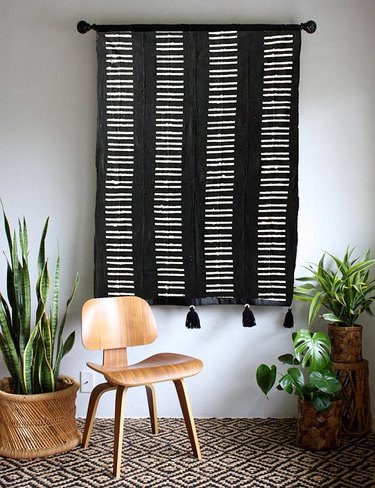 Wall-hangings are yet another standard in boho style. Outside of lending the walls a textured element, they're a great way to conceal unsightly fixtures and even electrical boxes. In this Insta-perfect nook, a defining tasseled tapestry anchors the design, uniting the eclectic grouping with a daring finish.
6. Stay grounded.