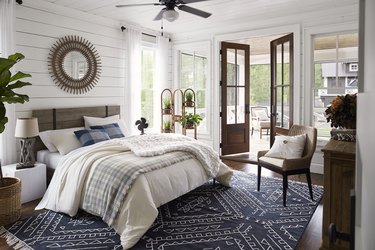 Who sleeps better when you know there's a body of water right outside your window? Answer: Everyone. But even if you don't have plans for a maritime getaway this summer, you can still capture the serene aesthetic with a lake-inspired bedroom update, courtesy of some total gems we found at Walmart.
From a wicker wall mirror, to the indoor version of an Adirondack chair, and a lagoon-hued duvet set that will make it nearly impossible to get out of bed (in the best way)—you can find everything you need to turn your room into a splashy sleep sanctuary at our curated shop on Walmart.com. Summer's looking brighter already.
Keep it cozy-yet-summery with this weathered-wood headboard that earns its title as a statement piece while being versatile enough to transition through multiple design updates (if you struggle with committing to one look). Come on, does wood ever really go out of style
It's not a water bed, but it's got all the best qualities of one. This lightweight duvet set is made from seriously soft, 100 percent washed microfiber that'll give you that floating-on-a-cloud feeling as you drift off to sleep. Plus, it features an invisible side zipper that makes laundry day a breeze.
Walnut-hued rattan on this wall mirror harkens to the wicker furniture you'd find dockside, bringing those sunshine vibes inside.
Summer and snuggles aren't mutually exclusive. This plaid woolen blanket is ideal for nights around the fire after a day spent out on the lake (or just for cozying up with while you watch Dirty Dancing, again).
Keep your entire summer wardrobe organized in a coordinating dresser with extra-spacious drawers—leaving room for extra bathing suits, overalls, and sun hats, if that's your style.
Not your grandma's quilt (though hers is probably pretty great too). This one is made with 100 percent cotton yarn and is just the right weight for pretending your blasting AC is actually a lakeshore breeze.
Give the camp-inspired simplicity of your decor an industrial kick with this black metal-caged light fixture with an exposed bulb. Can you say trendy?
Add an extra element of Zen to your mountain summer bedroom with a plush, Adirondack-style armchair that basically begs you to curl up with a good book and a glass of wine.
Keep the reclaimed-wood theme going with this rustic side table that only looks antique. Featuring two USB ports, you never have to choose between charging your phone and plugging in your reading light, so you can stay locked in on that summer page-turner.