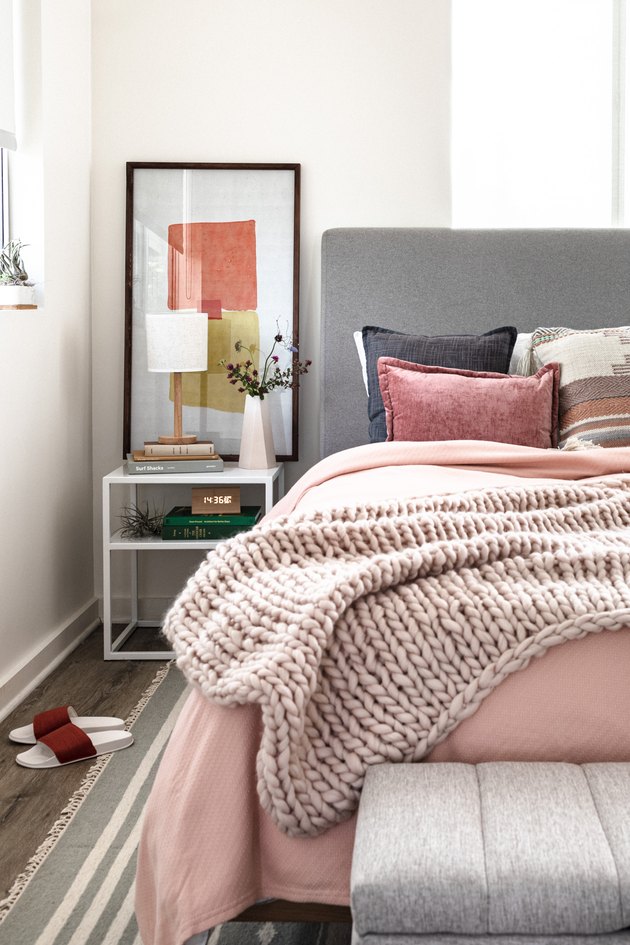 The products we write about are recommended by our editorial team. Hunker may earn compensation through affiliate links in this story.
Now that summer is here, you've officially finished off all your spring cleaning (you have ... right?). So celebrate your gorgeous, dusted-off space by giving it a shiny new refresh. Using design tricks like colorful bedding and pops of wall art, we whipped up three adorable bedroom makeovers right in our very own Hunker House using all Walmart finds. Which one is your favorite?
For bedroom #1, we channeled an endless summer vibe by sticking to sunset hues. From poppy pink bedding to marigold wall art, this entire bedroom just screams happiness.
Psst, this Ojai Orange Abstract Wood painting is from none other than Drew Barrymore's exclusive Flower Home line. We love that it's eye-catching without overpowering the rest of the space.
Green is the word — er, the color, that is. This bedroom uses neutrals, grey and white in this case, to set the mood and create a calming vibe. While emerald green is throw in on the bed, nightstand, and fresh flower arrangement, to give it that extra oomph.
Don't be afraid to play with different cozy textures.
Consider this set-up a happy mix of neutral and colors. Here, we play up textures, colors, and styles to create a somehow cohesive and fun bedroom. Of course, the real star of the show is the rattan hanging light. Once that's set up, the rest of the room will speak for itself.
When in doubt, go bold with the furniture. If incorporating color isn't your strong suit, pick a fun hue for your nightstand. It's small and inexpensive enough that you won't feel like you're stuck with it forever, but will also pack a major punch in the grand scheme of the room. Plus, once you that a deep ocean blue, it'll be easy for you to find complementary and contrasting colors to go with it.
---
Katie is the Commerce Editor at Hunker. She has previously been on staff at Shape Magazine, Well+Good, and PureWow, and has spent her life perfecting the art of online shopping.
View Work