When kitchen cabinets are dull or ringed with greasy fingerprints and dirt, they can make an otherwise gleaming kitchen look grimy. Washing kitchen cabinets is a quick and easy way to make a kitchen space look sparkling clean. Using a good product will cut down on the amount of time, energy and often cost that's required to clean kitchen cabinets.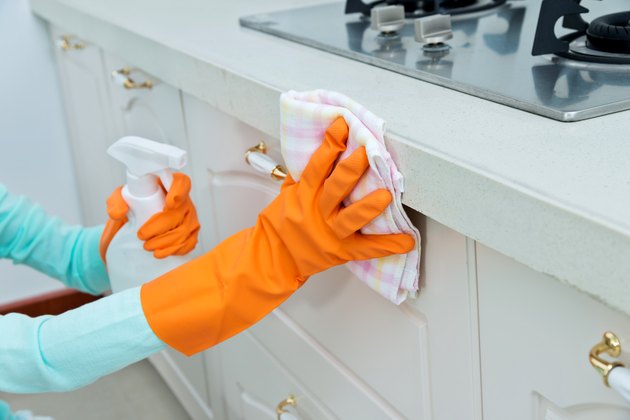 credit:
baona/iStock/GettyImages
Formulated as a safe cleaner for most surfaces, Murphy's Oil Soap can do wonders for dingy kitchen cabinets. However, it does require some safeguards before pouring out puddles of the cleaner on the surface of your living spaces.
Cleaning Kitchen Cabinets
Before applying Murphy's Oil Soap to your kitchen cabinets, remove any hardened bits of food that cling to the cabinet's surfaces. Gently scrape at it with a plastic utensil, moving from the outer edges toward the middle to ensure you don't damage the surface of the cabinet.
Loosen any clumps of dirt that may have collected in the corners or ridges of the face of the cabinet. Dab a small amount of Murphy's Oil Soap onto a damp sponge or soft cloth and wipe up any stubborn stains before cleaning the entire cabinet. Wipe the area clean with a dry cloth and then proceed to clean the expanse of the kitchen cabinet.
Murphy's Oil Directions For Floors
For cleaning floors, Murphy's Oil directions recommend that a 1/4 cup of the commercial cleaner is diluted with a gallon of water. For more serious cleaning jobs, the longtime cleaning company suggests increasing that to a 1/2 cup per gallon of warm water.
The best mop for Murphy's Oil Soap is on that's thick and easily wrung out. It needs to be wrung out continually to work well with the hard-working floor cleaner.
The commercial cleaner works best on laminate surfaces and sealed woods. If using it on unfinished or waxed wood, be careful not to let it sit too long on these porous surfaces. It can discolor or warp unfinished surfaces.
Murphy's Oil Soap for Engineered Flooring
It can seem like a good idea, but Murphy's Oil Soap on engineered hardwood floors isn't recommended. It can react with the finish of the engineered hardwood floor and soften it. This will make it look dull and dirty, creating a cycle of cleaning that never ends with good results.
The liquid floor cleaner can also get into the grooves of engineered hardwood floors and cause them to curl or separate. While Murphy's Oil Soap works well on many surfaces, it should be avoided when attempting to clean engineered hardwood floor planks.
Murphy's Oil Soap on unfinished wood can sanitize the flooring, but it can also damage it if it's poured onto the porous material. Clean the unfinished wood in small sections, making sure to keep the moisture down to a minimum as you move across the floor. Dry each section thoroughly before moving on to the next section.