Grease splatters and drips are a common occurrence in most kitchens, particularly near stoves and prep areas. Grease doesn't easily wipe up and may leave a residue on wood cabinets. While the grease may not be visible at first, it attracts dust and grime that make the cabinets lose their luster and become soiled. Removing the grease without damaging the wood finish is vital to keeping your kitchen's appearance at its best.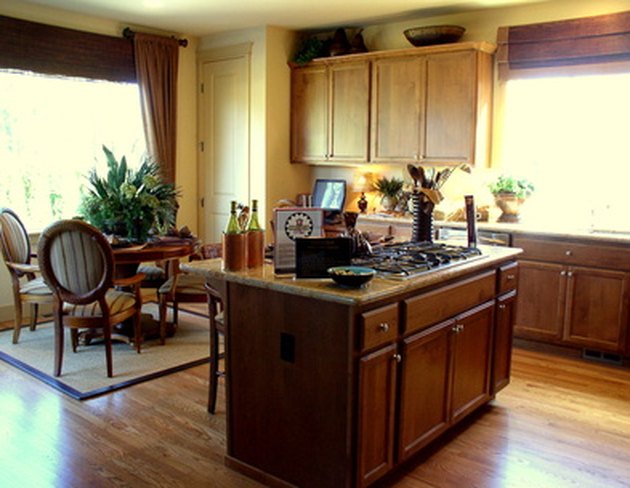 Step 1
Wipe the cabinets with a lint-free cloth dampened with warm water. Remove as much surface dirt as possible.
Step 2
Moisten a second cloth in paint thinner. Test the thinner on the inside of a cabinet door to ensure it doesn't remove the finish. Alternately, combine ½ cup of ammonia with 1/3 of cup vinegar and ¼ cup of baking soda, then dissolve this solution in a gallon of water.
Step 3
Rub the thinner or ammonia mixture over the grease-covered area. Remoisten the cloth as it dries and replace the cloth as it becomes soiled. Continue rubbing the cleaner into the wood until all the grease is removed.
Step 4
Dip a clean cloth into lukewarm water and wipe the cabinets down, removing any thinner or ammonia residue. Wipe the cabinets completely dry to prevent water spotting.