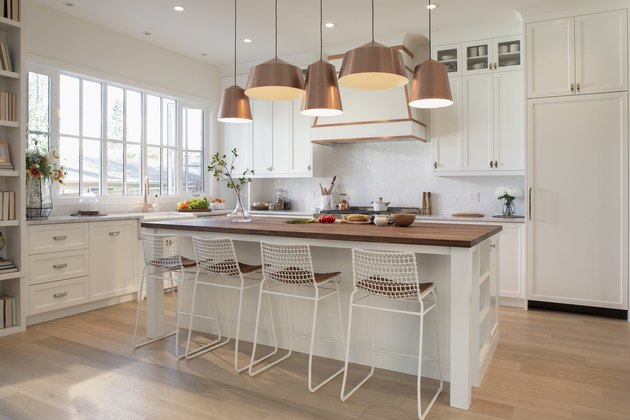 A fresh coat of paint on an outdated set of cabinets can create an entirely new space overnight. But before tackling a painting project, the cabinet surfaces need to be as clean as possible.
The best way to clean cabinets before painting is to use cleaners that won't soak into the porous material and will wick away moisture quickly. You don't want to leave behind any soapy residue or wait for the cabinets to dry for days before painting.
Why Prepping is Important
It may seem like an extra step, but prepping for painting is important. It ensures that all that hard work pays off with a long-lasting paint job. Pre-painted cabinets that require sanding will need a good cleaning before taking the sandpaper to the glossy surface.
Plain wood cabinets will also need to be cleaned before sanding. Dirt can be embedded in the wood and create peeling problems for the future paint job.
Aside from the surfaces of the cabinets, the hinges and all hardware should be thoroughly cleaned, as well. Drop them in a bucket of warm water and liquid dish soap while you clean the cabinets. Scrub them with a brush or sponge to remove the dirt from the corners and hinges.
Prepping Kitchen Cabinets for Paint
There are many commercial degreasers on the market that can take down layers of old grime and gunk. But even the best degreaser for kitchen cabinets, before painting, can have an odor and require gloves and a breathing mask for those with respiratory issues. Cleaning kitchen cabinets with vinegar can get them easily ready to have that first layer of paint rolled over the newly pristine surface.
Vinegar does quick work to sanitize surfaces and remove light layers of dirt and dust that can collect on the surface of the kitchen cabinet. Wipe down the cabinets with a rag dipped in a mix of straight vinegar, or a 1:1 mix of vinegar and warm water, with a few drops of liquid dish soap. Rinse thoroughly and allow the cabinets to dry before painting.
Take off all hardware, then tape around any areas where you don't want paint to inadvertently land. Next, remove the doors and drawers from the cabinets. Take a cotton swab to the nooks and crannies of any door fronts or corners to get rid of the difficult buildup of dirt that can gather there.
Cabinets Covered in a Sticky Layer
Cabinets that have been neglected for too long in the kitchen, bathroom or garage may need a more serious clean.
Before cleaning, remove all adhesive, stickers, leftover strips of tape or gobs of grease and food from the cabinet surface. A razor blade can help take down the larger pieces or stuck-on adhesives. Once the surface is relatively free from larger puddles of gunk, begin to the degrease the cabinets.
Use a mix of 1 cup of rubbing alcohol, 1 cup of vinegar and 1 tablespoon of dish soap in a 32-ounce spray bottle filled the rest of the way up with water. Spray down the cabinet fronts and let it sit on the surface for about 20 minutes before scrubbing away the years of dirt and grease. For grimier cabinets, leave out the water. The rubbing alcohol will evaporate and quickly wick away moisture from the cabinet.
---
Kimberley McGee is an award-winning journalist with 20+ years of experience writing for a variety of clients, including The New York Times, Las Vegas Review-Journal Home section and other national publications. As a professional writer she has researched, interviewed sources and written about home improvement, interior design and related business trends. She earned a B.A. in Journalism from the University of Nevada, Las Vegas. Her full bio and clips can be viewed at www.vegaswriter.com.
View Work