Things You'll Need
Rosin paper

Pencil

Sharp knife

Tack strips

Padding adhesive

Padding

Hammer

Stair chisel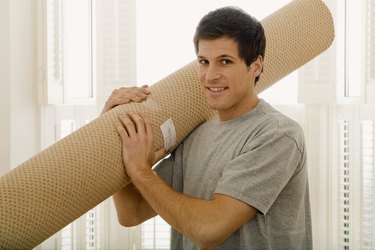 In most rooms in the home, it's usually possible to remove items such as cupboards to lay the carpet, and then reposition them on top of the carpet afterward for an easily achieved, neat finish. However, when laying a carpet in the bathroom, the toilet must not sit on the carpet, the carpet must be cut to fit neatly around the base of the toilet. Although cutting holes in your new carpet may seem like a daunting prospect, with a proper template and a sharp knife, you will be proud of the finished effect.
Step 1
Remove the existing floor covering and vacuum the floor.
Step 2
Make a template of the room with rosin paper. Lay the paper on the floor and cut around the edges with a sharp knife. Cut carefully around the base of the toilet.
Step 3
Lay your carpet face down on the floor in a large area. Place the paper template on top, tape in place and draw around it onto the back of the carpet. Remove the template and cut along the lines with a sharp knife. Keep cuts straight and don't rush or you may create jagged edges. Cut a slit in the carpet leading from the back of the toilet base to the wall, allowing the carpet to fit neatly around the toilet.
Step 4
Turn off the water to the toilet, flush the toilet several times to remove water from the system, and disconnect the water pipe. Remove the bolts around the base of toilet and set the toilet to one side.
Step 5
Lay new tack strips around the edges of the room. If the room was carpeted before and the original tack strips are still in place, position new ones next to them. Position tack strips on the floor around the base of the toilet, and on the area of the floor where the slit in your carpet will be positioned, leading from the back of the toilet to the wall. Hammer the tack strips into place.
Step 6
Apply padding adhesive and padding to the floor. Roll your carpet across the room, ensuring it fits neatly into the corners and around the edges. Force the carpet onto the tack strip using a stair chisel.
Step 7
Reposition the toilet. Attach the water pipe, replace the floor bolts and turn the water back on.
---
Based in England, Tami Mason writes for Local.com and various other websites. Mason has worked as a proofreader and copy editor since 2007 and is a trained interior designer who also specializes in art history, art and crafts.